Will Kellogg '14 did not choose to attend Chapman University just so he could launch his career five miles down the road at Disneyland.
But it didn't take long for the connection to click. By Kellogg's sophomore year at Chapman, the music performance major had decided that the world-famous theme park was where he wanted to put his skills to work. Now he's a full-time guest talent coordinator, working closely with visiting arts groups that perform in the park.
"I'm living the dream," he says. "I'm working with some of the smartest and most creative people on the planet."
It's a dream and tradition shared by many Chapman alumni, who through the years have found "The Happiest Place on Earth" to also be one of the world's best employers. As Disneyland marks its 60th anniversary this year, it counts numerous Chapman alumni among its top management, from human resources to government relations. Untold numbers of undergraduates have landed part-time jobs there through the decades, and every semester many win coveted internships within several departments.
Disney Dollars

Disneyland Resort, comprised of Disneyland, Disney California Adventure and Downtown Disney, is Orange County's top source of jobs, employing more than 28,000 people. In its 60 years, the resort has contributed some $5.7 billion to the regional economy. (Source: Arduin, Laffer & Moore Econometrics)

Lest you think the fun disappears once a paycheck is involved, don't worry. The same kind of energy that goes into making visitors happy also fuels a dynamic work setting, alumni say.
"My favorite part of working at the Disneyland Resort is the people. I love knowing that I get to go to work every day and be with my friends and be challenged together and grow together. It makes the environment and culture just incredible," says Jessica Torrico '09 ('10 teaching credential).
A history major, Torrico started as a part-time employee and served in a variety of roles. Now she is a public affairs representative, helping coordinate logistics for special events in the park. Recently she was also selected to participate in Emerging Leaders, a Disney management training program.
She draws on her Chapman education daily, she says, which taught her "how to prioritize in a fast-paced work environment." Her graduate work in teaching intertwines with her work, too, because "my credential classes in how to be a good teacher are essentially how to be a great leader."
Indeed, Disneyland is not the land of dead-end careers, says Matt Gray (MBA '12 ). Gray began there as a skipper on the Jungle Cruise, the gentle water ride famous for dousing guests with cornball jokes. Today he is general manager of merchandise for Disneyland, managing the business of everything from all those mouse ear hats to every souvenir T-shirt. He continues to oversee the candy-making operations — 1,629 batches of English Toffee last year alone, thank you very much. And he estimates he's held about 20 positions in eight different industries, from food and beverage to entertainment finance.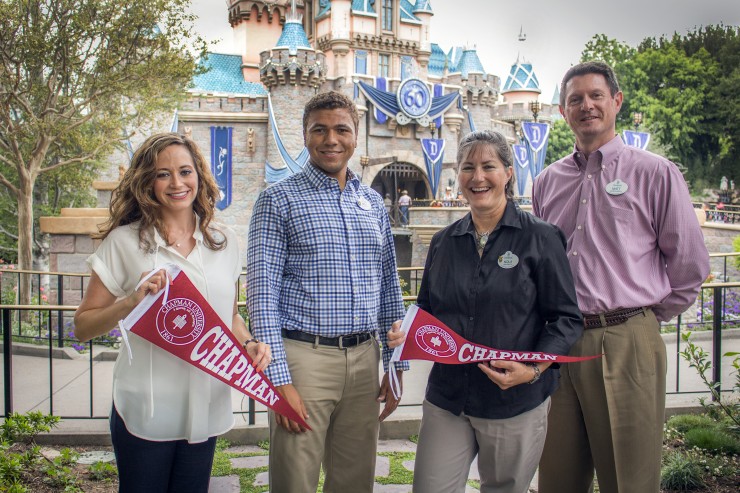 "There are extraordinary opportunities here at Disneyland," he says.
For Gray the opportunities expanded after he completed the executive MBA program at the Argyros School of Business and Economics. The graduate program helped him take his practical experience logged at Disneyland and apply it at a deeper level. Now whether it's planning inventory or evaluating costs and benefits as he prepares a budget, those lessons work their magic. It all comes in handy at a place where the legendary Walt Disney challenged everyone to think big, he says.
"The most challenging things have all been things that we all thought would be impossible, and we almost make them routine now," he says.
More Disney Connections

Chapman's Leatherby Libraries is home to the Jack and Belle Lindquist Disney Collection and Dream Rooms. Chapman Trustee Emeritus Jack Lindquist was hired by Walt Disney as Disneyland's first advertising manager and became the first president of Disneyland.
"The Pursuit of Happiness and Knowledge: Walt Disney and Charles Darwin" taught by Brian Alters, Ph.D., professor in the College of Educational Studies, is a popular undergraduate course. Why the combo? Says Alters: "Both Walt Disney and Charles Darwin were brilliant and intensely devoted to pursuing what made them happy."
While not routine, the recent 24-Hour Event that launched the 60 th anniversary and debuted all the associated entertainment, merchandise, glitz and décor, was one of those challenges that brought out the best in employees and underscored the value the company places on teamwork, he says.
"There's just this sense of satisfaction of having seen what it had done for the morale of the cast members to have successfully pulled that off," Gray says.
That kind of creative spirit is what endears Disneyland to Nola Jackson '88, a stage technician in Disney California Adventure. Jackson went to work at Disneyland immediately after graduating with a communications degree with an emphasis in theatre, a course of study which has since become part of the production management program in the College of Performing Arts. Jackson has helped stage myriad theatrical and water shows through the years – including the new World of Color– and manages the Hyperion Theatre in Disney California Adventure, home of the Broadway-style show Aladdin — A Musical Spectacular. She says creating happy memories for countless families never gets old.
"We know that our technology and how things are presented on the stage is a wow factor," Jackson says. "That's a nice feeling. That's what I love. That's why I got into this industry."
Even to relatively new hires like Kellogg, opportunities to connect with creative people present themselves daily. Among his responsibilities is stage managing guest performers, from high school marching bands to youth ballet folklorico groups. At the conclusion of their performances, he reminds them that as community performers they are a beloved park tradition, one that Walt Disney himself envisioned for Disneyland.
"I tell them that this Guest Talent Programs department wouldn't exist if Walt Disney didn't believe that the talent of the future isn't in the future, it's happening now," he says.
Their eyes widen every time. Kellogg loves those moments.
"That's the best part of my day," Kellogg says. "That's when I know I've made a difference."
(Photos/Victor Lee '10)