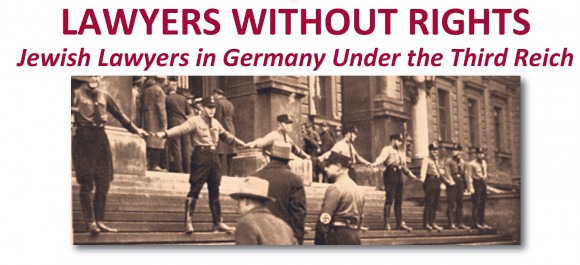 The traveling exhibit "Lawyers Without Rights: Jewish Lawyers in Germany Under the Third Reich," created by the German Federal Bar, opens in Kennedy Hall on Monday, October 13, with a reception at 6 p.m. in the lobby.  The Honorable RIchard D. Fybel, associate justice of the Court of Appeal, Fourth District, Division Three and adjunct professor in Chapman's Fowler School of Law, will be the event's keynote speaker.   (Judge Fybel co-taught the Fowler School's advanced seminar "The Holocaust, Genocide and the Law.")

This event is free and open to the public, and all members of the Orange County and Chapman community are invited to attend.

The exhibit, which has traveled to more than 80 cities worldwide, depicts how Jewish lawyers and jurists were barred from German courts beginning in 1933, and how individual rights and the rule of law were obliterated during the Nazi era.   The exhibit will remain on display, open to the public during business hours, from October 13 through November 21.

This event is co-sponsored by Chapman's Rodgers Center for Holocaust Education, the Orange County Jewish Bar Association, and the Consulate General of the Federal Republic of Germany in Los Angeles.