The National Science Foundation has awarded a grant to scientists from Chapman University, UC Irvine and the U.S. Geological Survey to study the potential health risks from inhaling toxic waste left behind near abandoned mine sites.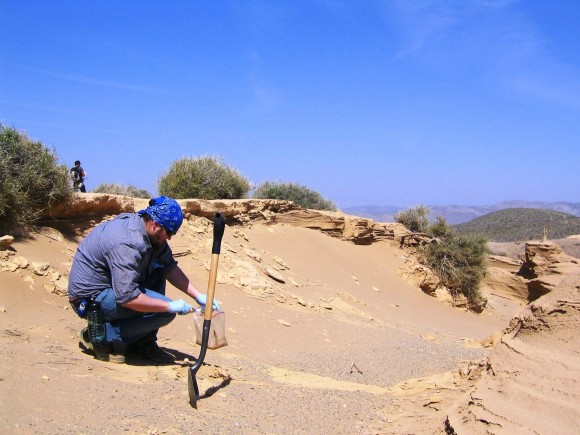 Under the direction of Christopher Kim, associate professor in Chapman's School of Earth and Environmental Sciences, the $100,536 grant will support a collaborative yearlong study specifically exploring exposure to arsenic, a known carcinogen. Co-investigator is Michael T. Kleinman, co-director of the Air Pollution Health Effects Laboratory in the Department of Community and Environmental Medicine at UC Irvine.
Kim has conducted extensive research on the migration of arsenic and other hazardous waste into the air, soil and waterways near mining communities. But he says little is known about the risk to health when arsenic is carried along in the micro-fine dust that swirls through the air. With more than 47,000 abandoned mines in California alone, Kim considers it an issue of high concern.
"It's very important to understand the potential health and environmental threat of airborne particles to people, especially in arid environments in the desert," he says. "You have wind events, you have little vegetation and it's dry. So all those things combine for high exposure. We would benefit by getting a better handle on what the potential risk is from these abandoned mine sites."
The project will use several soil samples collected by Kim and students who work in The Environmental Geochemistry Lab @ Chapman. The samples will be mechanically sifted into miniscule dust particles, similar in size to what gets stirred up in wind. At UC Irvine labs, it will be exposed to rats, where their arsenic uptake will be measured. Kim says the experiments will allow Chapman student to be involved from field to final result.
"It's going to provide some unique experience to Chapman students. We'll be sending Chapman students to do the animal studies," he says.
If the results of the study are promising, Kim says he will seek funding for a larger-scale proposal.