Chapman University's Alumni Association has introduced the newest members of the Alumni Board of Directors: Sarah Nininger '13, Keri Angeles-Pari '97, Ishani Patel '22, Sabrina Riccio '12, Angelica Rivera (MBA '20), Vaibhav Singh '19 and Valerie Smith '81 (MS '89). Each of these accomplished individuals brings a unique set of skills, experiences, and perspectives to the table. As active and engaged alumni, they are poised to play a pivotal role in shaping the future of the university, fostering connections and driving meaningful initiatives that will enrich the Chapman community for years to come.
Sarah Nininger '13
Born and raised in Aspen, Colorado, Nininger graduated from Chapman in 2013 with a degree in integrated educational studies with an emphasis in disabilities. During her time at Chapman, she was a Chapman Ambassador, served as the vice president of Foundation for Delta Gamma – Zeta Iota, vice president of C.A.R.E.S, and held a position as a chair member of Senior Legacy. In 2017, she was honored with the Albert Schweitzer "Rising Star" award.
Nininger founded Action in Africa, a nonprofit organization that operates public community centers in Uganda, while she was a sophomore in high school. Action in Africa had a presence at Chapman from 2012 to 2018 and facilitated opportunities for several fellow Panthers to engage in activities in Uganda. Presently, she manages Action in Africa full-time from Denver, Colorado, while continuing to travel to Uganda 3-4 times annually.
Beyond her professional commitments, Nininger finds joy in spending time with friends, her dog and her family.
Keri Angeles-Pari '97
Angeles-Pari is the co-owner of RLM Event Management and Production, a full-service management company specializing in live event production, A/V, decor, design, entertainment acquisition and strategic planning. RLM also designs, produces and installs exhibits, museums and corporate fixtures. RLM excels in providing creative, exciting, one-of-a-kind events or builds for a variety of clients from music to healthcare and everything in between.
Angeles-Pari's wheelhouse is organization and being intuitive about people. Planning, organizing and executing any event, regardless of size, requires a knack for "seeing" the forward facing and behind the scenes details and accounting for contingencies.
Her time at Chapman was primarily focused on three areas: curriculum, on-campus employment with the Corporate Relations department, and being a driver and member of the National Hot Rod Association (NHRA).
Angeles-Pari is on the board of directors for the Kamali'i Foster Family Agency; Women of Chapman Haute Couture member; 100+ Women Who Care/Temecula member and a founding member of Heels2Heal OC.
She and her husband Jim love concerts, golf, travel…and often combine the three for amazing adventures!
Ishani Patel '22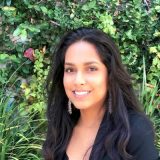 Patel works as an analyst in San Francisco at the investment firm BlackRock, a global asset manager and technology provider.
In 2021, Patel was one of 25 students chosen from more than 1,000 applicants for the Bessemer Venture Partners' Fellowship, which connects university students to prominent tech companies.
While at Chapman, Patel earned dual degrees in data analytics and economics. She was involved in a number of student organizations, including Girls Who Code, Toastmasters, DECA, Tamid, and served as an Orientation Leader and Student Government Association Senator.
Sabrina Riccio '12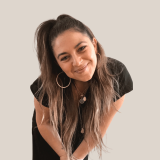 Riccio is a highly esteemed shamanic brand strategist, speaker and host of The Sovereign Society Podcast. She brings a wealth of expertise in spiritual growth, multidimensional leadership and ethical business practices to her role on the Alumni Board.
Riccio's journey began as a successful music journalist in the electronic music scene, eventually evolving into her current path as a shamanic brand strategist. Struck by lightning in 2012 with her dog, Bud, this life-changing event led her to empower sacred disruptors and sovereign leaders alike to revolutionize the world through soulful systems, spiritual growth, holistic healing, sovereign embodiment and mystical marketing.
Her dedication to social justice and ethical entrepreneurship has been a driving force throughout her career as she merges modern management tools with spiritual wisdom to help entrepreneurs create sustainable and successful ventures. As an accomplished speaker and advocate for mental health awareness and psychedelic therapy, Riccio has empowered listeners through her enlightening interviews on The Sovereign Society Podcast, reaching #22 on the spirituality charts on Apple Podcasts.
With a deep commitment to Chapman University's mission of fostering global citizens, Sabrina's appointment to the alumni board brings a unique perspective and unwavering dedication to a transformative and inclusive future for the university community. Her impact will inspire current and future students to embrace their unique magic and create positive change in the world.
Angelica Rivera (MBA '20)
Rivera completed her MBA from Chapman University in 2020 and completed her undergraduate degree at California State University of Monterey Bay (CSUMB). While attending Chapman, Angelica served as the president of Women in Business, vice president of the Graduate Business Association, Graduate Student Council representative for the Argyros School of Business & Economics, as well as an MBA Ambassador.
Since graduation from Chapman, Angelica happily found herself a career in marketing in the telecommunications and technology industry. Today, she is the marketing manager for the remote workforce productivity company, Motus. Her passion for marketing and her love for the telecom channel has only continued to grow. Currently, she is a proud member of the Alliance of Channel Women (ACW), a non-profit group that empowers and advances women's careers and leadership in the telecom and IT sales channel. She also sits on the events committee for ACW and is looking to expand her reach in DE&I initiatives.
She resides in the beautiful city of Costa Mesa and enjoys staying active, attending concerts, traveling, various sports and spending quality time with her best friends, family and pug.
Vaibhav Singh '19
Singh is a highly accomplished professional with a strong background in management, operations and supply chain. Currently serving as the program manager for the Internet of Things (IoT) Division at Organize Ventures Inc., Singh leads the IoT Product Division, driving revenue growth and spearheading successful product launches. With extensive experience in consulting, streamlining operations, optimizing supply chain processes and corporate strategy, he has consistently delivered exceptional results. He holds a Bachelor of Science in business administration from Chapman University's Argyros School of Business and is working on his Executive Education in technology & operations at the Massachusetts Institute of Technology Sloan School of Management.
In addition to Singh's professional accomplishments, he is also an entrepreneur and passionate about making a difference. While at Chapman, he successfully launched a startup called FlyWorks Media LLC., specializing in filming commercial and residential real estate. This venture demonstrated his entrepreneurial spirit and ability to bring innovative ideas to fruition. Currently, Singh is actively involved in a circular economy startup called borrowed.io, an online rental marketplace dedicated to creating sustainable solutions and driving positive change in resource utilization.
In his free time, Singh also enjoys basketball, cooking, tennis and traveling. With his multifaceted background and dedication to excellence, he is poised to make valuable contributions as a board member for the Chapman University Alumni Association, bringing professional expertise, entrepreneurial acumen and a passion for sustainability to the table.
Valerie Smith '81 (M.S. '89)
Smith came to Chapman (when it was Chapman College) on a piano scholarship. She ultimately graduated with a business degree and a music minor. She continued her Chapman education to complete a Masters in Human Resource Management in 1989.
Valerie has spent the majority of her career in public education and health care where she designed and developed programs, primarily for low income families and youth. She has served on a variety of nonprofit boards in the community of Apple Valley, where she lived for thirty years. Considering herself semi-retired now, Valerie currently teaches business classes for a local community college.
Valerie and her husband have three grown children and four grandsons.
Recently, the opportunity presented itself for Valerie and her husband (whom she met at Chapman) to purchase a home in Old Towne Orange. They are excited to be living near Chapman, in this walkable community. In addition to reconnecting with Chapman through the Alumni Board, Valerie also volunteers for Chapman's Hilbert Museum and ushers at Musco Center for the Arts.
Valerie looks forward to serving as a representative of the earlier decades of Chapman students.