Volunteers at Chapman University were thanked recently during a celebratory reception which recognized the many alumni, parents, families and community members who give their time and expertise to positively impact the university and support our students.
"Volunteers are an essential part of the Chapman Family experience. You make us better as a university, and we appreciate your contributions to our community," said Nidhi Vogt, associate vice president of engagement and volunteerism at Chapman.
Each year, hundreds of volunteers give countless hours of their time to the university. Volunteer activities include serving on boards, volunteering at events, supporting students' professional development through mentorship and mock interviews, sharing expertise in the classroom and on panels, judging competitions, and in many other ways that help students achieve their educational goals.
During the event, two inaugural awards were presented to further honor volunteers who have shown exceptional commitment to the university – the Outstanding Volunteer Service Award and the Outstanding Alumni Service Award.
Outstanding Volunteer Service Award
The Outstanding Volunteer Service Award, which recognizes a volunteer who has made significant contributions to Chapman University, was awarded to Sharon Deacon.
Deacon started volunteering for Chapman when her daughter, Samantha, became a student in 2009. Over the years, she has staffed countless registration tables, participated and moderated parent panels, attended and hosted many welcome receptions in her home for incoming students and families, and currently chairs the Executive Parents Ambassador Council.
"She is an exemplary volunteer, has been a wonderful partner to many departments across campus, and a very proud Chapman mom," said Nicole Bigley, director of engagement and volunteerism.
Outstanding Alumni Service Award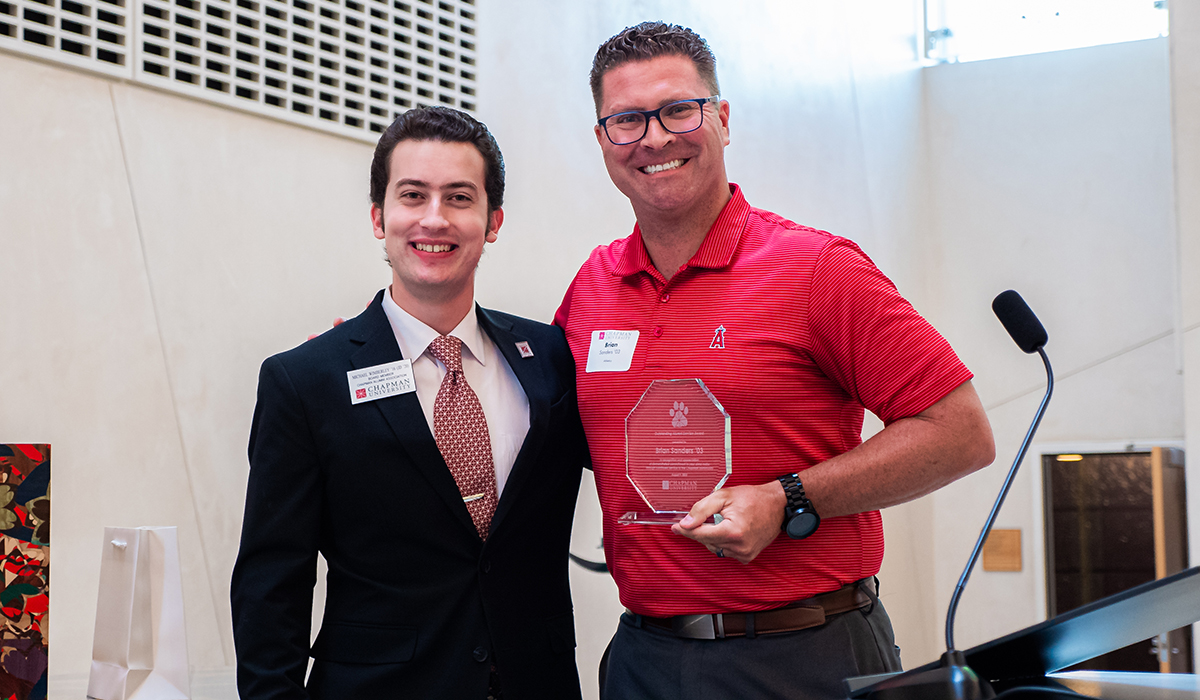 The Outstanding Alumni Service Award recognizes a Chapman alumnus for their outstanding commitment to the Chapman community through direct and ongoing service, and is awarded by the Alumni Board of Directors.
"Chapman is fortunate to have the support of several volunteer boards, each comprised of individuals who aspire to make a difference in the Chapman community. Earlier this year, one of those boards, the Alumni Board of Directors, approached us with a proposal for a new award," said Kala Karden, director of alumni engagement.
This year's award, presented by board member Michael Wimberly '16 (JD '20), went to Brian Sanders '03.
Sanders is an integral member of the athletics alumni community and a core member of the Chapman Athletics Hall of Fame Committee. Sanders was inducted into the Hall of Fame in 2017 not only because of his career as a student-athlete, but because of his dedication and support to the department since the end of his collegiate career. He has also worked to launch the "Angels Info Session," where students can learn about working in the professional sports industry, and "Playbook for Life," a career event that helps student-athletes incorporate the skills and knowledge they learned as a student-athlete into a professional resume.
"Brian's commitment to the well-being of the university's student body and alumni community has been sustained for years," Wimberly said.
Become more involved at Chapman by exploring our volunteer opportunities.