"Five, six, seven, eight…"
A breathy voice murmurs the count as a dozen dancers move in unison across a studio at Chapman University. The only other sound is the whisper of leather soles over the smooth floor, punctuated with an occasional wooden "thunk" when the rigid point of a toe shoe hits the ground.
A wall of mirrors reflects the dancers' movements back to them, making them both performers and audience. The people that look back are a mix of skin colors and body types, uniform only in their diversity.
They practice a dance that blends the familiar forms of classical ballet – arabesques, pas de bourrées, grand jetés – with an unrestrained freedom of movement that honors tradition but breaks it apart at the same time.
Between the mirrors and the dancers sits the choreographer. His expression is hard to read – like all the dancers, he is masked, part of the new-normal of our post-pandemic world – but his attention is sharp, watching as the dancers bring the product of his imagination to life before his eyes.
Someone presses play on the stereo. A rock anthem blares out.
"Boogie," the choreographer instructs.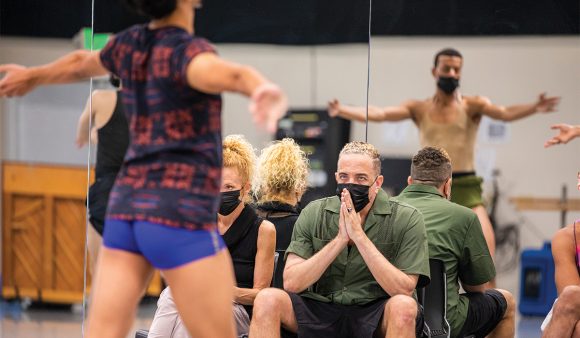 Dwight Rhoden is one of the newest faculty members in Chapman's Department of Dance, but today he is working with professional dancers, not students. His company, Complexions Contemporary Ballet, has come to Chapman from New York to perform at Musco Center for the Arts and to participate in a weeklong Leap of Art residency that will include master classes, lectures and other learning experiences for Rhoden's Chapman students.
Rhoden has been a choreographer for more than 30 years, from the time he was a young dancer himself, making up his own routines and performing them in competitions. In 1994, he and Tony Award-nominee Desmond Richardson founded Complexions, backed by a vision that would transform the world of dance.
"Removing boundaries between styles leads to the understanding that we are all different." – Dwight Rhoden
"It was just going to be a project," Rhoden says. "We invited our friends from all the major companies around New York and some people who weren't in companies but whose dancing we really loved." The group included classical ballerinas as well as performers skilled in other dance forms, including modern, jazz, commercial and hip-hop.
At the time when there were hard lines between different styles of dance, "we brought it all into one room and made a show," says Rhoden.

Each of the performers had a different story, a different background, a different approach, and in the process of making the show, Rhoden and Richardson realized that what they loved about it was the beauty of all those differences.
"We looked at each other and said, you know, this is so beautiful, and there's a bigger, deeper message of unity with this. Removing boundaries between styles leads to the understanding that we are all different," says Rhoden.
Removing boundaries would become the core value of Complexions Contemporary Ballet, a critically acclaimed and award-winning dance company that has performed in venues around the world. Not only does the company incorporate many styles of dance, but the dancers also represent different ethnicities, heights, body shapes and dance backgrounds, proving the company's commitment to diversity, equity and inclusion long before that was an everyday term.
"I always thought that dance is dance. It's all dance, and we were inspired by the contrast," says Rhoden. "I become richer inside, knowing someone that is very different from me, and has a different background. It brings a wealth of knowledge and exposes me to something that I might not know, and that is why Complexions exist to this day."
The Deconstruction of Classical Ballet
The Complexions dancers don't move like most ballet dancers. In classical ballet, the body is held very upright, or "on center." Precise movements that emphasize the long lines of the dancer's body are executed with strict adherence to technique. It is graceful yet rigid, structured by rules and tradition.
But contemporary ballet stretches the boundaries of the traditional form. Bodies crumple into themselves one moment, reach outward the next, torsos and limbs hyperextended, expanding to occupy a space for an instant before, on the next beat, pivoting away to fill another. It is the deconstruction of classical ballet, the forms pulled apart but not discarded (as they are in modern dance), instead reassembled into something new. Fluid, energetic – it is the movement that matters, not the pose.
"We had a vision for really investigating and exploring other ways to take the classical form and build it out and go further with it," says Rhoden. "Sometimes it's as if we disrupted – which is a strong word – but we disrupted the classical form. Not in a violent way or a derogatory way – it's more about looking at what the possibilities are with the body."
Each performance is a fusion of elements – street dance, modern movement, jazz movement. "But all in the frame of a classical foundation that is morphing and evolving into other things," he says.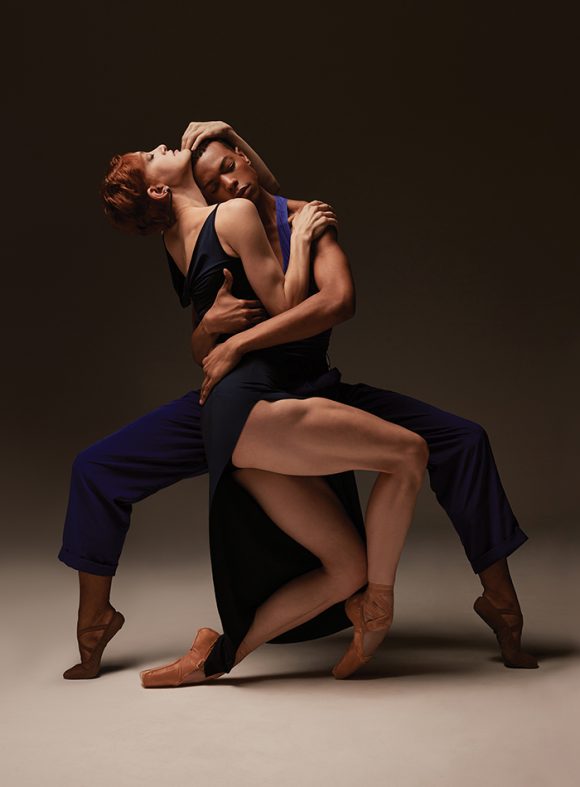 In the studio, the Complexions dancers have moved on from learning basic steps to blocking their positions on the stage. The ballet they are learning is titled "Love Rocks" – first performed in 2020, but the company will bring it back to the stage this year.
"Sometimes it's the music that I really like," says Rhoden, discussing the inspiration for his creative work. "And sometimes it's a subject matter. There's something I really want to talk about … or sometimes it's about what the artists need for their development, or what our audience might have an appetite for. So, it comes in different ways."
"I still think that love can save the world. That might be a little naive of me, but I'm happy to stay in that naive space, because I still really think that therein lies the answer – in unity." – Dwight Rhoden
With "Love Rocks," Rhoden's inspiration is the music of Grammy-winning rockstar Lenny Kravitz.
The two met at Paisley Park, where Rhoden was working on a show with Prince. Kravitz, who was going to open the show, asked Rhoden to choreograph his version of the song "American Woman" for the stage performance.
"It is a piece that kind of deals with the idea of love, which is really what Lenny writes about," says Rhoden about "Love Rocks." "Anybody who knows me knows that I'm still a romantic. I still think that love can save the world. That might be a little naive of me, but I'm happy to stay in that naive space, because I still really think that therein lies the answer – in unity."
Innovation in Motion
"Innovation for me is being honest in your approach and looking for creative ways to say what it is you'd like to say." – Dwight Rhoden
Once he starts thinking about an idea, Rhoden starts listening to music. And he writes – poetry, prose, notes about how he wants to move people around on the stage – trying to capture his idea in words before heading into the studio where he'll begin experimenting with movement.
"I'll experiment on myself, but I will also bring in a dancer or two and start to work on their bodies, just to generate some ideas and direction," he says. "The dancers are everything. They are the beginning and the end to what we come up with."
While he doesn't expect dancers to make up the steps, he does ask them to collaborate on a certain level, experimenting and exploring together as the dance takes shape. "I never pretend I have all of the best ideas. Walking into the studio, I try to make sure that I remain a bit open, so that I can see what the possibilities are, because sometimes things happen in the studio and you're like, Wow! I never thought of that, but this is really cool. You have to sometimes get out of your own way."
Rhoden doesn't think about dance in terms of "innovation." For him, honesty is a firmer touchstone for his creative process.
"What I work on a lot is: How is this accessible? How will the audience take it in? Will it reach them? Will they feel what I want them to feel?" he says. "Innovation for me is being honest in your approach and looking for creative ways to say what it is you'd like to say."
The dancers are intrinsic to that part of the process.
"There are many ways to express, say … love. How can we do this in a fresh and inspiring way? So, I really look at the inspiration as well the process as we're making something new. Then I think innovation will come," he says.
Creating Opportunities for Chapman Dance Students
In addition to using his voice to direct the dancers, Rhoden sometimes huddles with them around a computer screen to watch a video of an earlier performance – modern tools for a modern art form – and then they're back on the floor, twisting their bodies into positions that should be impossible, but are somehow made to look effortless.
Sometimes, he joins the dancers on the floor, demonstrating not just the steps he wants them to take, but the emotion he wants them to convey through their bodies."We must all unite," sings Lenny Kravitz through the studio speakers, as the dancers scatter across the floor, only to come together again, fused in a single force of balletic unity.
"We're not here to judge.
We are here to love.
There's no room for hate.
We are just one human race."
– "Love Rocks" by Lenny Kravitz
Dance students at Chapman will benefit from Rhoden's expertise as a physical storyteller, and from his decades as a dancer, choreographer and director. Students will even have the opportunity to learn some of the Complexions repertory.
Julianne O'Brien Pedersen, chair of the Department of Dance at Chapman, says, "He brings a whole new understanding of ballet to our students. He works from a contemporary ballet perspective versus a traditional ballet perspective, and both are equally valid, and it's good for our students to have that variety."
"I like being connected to the young people," says Rhoden, thankful for the opportunity to guide students on their way into professional dance careers. "I think one of the biggest surprises is the amount of dedication and the work that it takes to actually do it," he says.
He doesn't take anything for granted when it comes to being a choreographer or a director.
"I know that it is a privilege to be able to do it, and to be able to bring your ideas to a group of people and for them to present your ideas on stage. That's a privilege," says Rhoden. "I'm grateful for it, and I still love it."