When many of the best golfers in the world tee it up today, Feb. 16, at the Genesis Invitational in Los Angeles, five Chapman University students will work alongside them, helping to capture the PGA tournament action for a global viewing audience.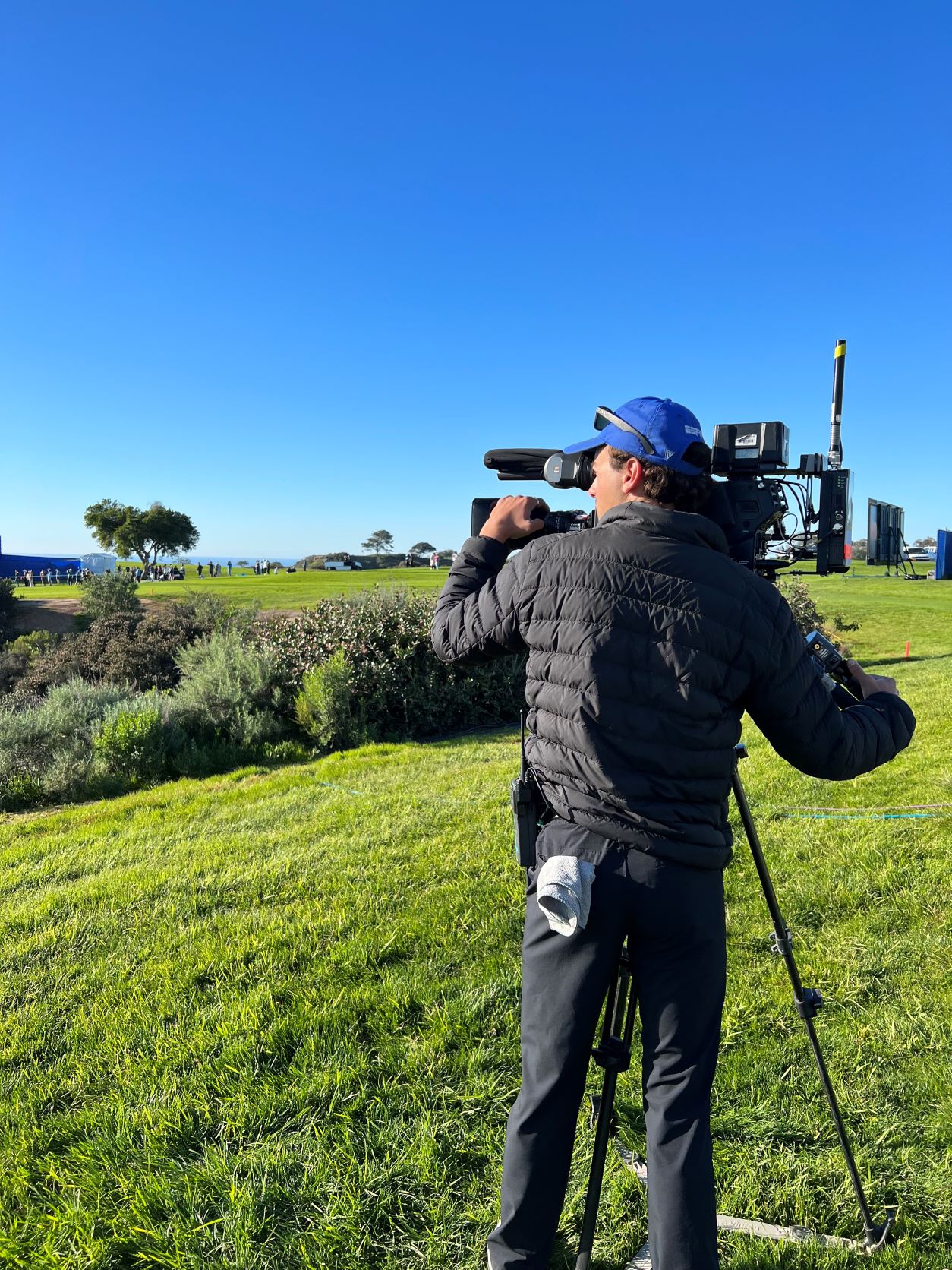 The five are all first- or second-year students in the Broadcast Journalism and Documentary program at Chapman's Dodge College of Film and Media Arts. The Genesis event at Riviera Country Club is the latest in a string of high-profile California tournaments at iconic venues like Torrey Pines and Pebble Beach where the students are assisting camera operators and capturing audio as broadcast professionals for PGA Tour Live on the ESPN+ streaming service.
The students say their ongoing experience covering Panther football, basketball and other athletic events for the Chapman Sports Broadcast Network (CSBN) has prepared them to thrive in the professional setting.
"We're used to working with industry-level equipment and learning about every technical aspect of a broadcast," said Ben Sherman '25, who is also gaining professional experience as a camera operator for the Coachella Valley Firebirds of the American Hockey League.
"Working with this level of equipment and getting this kind of experience when you're 18 or 19 is something you're really not going to get anywhere else," Sherman added. "We don't have to go out of our way for this kind of experience. It's right here at Dodge."
Like Sherman and the other Dodge students (Kaylee Smith '25, Zack Richter '26 and Zach Lipfield '26) working the PGA events, Emily Cho '25 is preparing for a career in professional sports at the highest levels of broadcasting.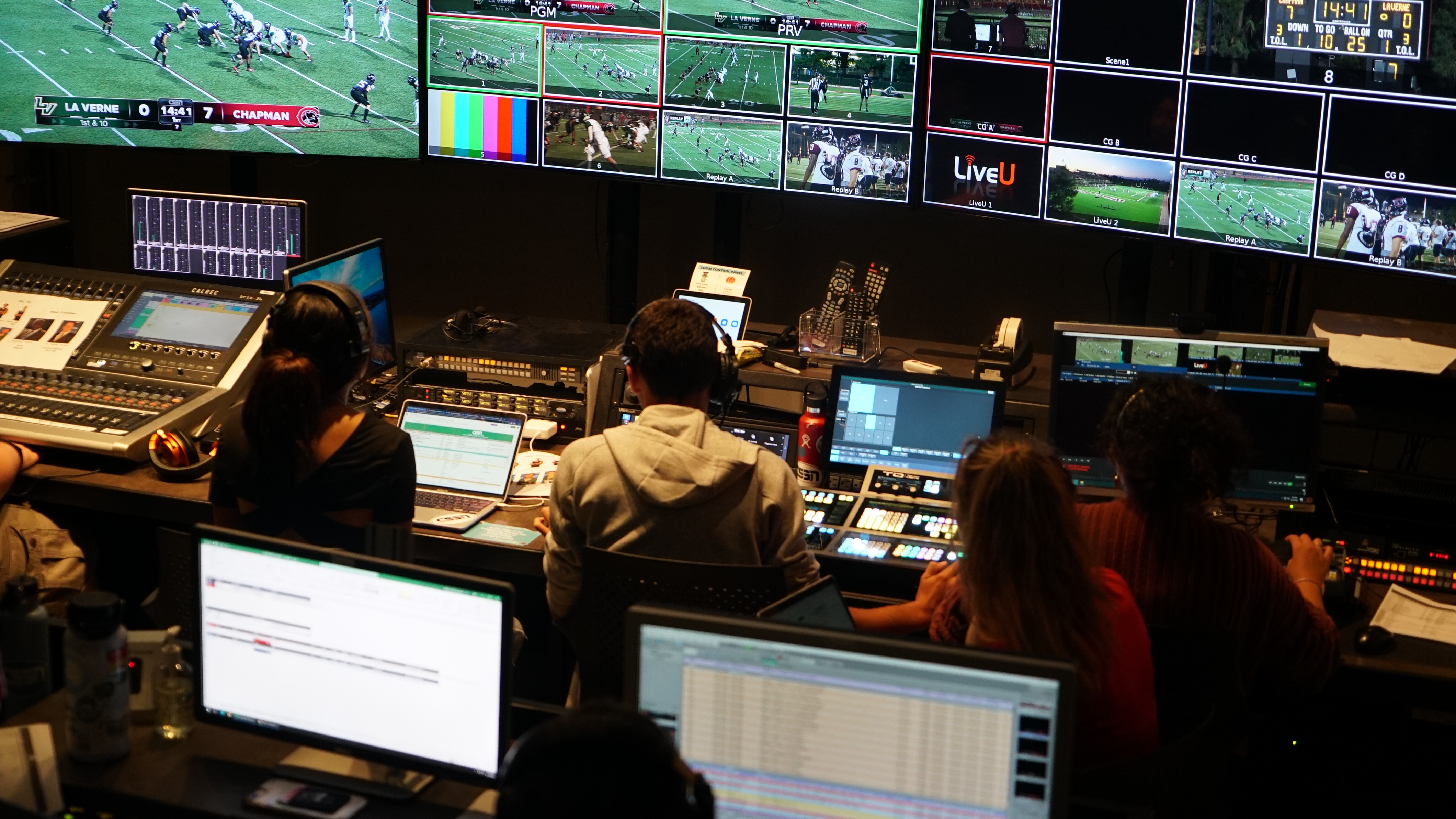 "I want to work for the Golf Channel, but I definitely didn't expect to get into the industry so soon," says Cho, who also competes on the golf team at Chapman. "I've made a ton of contacts and learned a lot about the technical aspects of the industry. It's a great gateway to a professional career."
Documentary 'Queen Moorea' Screens at Slamdance Festival
Dodge faculty member Christine Fugate had her documentary "Queen Moorea" featured at the Slamdance Film Festival in January.
"Queen Moorea" follows six years in the life of Moorea Howson, a homecoming queen at Laguna Beach High School who was born with Williams Syndrome, which causes cardiovascular issues, developmental delays and learning challenges.
The documentary shows Howson and her friends as they "struggle to fulfill their dreams in a world that refuses to accept them for who they are," says Fugate, assistant professor of film and documentary production.
Chapman's Thompson Policy Institute on Disability provided support for Fugate's film and has been working with Howson to find career options. The documentary was funded by a Chapman faculty grant.
As part of Chapman's Our Voices series, Fugate recently shared her own inspiring story of living with an invisible disability and the supportive community she has connected with at the university.
Oscar-Nominated 'Avatar' Features the Work of Four Dodge Alumni
Four Dodge College alumni will have a strong rooting interest when the Academy Awards are handed out March 12 at the Dolby Theatre in Hollywood.
Emily Unruh '12 (VFX line producer), Tashi Trieu '10 (digital intermediate colorist), Sasha DeMello '11 (art department coordinator) and Sara Polito '16 (art department assistant) all worked on "Avatar: The Way of Water," which received four Oscar nominations.
In addition to Best Picture, the film is nominated for its visual effects, production design and sound.