Chapman University President Daniele C. Struppa welcomed representatives from 100 organizations to the 2023 State of the University address, honoring them for their status as "Top Employers" and thanking them for their continuing commitment to "Think Chapman First."
"I want to thank all of the [organizations] that work with us. They are so important to our success. They provide internships. They provide jobs to our students. They work with us to help us better understand the kind of curriculum we need to develop," said Struppa. "Your role in the [university] is crucial. The university can't succeed without these kinds of partnerships."
Representing a diverse range of industries from across the country, Chapman's Top Employers are honored each year for the strength of their partnerships with the university, through their consistent, active participation in recruiting efforts as well as hiring a notable percentage of Chapman graduates for their workforce. Included among the organizations honored were international giants such as Experian, Netflix and Walmart, as well as local mainstays such as Edwards Lifesciences, CHOC and the City of Orange.
>> See the complete list of 2023 Top Employers.
A special reception for Top Employers was held following the State of the University address, where Jennifer Kim, assistant vice president of Career and Professional Development at Chapman, thanked those present once again.
"As a Top Employer, you can attest to the distinction that comes with a Chapman University degree," said Kim. "Our students not only receive an excellent education, but they graduate ready to launch impactful careers. Chapman Panthers are critical thinkers, team players, hardworking and loyal. They possess a combination of hard and soft skills that will make them tremendous assets at your organizations."
Chapman Grads Praised as "Best Talent Nationally"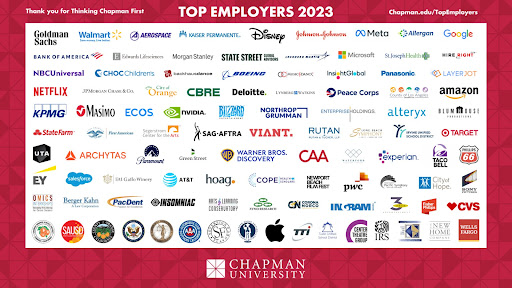 "Chapman University is producing some of the highest and best talent nationally," says Alex Hayden, vice chairman of CBRE, one of the organizations honored. CBRE, the world's largest commercial real estate company, continually looks to Chapman as a source for quality young professionals, says Hayden.
Tim Rahall, a partner at EY, one of the "big four" accounting firms, agrees. "Chapman students represent the best and brightest business and accounting students in Southern California."
With more than 20 current students and alumni at their boutique law firm, Berger Kahn says that they choose to Think Chapman First "because [Chapman] students are academically highly qualified, with a strong sense of practicality. They are ready to be achievers from day one."
"The talent that comes out of Chapman University has been a powerful driver of our growth and success in the marketplace," says Kelly Vlahakis-Hanks (EMBA '16), president and CEO of ECOS Earth Friendly Products. A Chapman alumna herself, Vlahakis-Hanks says that ECOS always looks first to Chapman in their hiring process.
"Each one of the alumni we've hired has had a positive impact on our mission to protect the health and wellness of people, pets and the planet," she says.
Paving the Way to a Stronger Workforce
Chapman Top Employers don't just hire graduates: their partnerships often include internship programs that help prepare students for the workplace.
"We are proud to support Chapman students by providing hands-on experience in STEM fields that will not only benefit the student, but also benefit our community partner organizations," says Tim Seidel, general manager of Phillips 66.
"Joining forces allows us to help shape the next generation of pharmacy professionals and advance healthcare in our communities," agrees Janet Govea, university relations manager for CVS Health.
Chapman Students are Prepared to Change the World
Chapman graduates are in demand in the arts and non-profit sectors, too.
"Chapman students are change makers," says senior recruiter Sakeena Ali of the Peace Corps, one of the many non-profit organizations that have repeatedly sought out Chapman alumni.
"Chapman University's graduates bring evolved thought, superior educational background and a modern skill set to the Orange County workforce and beyond," says Robin Follman, campaign director and director of vocal programs at Orange County Music and Dance. Follman also serves as Secretary on Chapman's Board of Governors, as well as a member of the Argyros School of Business and Economics Board of Counselors.
"It is our responsibility to assist these talented individuals as they cross into the professional world so that they can utilize their insights and skills in creating a brighter and more tolerant world for future generations," says Follman.
Chapman alumna Carrie Nocella '99, director of external affairs for Disneyland Resort, proudly serves on the university's Board of Governors, as well.
In response to celebrating The Walt Disney Company's fifth consecutive year as a Top Employer of Chapman talent, Nocella shared, "The Walt Disney Company is proud to be included in Chapman University's Top Employers. Chapman University is one of many higher education institutions just miles from Disneyland Resort that enrolls many of our employees. In addition, Disney also employs a large number of Chapman University alumni. There's magic in learning, and we're proud to have partners like Chapman University!"
See the full list of 2023's Top Employers and find out how your organization will benefit when you Think Chapman First.