Thanks to a little Disney magic, music students at Chapman University might have an edge when it comes to launching their careers.
In October 2022, Chapman musicians from the College of Performing Arts joined professional musicians on stage at the Musco Center of the Arts for a live film concert of the Disney-Pixar film "Coco." Film concerts are a growing trend that allow fans to experience a favorite film in a whole new way – with a live orchestra instead of the recorded score.
"Coco" is the third time Chapman has presented Disney films in concert. Previous performances include "Beauty and the Beast" in 2018 and "Pixar in Concert" (a medley show) in 2019.
"It's a whole different thing to be playing a soundtrack than to just be watching the movie and listening to it," says violin performance major David Anderson '23, who performed in both "Coco" and "Pixar in Concert." "It's a lot more powerful when you get to play it to the actual movie."
But playing live to film presents a particular set of challenges for performers that most students won't have the opportunity to experience before graduation.
"It was really cool to see how the score was laid out," says Sophie Qu '23, who is also a violinist. "Our conductor let some of our students conduct a little bit so you get the real feeling of what it's like, looking at the professional orchestration on the score, and of course we all have clickers in our ears."
"Clickers" are click tracks, the secret to keeping the live score timed perfectly with the movie. An ear piece transmits the tempo of the piece into the performer's ear to keep everyone in sync. While the technology is common in recording studios, it's not something college students usually get to learn about.
"In the sheet music, it'll say six clicks before you start playing or something like that. So you'll hear six little clicks," explains Anderson.
"It really gives you an opportunity to learn what it's like to be a musician in the real world," says Qu, who believes the experience will have an impact on her future career.
Though she previously planned to pursue a solo career, she says now, "I actually don't hate the process of sitting down there for three hours and playing with an orchestra."
Qu thinks most people assume orchestras are stuck playing classical music, but now sees there are many opportunities in different genres.
"As a musician today, you can play in different concert settings, like pop concerts, or I've heard of a DJ who had his music scored with an orchestra. You have to keep your mind open about how you want to pursue a career as a musician," she says.
Anderson has also felt the impact on his anticipated career plans.
"It's shown me what I really enjoy about music and how powerful it can be when it's added to a movie," he says.
He enjoys doing the "studio type stuff" and will probably pursue that course after graduation.
Chapman Alumnus Shines a Light on the Business of Music
Even though Disney film concerts happen regularly across the country at commercial venues, so far, Chapman is the only university that has licensed Disney titles for student performers. The reason for that is Ken Bunt – a Chapman alumnus and trustee who just happens to be president of the Disney Music Group.
"When I think back to my time at Chapman, I would have loved to have that access," says Bunt, who graduated from Chapman in 1993. "I always loved music, but I didn't have any access into the business other than Chapman Radio. I would have loved to have that opportunity."
Bunt is a regular visitor to Chapman's music business classes, where he talks about his own experiences and answers questions for students who are thinking about careers in the industry.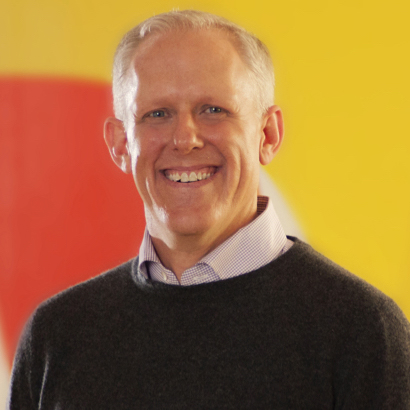 Bunt started at college as a business management and administration major, but switched to liberal studies, a move that he says "opened up a lot for me." The interdisciplinary program – which included art, law and film classes – played to his strengths and allowed him to work with creative people from a variety of disciplines.
"It made me more well-rounded," he says, "and opened up new horizons."
His experience also helped shape his most important advice for students.
"Adults always tell young people to figure out what they want to do, but most of them don't know. I tell them that it's just as important to figure out what you don't want to do. Try things, then move on. I wasn't enjoying that major, and might have flunked out if I'd stuck with it. Changing my major changed everything for me," he says.
In his courses, Bunt fields a wide range of questions, some from musicians who want to know how they can get more visibility for their art, others from those who want to know about different jobs in an entertainment company or record company.
"When you go to college you hear about different industries," Bunt says, "but you don't really learn about all the different jobs within an industry."
One of the tips Bunt offers musicians is to hang out with Chapman film students – it's a good way to find opportunities to work on projects together.
"Chapman sits in a unique place and can encourage collaboration," says Bunt. "A company like Disney is not dissimilar. We work with theme parks, television, movies, all the different divisions working with one another."
Bunt finds the chance to interact with Chapman students just as valuable for him as it is for them.
"I love the questions. It's selfishly fun to hear what's on their mind and how they listen or consume music. I like the energy. Sometimes the question helps me think about my business in a different way, things we haven't thought of on the business side."
Learn more about music majors at Chapman's Hall-Musco Conservatory of Music.