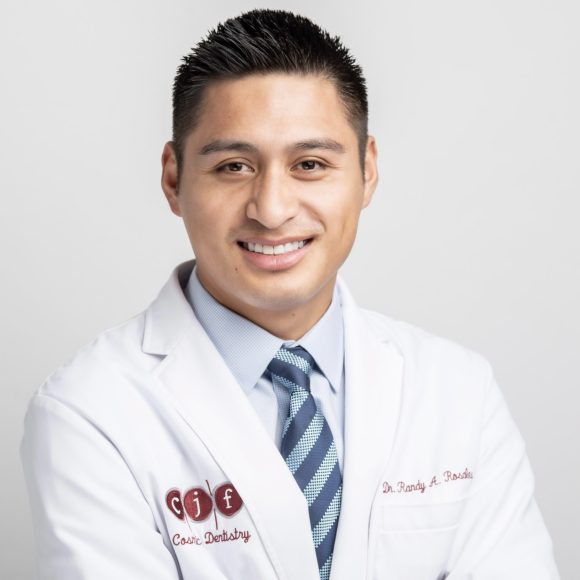 As a dentist in private practice in the City of Orange, Randy Rosales '12 maintains a strong connection with Chapman University and serves on the Alumni Association Board of Directors. But one of the things he finds most meaningful is the opportunity to mentor pre-dental Chapman students.
Rosales earned his BS in biochemistry from Chapman's Schmid College of Science and Technology. During his time at Chapman he was on the water polo and swim teams and participated in research with the Kim Environmental Geochemistry Lab.
Rosales has personal experience with how important mentorship can be for undergrad students planning their careers.
"It turns out I had to have my wisdom teeth removed at the time I was exploring dentistry as a career," he says. "The oral surgeon who removed my wisdom teeth agreed to mentor me after hearing about my interest in dentistry."
Shortly after graduating from Chapman, Rosales started dental school at University of California, San Francisco.
"After dental school, that oral surgeon connected me with Dr. Chris Fotinos and the rest is history. What's great is now we all work together as colleagues!"
"Dentistry combines art, science, technology and health care in one field. It is always evolving. Our dental office is unique because it stays modern and also offers a personalized and comprehensive approach to our patient care," says Rosales.
He says helping patients achieve their dental goals and maintain the results is the most fulfilling part of his work.
Each year, Rosales mentors four or five pre-dental students from Chapman, who shadow him at his office. He also guides them through the dental school application process. This year, he was able to bring some of these students along on a dental mission to Mexico, where Rosales offers pro-bono dental services.
His advice to new alumni is that learning doesn't stop when you graduate.
"There were moments when I thought I knew everything, but in reality, I didn't know much of anything. I think the key to success is being a lifelong learner," he says.
"Find a mentor in your field and learn as much as you can!" he adds. "If you don't have a mentor I would connect with a Chapman grad and start from there!"
Read more about what Chapman University Alumni are up to on our Class Notes page — and submit your own life updates for a chance to be featured!