What does it mean to enter college without knowing what your major will be?
For incoming students, having an "undeclared" – or better yet, "exploratory" – major offers a wealth of possibilities. Whether a student can't decide between two or three disciplines – biology or biochemistry, English or film – or they really have no idea what they want to pursue, the opportunity to try on different majors means they can find the perfect fit before making a commitment.
For Diya Giri '26, who plans on designing her own major, entering undeclared made the most sense.
"I'm really interested in how technology can affect entertainment, so I'm taking a combination of classes in virtual reality and performing arts, and possibly museum curation and theater technology," she says.
Being an exploratory student has allowed her to examine the various opportunities that the university's schools and colleges offer as she tries to figure out the details of her self-designed major.
But there is a potential downside to not choosing a major, too.
Helping Undeclared Students Beat the Odds
"Nationally, only about 20% of students who don't declare a major by the end of their second year of college end up graduating," says Brad Petitfils, Chapman's associate vice provost for assessment and student success.
"Undeclared students are more likely to feel like they don't have a home at the university," says Petitfills, Ph.D. "When other students are going to their college meetings, for instance, these students often feel like they don't have that same identity, and it's often seen as a deficit."
When it was noticed that the newly enrolled Class of 2026 cohort included 260 undeclared students – the second highest rate in the university's history – the provost's office knew it had to step up efforts to ensure those students would stay on track for graduation.
"The pathway to success starts early at Chapman, but it's not a journey students have to take alone," says Norma Bouchard, Chapman University provost. "From the moment they are admitted, students can count on support and guidance from a variety of university resources.
"But we also know that different students require different kinds of guidance. When we saw the large number of exploratory students in the incoming class, we immediately saw the opportunity to adapt how we serve them, and to help ensure they succeed here at Chapman," she says.
The result is the new Exploratory Majors Program for Undeclared Students. The voluntary program is centered around a choice of Exploratory Majors First-year Focus Courses (FCCs) – a general education requirement designed to help new students transition to college-level critical engagement in their studies. Many FCCs are major-specific, leaving undeclared students with fewer choices.
The FCCs selected for the Exploratory Majors Program are deliberately interdisciplinary, allowing students to experiment with different academic approaches in such subjects that range from "Meet the Beats: The Literature and Culture of the Beat Generation in 1950s America" to "iBrains," which examines how technology might change human development.
Participants in the program are also assigned three advisors as part of their personal "student success team." The team includes their FFC professor, a dedicated academic advisor and a career advisor.
Infinite Possibilities for Exploratory Majors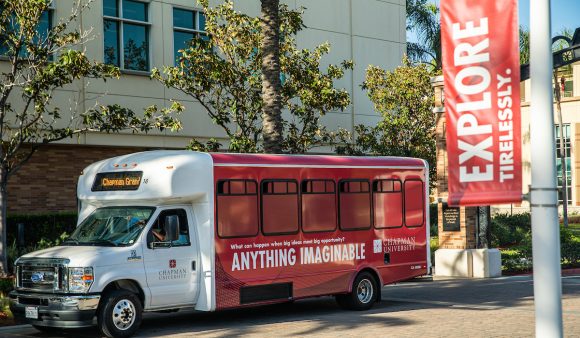 For Diana Frenkel '26, the benefits of the program began even before starting at Chapman.
"Just having the reassurance of many people telling you it's OK being undecided. I think that's already been a big benefit, having an adult telling you, 'It's fine. Don't worry,'" she says.
Frenkel is appreciative of how the program reflects the non-traditional paths people of her generation are taking, building careers and lifestyles that blend their unique interests and passions.
"Being in an exploratory major is kind of the first step," she says. "You're not focused on only one field, but you try many different fields and from that you kind of realize what you want to do."
Just a few weeks into the first semester, art professor Wendy Salmond, who teaches the Exploratory Majors FCC "How Modern Art Shook the World", is enthusiastic about her students and the program.
"I love the sense of infinite possibilities that comes from resisting the temptation to self-identify as a particular major or discipline. This is the most fun I've had in the classroom for a long time," she says.
She adds, "I can't wait to see how each of the 22 students in the class explores what Chapman has to offer in the coming semesters."
Academic Advising offers additional resources for Chapman students who have not yet declared a major, including the upcoming Majors in Minutes "speed-dating" info session on Oct. 5.