Chapman University economist Jim Doti believes that a recession "is virtually certain – it's not a matter of if, but when."
Doti, president emeritus of Chapman University, made this assertion at the Economic Forecast Update June 23 at Chapman's Musco Center for the Arts. The update builds on the annual Economic Forecast, which has been held in December for almost 45 years.
Doti said that based on three federal fiscal factors, the recession could come by early 2023 and as soon as the end of this year.
Together with Fadel Lawandy, Doti presented econometrics-based forecasts for the midterm elections, forecasting that the Democratic Party will lose 53 seats this November. The sitting president's party has lost seats in all but two midterms since 1946.
"When the recession hits, the president will have more difficulty . . . enacting fiscal legislation to get us out," Doti said.
They found that some variables, like overall inflation, didn't influence election outcomes, while gas prices did because people see them daily, Doti said.
Doti highlighted the fact that Chapman's forecast in December 2020 of 5.7% real GDP growth was "a bull's eye," making it the most accurate out of 50 Blue Chip Economic Indicators forecasts. Growth will slow this year, he said.
Doti addressed another topic on everyone's mind – the housing market. He predicted that Orange County's median home prices will drop 12% in the next year – from over $1 million down to $891,000 – while interest rates will reach 7.1%.
"Is now the time to buy a house or should you wait a year?" he said. "Bottom line – probably wait."
Orange County's job growth is forecast at 5.1% – slightly lower than the statewide average, but higher than nationwide growth, he said. The county is also lagging behind Los Angeles, San Diego, San Francisco/Oakland and San Jose in increase in higher-paying jobs.
"Hopefully, Chapman will be engaged in research to see what's making that happen," he said.
In between Doti's forecasts, Lawandy spoke about the stock market, and Raymond Sfeir, Director of the Anderson Center for Economic Research, spoke about imports and exports.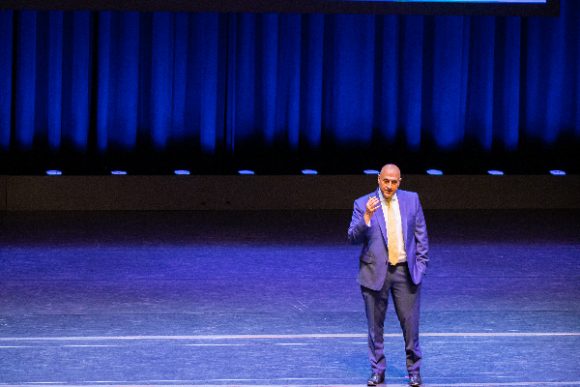 Lawandy said there will be some "downward pressures" in the stock market, "but there are opportunities that you can take advantage of."
Sfeir talked about how California Assembly Bill 2840, which would create a 1,000-foot buffer between large warehouse developments and residential areas, would affect Southern California's robust logistics industry, especially in the Inland Empire.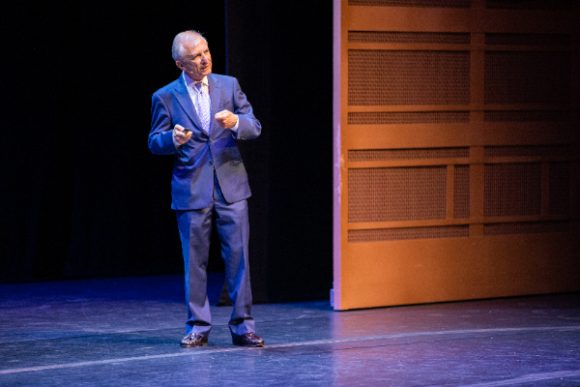 The 45th Economic Forecast is scheduled Dec. 13.