Kevin Nguyen '24 was planting alfalfa in a biology lab at Chapman University when he learned that he had received a prestigious Goldwater Scholarship. As his seedlings soaked up moisture from the soil, Nguyen let his achievement sink in.
"Yes – I did it!" he remembers saying to himself as he read the email with the good news from the Goldwater Foundation. 
Nguyen had every reason to exalt, even if his tiny plants were the only ones joining in his impromptu celebration.
Increasing Plant Productivity and Crop Yields
Nguyen's agricultural science research explores the symbiotic relationship between alfalfa plants and a soil bacteria called rhizobia.
"We're trying to optimize that relationship so we can have better plant productivity," he says. "One experiment is trying to find out if there's a special time of day when that symbiotic relationship peaks. And right now I'm working to see if carbon monoxide has any effect on the relationship, because some researchers have noticed that small amounts of carbon monoxide can make the plant grow secondary roots."
Ultimately, Nguyen hopes to improve food yields and, as a result, increase global food security, especially in developing nations. More immediately, he hopes to dive deeper into his project during Chapman's Summer Undergraduate Research Fellowship (SURF) program.
"I enjoy thinking about the optimal way to execute an experiment, and I always get excited when I think about the purpose of my project," he says. "The purpose usually has a real-world application. Thinking about how the results could help the world makes me eager to get started."
Partnership With Orange High and the Ronald M. Simon Foundation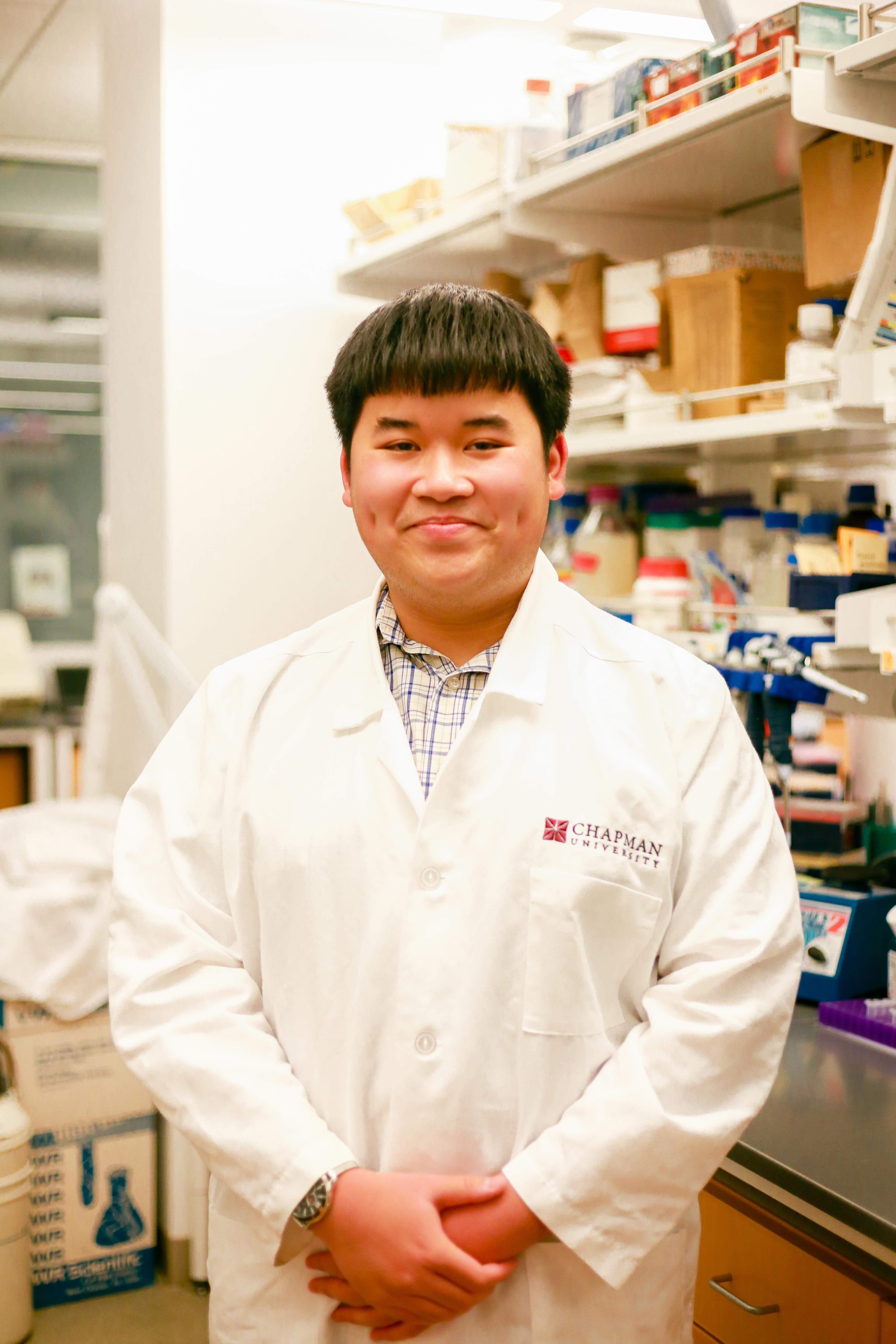 Nguyen's Chapman experience began while he was a student at nearby Orange High School. There, he was selected for the Simon STEM Scholars Program, which introduced him to scientific research in the lab of Chapman Assistant Professor Hagop Atamian, Ph.D., who has been a mentor to Nguyen ever since.
Nguyen, a first-generation college student from a low-income background, attends Chapman on a full scholarship thanks to the generous support of the Simon STEM Scholars program by the Ronald M. Simon Foundation.
"We are thrilled to hear that one of our Simon Scholars will receive the Goldwater Scholarship," says Ronald M. Simon, a Chapman University trustee.
"It is a sign that the partnership between Orange High School, Chapman and the Ronald M. Simon Foundation is succeeding in its mission to encourage underprivileged students to pursue much-needed STEM careers," Simon adds. "Without this program, Kevin may not have pursued this degree, and now he is being recognized as an emerging national leader in scientific research. Nothing could make us happier. We are confident that he will continue to excel and reach even higher levels of success. Well done, Kevin!"
Nguyen says that his initial lab experience at Chapman while he was still a student at Orange High opened his eyes to the ways that research "can be a completely rewarding experience in college," he says.
"I used to walk past Chapman without knowing anything about it except that greatness happens there," Nguyen explains. "The Simon STEM Scholars program allowed me to get a taste of the awesome. I've always had a knack for STEM, but now it's more than that. Now I love it."