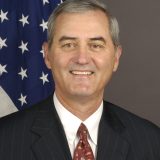 A generous donation from former U.S. ambassador Ron Spogli has established a new endowed chair at the Argyros School of Business and Economics. The Doti-Spogli Chair in Free Enterprise will recognize a faculty member whose research or outreach spotlights the benefits of economic freedom and the policies that extend it.
"Free enterprise — and its corollary of market-based economies — is the best model yet created to create prosperity and insure liberty for the greatest number of people," says Ambassador Spogli, whose generous donation funds the new chair that is co-named in honor of Jim Doti, Chapman's president emeritus and professor of economics.
Doti, Ph.D., first met Spogli in Italy, where the latter served as ambassador in the mid-2000s, and a friendship rooted in intellectual discourse bloomed.
"Not only is he a very, very successful business leader, but he has a great interest in history, in political science, in foreign affairs, and of course, our joint love and interest in economics," says Doti.
Spogli is the co-founder of Freeman Spogli & Co., one of the leading middle market private equity investors in the United States, and has served on the board of directors of over 20 companies and organizations, including the J. Paul Getty Trust, the W. M. Keck Foundation, and the Center for American Studies in Rome.
When the ambassador decided he wanted to do something for Chapman University, Doti suggested the idea of establishing an endowed chair. Since the value of a free market was a frequent topic of conversations in their discussions, it seemed a natural course of action to ensure that the teaching of free market principles would always be a part of the curriculum at the Argyros School of Business and Economics.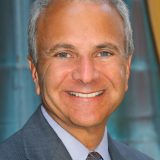 Says Doti, "One of the common themes that keeps coming to the table in our discussions is how many nations have great resources, great talent and raw materials. Yet the people living in those countries suffer and are not able to enjoy the benefits of freedom and prosperity."
He and Spogli both noticed that nations that have the most freedom and prosperity "are those that have the most free enterprise, where markets are allowed to be free," Doti said, "where the concepts of Adam Smith, as he presented in 'The Wealth of Nations', create the environment that's conducive to enhancing freedom and posterity. We feel that it's important for new generations coming through Chapman University to understand that and why that's the case."
"And he then surprised me by saying that this is something that he wants to do to connect our names forever in the future," says Doti.
"Jim Doti has been an inspiration to me and others for many years," said Spogli. "A top scholar and university administrator, he's a dedicated teacher in the most selfless sense of the word. His extraordinary humanity, demonstrated in countless acts of kindness, has left me humbled. There is no finer person for whom this chair could be named."
"It's no secret that the Argyros School has unabashed support for free enterprise," said Dean Thomas Turk. "It's been the key to prosperity, lifting people out of poverty over the centuries, and over the past few decades in particular. We are excited to have this recognized through this new chair."
The chairholder, who has not yet been selected, will develop and teach a course that will introduce students to fundamental texts and explore the impact of free enterprise on the vitality of a society, and may focus on political economy, entrepreneurship or management. They will also administer and award the annual Doti-Spogli Student Prize and the Doti-Spogli Faculty Prize for contributions to the advancement of free enterprise.