What does it mean to lead? For students enrolled in Chapman's Minor in Leadership Studies (LEAD), the first step on the journey starts by looking inward.
"It was truly a captivating experience," says Nick Silva '21, a business administration major who is now pursuing a graduate degree in integrated design, business and technology at USC. "You learn a lot about yourself in terms of how you think, how you see things, how you interact with people, how people interact with you."
"I knew if I combined business with leadership, it would be instrumental in my career and for my personal growth and development," he says.
Associate professor Mark Maier, Ph.D., says, "LEAD is designed to enhance transformational leadership and serviceship." He emphasizes that it is a university-wide program, open to undergraduate students in any field of study. "LEAD students share a desire to become better leaders — better ethically and morally. They put service above self; their first instinct is to look out for others as opposed to themselves."
The program blends classroom learning – studying historical figures and modern inspirational and motivational thinkers – with experiential exercises and field trips that allow students to apply theory to practice. Throughout the program, students go through a wide variety of self-assessments, including determining their own values and strengths and developing a personal mission statement.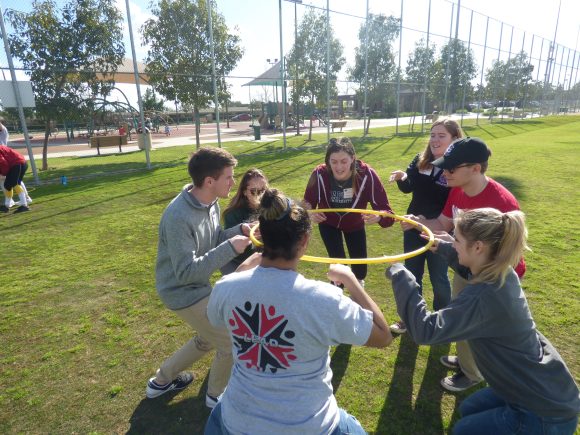 For Silva, the most important lesson was to be vulnerable. The classes are fun and engaging, but they can push students out of their comfort zone — examining what they are passionate about, for example, or writing a personal eulogy. During a weekend retreat, Silva participated in a team ropes course. "Being 30-plus feet off the ground is going to put you in a vulnerable position," he says. "People expressed their support and camaraderie, others expressed their dreaded fear of heights. But using that essence of vulnerability we were able to build better connections and better support one another in that moment and after."
Led to Leadership
"Leadership had already been a big part of my life and I wanted to be able to continue with it," Silva says. As a high school student, he was very involved in leadership activities, including serving as Associated Student Body president during his senior year. While taking part in a youth leadership camp, he was intrigued to discover that many of the instructors came from Chapman, and that set him on a quest to find out more about the university.
"I knew if I combined business with leadership, it would be instrumental in my career and for my personal growth and development," he says.
According to Maier, anyone can be a leader, not just extraverts and not just those in actual leadership positions, adding that leadership is as much, if not more, a matter of how to be, not just how to do. "What we do flows from who we are," he says. "A lot of students come to the program thinking that only people who are extroverts are leaders and that leadership attaches to position. But leadership is broader than a role; it's open to anybody! And there are also the quiet, unassuming leaders who lead by example, and inspire others that way," he says.
Silva is one of the latter. "He is very unassuming but powerful in a quiet kind of way. The best leaders aren't those that get things done themselves, but inspire others to do great things. They don't create followers, they make more leaders. Nick is one of those."
The leadership program had an immediate impact on the work Silva was doing in other classes, especially in major group projects, where he could apply the leadership styles and techniques for building an effective team atmosphere with classmates. The self-reflective reading and writing assignments also helped him when it came time to write personal statements for graduate school applications.
Silva is still applying the leadership skills learned through LEAD in his graduate coursework, finding ways to work effectively as a team with a wide array of classmates who have different priorities and experiences.
"I absolutely loved the LEAD program," he says. "I'm so thankful for the amazing staff and faculty. It was one of the best decisions I've ever made."