It started with a small group of students wanting to play basketball for what was then known as California School of Christianity. A century later, those earnest beginnings have blossomed into an athletics program at Chapman University that includes more than 500 student-athletes competing in 21 sports.
Seven NCAA championship trophies now sit in Chapman display cases, along with a 2011 national title won by the women's lacrosse club team. Dozens of Chapman athletes have earned recognition as All-Americans.
As Chapman celebrates its 100th anniversary of intercollegiate competition, success resonates across a landscape of historic venues, from the cozy Vermont Avenue gymnasium known as "The Box," to the state-of-the-art pool, courts and playing fields of today's Erin Anderson Athletics Complex.
First Teams Have Lasting Impact
It took just a couple of years for that 1921 basketball team to turn into a cohesive program featuring multiple sports. Cal Christian added football, tennis and women's basketball in 1923, and a baseball team was formed in 1926.
The varsity football program was discontinued in 1932, but the impact of those early teams is still felt today. The current football team takes the field in Ernie Chapman Stadium, named for the grandson of university namesake Charles C. Chapman.
Irvin "Ernie" Chapman '33 not only was an outstanding player in the "leatherhead" era of football, but he also became a longtime university trustee as well as an outspoken advocate for reinstating the football program. He was on the sidelines when that dream was realized in 1994.
In that same year, Chapman made the transition from NCAA Division II to Division III, which meant that the university would no longer offer athletic scholarships. But the change also made room for more student-athletes to enjoy the benefits of competitive sports. The program more than doubled the number of sports offered at Chapman as it nearly tripled the number of students participating.
Victories Mark Transition to Division III
The football team enjoyed immediate success after the program was reinstated. Over the 1995-96 seasons, the Panthers won 13 consecutive games and achieved a top-25 national ranking.
Another success story of the move to Division III involves the softball program. The team won the national championship in 1995, its first year of eligibility, and has been a national runner-up four other times – in 1996, 1998, 1999 and 2000.
Also during this era, the Chapman women's and men's basketball teams enjoyed great success, combining for 12 NCAA playoff berths during the 2000s.
Achievement has been a hallmark of Athletics throughout its 100-year history, including in the late 1950s, when men's basketball rose to national prominence with trips deep into the NCAA College Division National Tournament. The Panthers made the championship game in 1960, finishing second in the nation. Bob Hamblin '59 was the star of those late 1950s teams and became Chapman's first All-American.
The baseball team achieved Chapman's first NCAA championship when the Panthers took the Division II crown in 1968. Two more baseball championships have followed, in 2003 and 2019.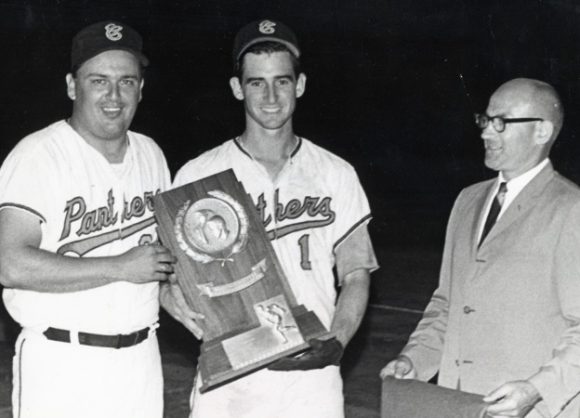 Among many standouts, Chapman's baseball program has produced a Major League Cy Young Award-winner in Randy Jones '72, as well as the first Black umpire in MLB history in Emmett Ashford '41 and the founder of MLB's Reviving Baseball in the Inner Cities program in John Young.
Women's Program is Officially Launched
In 1973, Chapman officially started its Women's Intercollegiate Athletics Program. University Hall of Famer Penny Brush paved the way for women's sports at Chapman as she oversaw the addition of women's volleyball, basketball, softball, cross country, track and field, swimming, water polo and crew.
The Hutton Sports Center opened in 1978 and remains the home of Chapman's basketball and volleyball teams. In the late '70s and into the early '80s, the men's track and field team became a small but mighty squad. The Panthers were led by national champion javelin thrower and Hall of Famer Joe Phillips as well as fellow Hall of Famer Brad Breen and All-American Eric Van Skike.
The men's tennis team became a dominant force in the 1980s as the Panthers won national titles in 1985, 1987 and 1988. Mike Edles coached the Panthers from 1982-88 as the program produced a dozen All- Americans.
Across the Chapman athletic programs, success has come in the classroom as well as on the fields of play. More than 30 Academic All- Americans have competed for the Panthers, including Mary Cahill '86, who continues to make a difference at Chapman more than 30 years later as the Panthers' women's volleyball head coach.
Continuity is a theme for Chapman Athletics, ever since that first basketball team took the court in 1921. What those first athletes started is still bouncing through Chapman history 100 years later.