Anne Beatts
Emmy winner Anne Beatts, one of the original writers on "Saturday Night Live" (SNL) and a beloved professor who mentored young writers and producers at Chapman University, passed away April 7, 2021. She was 74.
At "SNL," Beatts and writing partner Rosie Shuster created many of the show's most memorable characters, including Todd DiLaMuca (Bill Murray) and Lisa Loopner (Gilda Radner), as well as Laraine Newman's Child Psychiatrist and Irwin Mainway and Fred Garvin, both played by Dan Aykroyd.
Beatts was also a creator and producer of the critically acclaimed CBS sitcom "Square Pegs," and co-executive produced the first year of NBC's long-running hit series "A Different World." Her workappearedonBroadwayin"Gilda:Live,"andshewashonored by the Museum of Television & Radio (now the Paley Center for Media) as one of the medium's most influential women.
"I'm heartbroken about losing Anne," said Stephen Galloway, dean of Chapman's Dodge College of Film and Media Arts, where Beatts had been a faculty member since 2009. "She was a pioneer in so many ways — as the first female editor of the Harvard Lampoon and one of the first women writers on 'Saturday Night Live.' But she wasn't just the Queen of Comedy; she was also an extraordinary mentor to many of our students. She'll live on through them." After her passing, many students of Beatts shared heartfelt remembrances, with one describing her as "an incredible professor, mentor, writer and, for those of us lucky enough, a friend."
"She contributed so much to comedy history, and she will be missed," another said.
Beatts is survived by her daughter, Jaylene.
Ben Crowell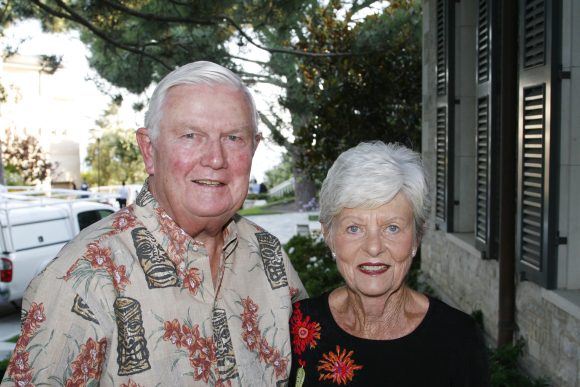 Philanthropist and longtime Chapman University Trustee James "Ben" Crowell passed away on March 7, 2021.
"Insightful, determined and generous are only some of the words that come to mind when I think of Ben," said Chapman University President Daniele C. Struppa.
"He demonstrated his generosity and leadership consistently through the years, impacting the entirety of Chapman University."
A former captain in the Air Force Strategic Command, Crowell became a leader in the banking industry, launching Eldorado Bank in Tustin in 1972 and growing it to include 13 branches. He and his wife, Lynn, raised four sons in Orange County.
"Without a doubt, our university's current national ranking and the renown of the Argyros School are tied to Ben and his incredible vision," Struppa said, further praising Crowell for his "unerring business sense" as well as his eagerness to collaborate.
While Crowell's counsel on the Board of Trustees served all facets of the university, he was particularly invested in the growth of the Argyros School of Business and Economics, Dodge College of Film and Media Arts and the Erin J. Lastinger Athletics Complex, Struppa said.
"With his deep connection to the progress and advancement of the Argyros School, it is fitting that his name is permanently housed within its halls," the president added, citing the Ben and Lynn Crowell Elevator Foyer in Beckman Hall and the Ben & Lynn Crowell Conference Room, part of the Janes Financial Center.
"It is exciting that Ben's incredible spirit and memory will always be a part of the Argyros School, and it is my hope that all who pass by his name will be inspired in their pursuits," Struppa said.
Anthony Garcia
Anthony Garcia, a former English professor and administrator in the Office of Admission at Chapman University who nurtured in students a love of language and literature, passed away Aug. 28, 2021. He was 85.
The son of a draftsman who worked on the Manhattan Project, Garcia served a decade in the Navy, studying at the Naval School of Music and serving with a number of Naval music units. After retiring from the Navy in 1968, he joined Chapman in the Office of Admission. During his early years, he also played violin with the Chapman Orchestra.
Later, Garcia found his true calling as a professor of English and comparative literature, serving a stint as department chair. He especially enjoyed his seminar courses for first-year students, including a course he developed on the psychology of war in literature and film. He was named Faculty Member of the Year in 2008.
While Garcia was assigned to the 13th Naval District Band in Seattle, he met his wife of 44 years, Ann Walsh Garcia. Ann passed away in 2009.
Garcia is survived by his younger sister, Annette Martin, and his twin sons, James Anthony Garcia, a senior trial attorney with the U.S. Commodity Futures Trading Commission, and Jon Dominic Garcia, a coordinating White House producer for ABC News.
A funeral Mass was planned for fall at the Cathedral of St. Matthew the Apostle in Washington, D.C. A separate memorial event is planned for early next year in Southern California. At a date to be determined, Garcia's ashes will be laid to rest at Arlington National Cemetery beside those of Ann.
Don Guy
A longtime professor who created Chapman University's theatre technology major and launched the careers of many students in the entertainment industry, Don Guy passed away April 24, 2021.
"Don was respected in the professional world and beloved as a teacher. He single-handedly established a technical theatre major at Chapman and strongly advocated for it and for his students, connecting them to many professional opportunities, thanks to his own industry connections," said Giulio Ongaro, dean of the College of Performing Arts. "He was a huge presence on campus and we are all still in shock at his passing. He will definitely be missed."
Among Guy ̓s projects was Technology for Live Performance, an interdisciplinary course created with his wife, Professor of Dance Alicia Guy, that leveraged their working connections and educational partnership with Cirque du Soleil.
As a highly sought after lighting designer, Guy worked on six continents and in 48 states, using his skills to create settings for cruise lines, dance, theatre, themed entertainment, theme parks and architectural projects.
Nancy Dickson-Lewis
A dance educator who elevated the caliber and strength of the Department of Dance during her tenure as department chair, Professor Emerita Nancy Dickson- Lewis died March 23, 2021.
"I served with Nancy on a few faculty committees, and I can personally attest to her dedication to Chapman students. Teaching and mentoring young artists was always her passion," said Chapman Provost Glenn Pfeiffer. "At Chapman she taught many courses and instituted a new curriculum that contributed greatly to the current excellence of the Department of Dance"
While at Chapman, Dickson-Lewis received two awards for excellence in teaching, just one measure of her tireless work on behalf of students, said Giulio Ongaro, dean of the College of Performing Arts (CoPA).
"Time after time, when talking to alumni who studied with Nancy, what comes through is her deep concern for each individual — the way she continued relationships with her students and provided mentorship, advice and friendship well after their graduation from Chapman. By doing so, she touched many lives very deeply." Ongaro said.
CoPA has started a fund to name a space for Dickson-Lewis in the forthcoming Sandi Simon Center for Dance. Details about the fund are available from Bobby Reade, CoPA development coordinator, at reade@chapman.edu.
Barbara Parker '64
Alumna, donor, board member and dedicated keeper of the Chapman flame, Barbara Parker '64 passed away in March 2021. She was 90.
"She was one of the most compassionate and warm people I ever met," Chapman President Daniele C. Struppa recalled in a message to the Chapman University community after Parker's death. "It was impossible not to love Barbara. She was one of the first people to reach out to me when I took on the role of president. She was always reaching out to others, and her encouragement was an incredible light."
Parker was an active member of the Chapman Family throughout the life she shared with Bill Parker '52, whom she met when both were students before Chapman's move from Los Angeles to Orange.
Though she put her education on pause to start a family with Bill, Barbara was elated to return to Chapman to earn degrees in teaching and art after the university's move to Orange, where the Parkers made their home.
Together, Barbara and Bill were spirited advocates for student scholarships, Town & Gown, the Alumni Association, Leatherby Libraries and Fish Interfaith Center, as well as the Panther baseball, basketball, volleyball and football programs. They invited hundreds of students, faculty and staff to their home for meals, and they attended countless events over the decades of their support.
A particularly heartwarming moment came when Giulio Ongaro, dean of the College of Performing Arts, presented Barbara and Bill with a "Golden Ticket," granting them admission to all CoPA events in recognition of their love for student performances.
As Barbara and Bill arranged many years ago, Barbara's ashes are interred within the Columbarium of the Fish Interfaith Center.
Carl Hill '78
Carl Hill '78, an active volunteer who demonstrated the utmost integrity as well as an incomparable spirit for his alma mater, passed away on August 5, 2021. He was 64.
"Carl was the embodiment of steadfast commitment and leadership," said Chapman President Daniele C. Struppa. "His relationship with Chapman extended more than 40 years, during which he remained a generous member of the Chapman Family. Inspiring, engaged and dedicated are just a few of the words that come to mind when I think of him."
Hill's long relationship with Chapman was highlighted by numerous initiatives and acts of generosity.
In 1975, when Hill was a first-year student at Chapman, he contributed to Chapman's first fundraising campaign. That initial gift foreshadowed his enduring legacy. He annually gave to the Chapman Fund and regularly supported Chapman Celebrates, athletics and many capital campaigns for new construction projects.
Hill was not one to stand on the sidelines. He joined several committees to help steer new programs. Over the past decade, he was active with Chapman academics, including with Attallah College of Educational Studies, Crean College of Health and Behavioral Sciences, and Wilkinson College of Arts, Humanities, and Social Sciences.
Hill made a point to attend key university events and established personal connections with deans, administrators, faculty members and students.
Recently, he helped lead the Chapman Transfer Admission Guarantee (C-TAG) for Future Educators. This Attallah College program creates a bridge to Chapman for future elementary and special education teachers from Santa Ana College and Santiago Canyon College. Hill served on the advisory committee that did the groundwork for the program.
In addition, Hill served for more than a decade on the Alumni Association Board of Directors, including two terms as president. He also served on the Alumni Association's Past Presidents Advisory Council, established in 2018.
Strengthening the connection for other alumni, Hill named the Carl R. Hill '78 Family Room in Elliott Alumni House.
"He specifically chose the Elliott Alumni House for his gift because he believed the Chapman experience continues to resonate and shape the lives of alumni long after graduation," Struppa said.
Hill's philanthropy included an additional commitment to Elliott Alumni House through his living trust.
"Carl Hill demonstrated a lifetime commitment to Chapman University," Struppa said. "His decision to establish a legacy gift, the Carl R. Hill '78 Endowed Opportunity Fund, exemplifies his permanent bond with the university. We, as an institution, are incredibly honored to carry forward his memory and spirit through his endowment."
To make a gift in Hill's memory, contact the Office of Legacy Planning at legacy@chapman.edu or (714) 516-6150.
Clas Wihlborg
Clas Wihlborg, an internationally distinguished economist and holder of the Fletcher Jones Chair in International Business in Chapman University's Argyros School of Business and Economics, died March 13.
Colleague and fellow Argyros School professor Niklas Myhr remembered Wihlborg, Ph.D., as a dedicated teacher who possessed a great commitment to student success and a joy for living. Those traits helped make study abroad experiences valuable and memorable, says Myhr, Ph.D.
"Thanks to Clas's network, we were able to set up meetings with very senior executives of all the Scandinavian central banks, many large corporations, academic institutions, etc.," Myhr said. "Clas kept his inner child alive to enjoy the moment and was never far from a good laugh. During our travels, a highlight every summer was when Clas delivered an inimitable rendition of Jimi Hendrix's 'Purple Haze' in a live karaoke session."
At the Argyros School, Wihlborg founded the Chapman Conference on Money and Finance and along with Myhr led the MBA "Business in Scandinavia" travel course.
A prolific author in international finance, institutions, law and economics, Wihlborg served on the European Shadow Financial Regulatory Committee and the Royal Swedish Academy of Engineering Sciences (IVA).