One of the oldest art clubs in the United States, the California Art Club, will hold its 110th Annual Gold Medal Exhibition at Chapman University's Hilbert Museum of California Art from July 10 to August 14, 2021. The exhibition showcases recent works by more than 160 of the club's artists – including some of the most acclaimed professional artists in the Golden State – in watercolor, oil and sculpture.
With a rich history that spans more than a century, the exhibition, normally held in Los Angeles County, will be on view in Orange County for the first time. The Hilbert Museum had been slated to spotlight last year's installment of this annual display of contemporary-traditional fine art, which ultimately had to be presented virtually due to the coronavirus pandemic.
"We're thrilled to have the California Art Club (CAC) and its roster of talented artists here at the Hilbert Museum and actually on the walls for the first time, after partnering with CAC on last year's virtual show," said museum director Mary Platt. "As the museum is now back to regular hours and as we return to normalcy following a challenging pandemic year, this show is something we have looked forward to for a long time – and we know our visitors will really enjoy it."
Not only one of the oldest, but also one of the largest and most active art organizations in the country, the Pasadena-based California Art Club was founded in 1909 and is recognized as a leading force in the contemporary-traditional genre, with both painters and sculptors as members. The club is dedicated to the advancement and appreciation of artwork created using time-honored techniques, some of which have nearly been forgotten in the mainstream contemporary art world.
The Annual Gold Medal Exhibition, the CAC's signature event, pays tribute to its pioneering artists who inspired the turn-of-the-20th-century California Impressionist movement. "The exhibition has a long history of having no theme, similar to the philosophies of 19th-century European art salons," says CAC president and artist Peter Adams. "This is to encourage artists to take artistic risks and create what they consider to be their most important works." As a result, says Adams, the Gold Medal artists use classical methods, often to express important modern messages, ranging from environmental preservation to social issues and cultural perspectives.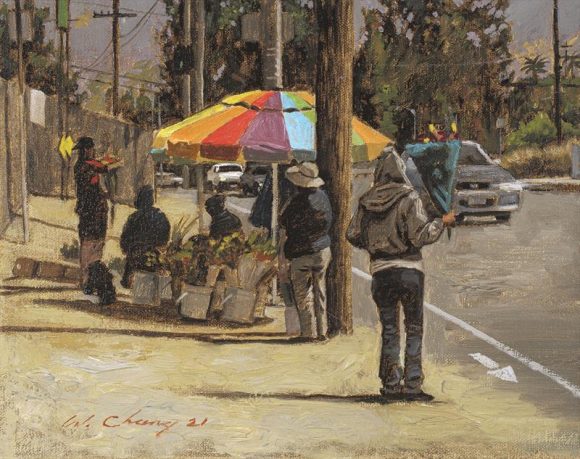 The exhibition was juried by a distinguished panel of judges and will feature more than 160 representational paintings and sculptures that pay tribute to today's Realist movement as well as California Impressionism. The 160 nationally renowned and up-and-coming artists employ traditional fine art techniques to create works that capture their personal experiences, interests and environments. Their subjects include contemplative landscapes and seascapes, evocative figures, intimate urban scenes and novel still lifes.
"The California Art Club is thrilled to collaborate with the Hilbert Museum of California Art to present our signature event in Orange County," says Adams. "Our shared dedication to highlighting exemplary works that celebrate our artistic and cultural diversity in a time-honored visual language will allow us to raise the bar, once again, for our Annual Gold Medal Exhibition."
Artworks in the show will be available for purchase through the CAC, with information available at the museum. In support of the organization's mission to foster a greater understanding and appreciation for traditional art forms, many Gold Medal educational programs will be accessible online at californiaartclub.org. The programs will include "Meet the Artist" sessions, exhibition highlight videos and art demonstrations.
The opening reception for the Gold Medal Exhibition on July 10 will be virtual. Registration is now open. However, a LIVE Paint-Out/Sculpt-Out by CAC artists is being planned for the closing day, August 14, in and around Depot Park, across from the Hilbert Museum and next to the train station. This will be followed by a closing reception. For more information about the exhibition and its other live and virtual events, visit the California Art Club website.
The Hilbert Museum, located at 167 N. Atchison Street in Old Towne Orange, is open to the public Tues-Sat, 11am to 5 pm. Admission is free. Free parking is available in front of the museum or in the Old Towne Orange/Metrolink structure at 130 N. Lemon Street, one block east of the museum. Visit the Hilbert Museum's website for more information. Follow the Hilbert Museum on Facebook and Instagram @hilbertmuseum.