It would be easy to focus on the immediate health care demands of the pandemic recovery, given the devastation COVID-19 wreaked on the world and the enormity of the vaccination effort still underway.
But Janeen Hill, Ph.D., founding dean at Crean College of Health and Behavioral Sciences, keeps her sights on the big picture. As devastating as the pandemic has been, Hill understands that health care is not an event, but a lifelong necessity. Preparing a diverse and ready-for-anything generation of medical professionals is a top priority.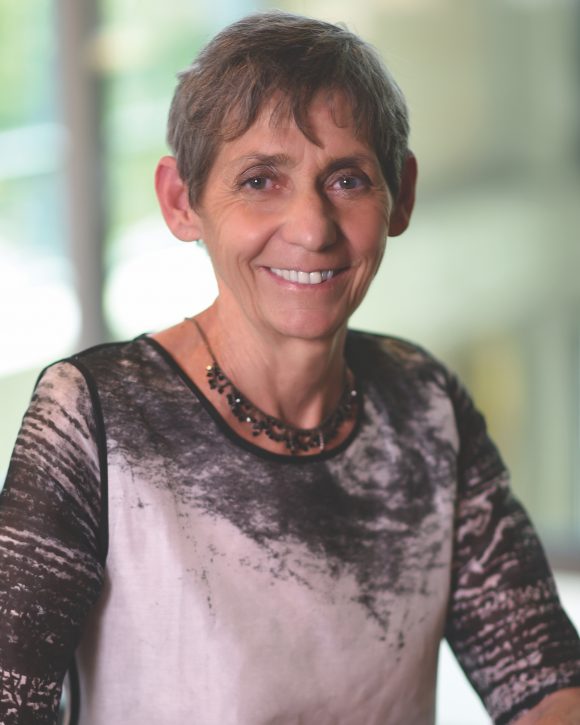 That aim drives the long-term goals for Crean College, home to nationally ranked professional degree programs and a strong undergraduate program for students aiming for a variety of health and science careers.
Under Hill's tenure, Crean was established as a distinct college at Chapman, the physician assistant studies program launched and professional programs in physical therapy, marriage and family therapy and communication sciences and disorders grew in distinction and rankings.
Hill's vision for health care education is earning its own recognition, too. Most of Crean's graduate programs are located at Chapman's Rinker Health Science Campus in Irvine, where the Greater Irvine Chamber of Commerce recently honored Hill with its Game Changer award during its 2021 Women of Influence Awards Ceremony.
She's quick to share the credit with Chapman's senior leadership.
"I'm very thankful that I've had a president and provost who are willing to take risks to move forward and to give people the freedom to pursue their ideas," she says.
But here we take a few moments to learn more about that unique game-changing momentum Hill brings to Crean College.
Higher education faces many challenges, including concerns about equity and diversity. What has been your strategy for surmounting these hurdles?
Impactful solutions are not quick fixes. For example, we are keen on diversifying the faculty in the college, but the pool of diverse candidates we vie for is very small and are highly sought after. The long-term solution is to diversify the pipeline, that is, Ph.D. and post-doctoral programs, which produce future faculty from diverse backgrounds.
With that said, how we compete for candidates in this pool requires, among other actions, job descriptions that include our commitment to diversity, active outreach by search committee members to post-doctoral and Ph.D. programs to recruit diverse candidates, publicizing positions in journals and with professional organizations for diverse faculty, and in-person interviews that include faculty and administrators committed to diversity.
As a college and university, we need to understand how we retain diverse faculty once hired.
And at the student level?
The Crean talent awards, which is scholarship money awarded to admitted undergraduate students in the college's undergraduate majors, target first generation, highly qualified students. The Simon Scholar PA fellowship program awards full tuition scholarships to incoming 10 incoming PA students who are first generation, from very low-income families.
COVID-19 revealed multiple flaws in U.S. health care. What opportunities do you see in higher education that can help drive change?
Health care disparities exist and have devastating impacts on the health and well-being of under-represented communities. The flaws are deeply rooted and need a nation-wide commitment to address healthcare in the US in general. So, the question for me is, what issues can Chapman University and Crean College tackle that will have a local impact on health care?
What we can do is educate health care providers who are ethnically diverse, who are committed to working in underserved communities, and who will advocate for those whose access to care is limited.
The so-called "Fauci Affect" is reportedly drawing more students into health science careers. How is Crean College uniquely poised to serve this new interest in medical careers?
We know from student applications to our physician assistant studies program that this is a medical career sought after by many. This was before COVID-19 and driven by the widening gap between the demand for health care as access to care expanded and the limited supply of emerging health care professionals.
The Fauci Affect is really raising the awareness of the importance of undergraduate and graduate programs in public health and the dramatic increase in applications to bachelor, masters and doctoral programs in public health.
The important role played by public health professionals will not wane once the public health issues related to COVID-19 are behind us. The role of public health professionals grappling with the impact of climate change on local, regional, national and global health will be front and center.
Thus, I see an ongoing demand for public health professionals into the future. Developing degree programs in public health requires national accreditation and a significant commitment of resources. Clearly, the idea is worth exploring, though.
How would you describe your day-to-day approach to teamwork?
I have a talented team of department chairs, associate deans and dean's office staff who work together to advance the teaching and research goals of the college. The team consists of highly motivated, responsible individuals who are independent problem-solvers and who actively seek out new initiatives to move the college forward. We meet as a team monthly to address common challenges and opportunities, and I meet with each member monthly to discuss challenges and opportunities specific to their specific role in the college.
Additionally, each knows I am committed to their individual development and will provide resources for professional growth. Thus, for me, teamwork works best if members of the team are empowered to work independently while keeping the goals of the college at the heart of their work and communicating and coordinating with their colleagues.
What leadership advice can you share with others in the higher education world?
Identify a team of highly responsible, capable, motivated members who believe in the aspirations for, in my case, the college. Know that the future of your college, or program, is not about you, but the emerging leaders. Empower and develop those emerging leaders.
---
Learn more about Crean College of Health and Behavioral Sciences.