After eight months of being stuck at home, life for many has become a little humdrum. Now, students, alumni and other members of the Chapman Family can welcome a familiar face into their homes to liven things up — without having to worry about things like quarantines, virus tests or health screenings. 
"I don't know about everyone else, but the past few months have been pretty rough," says Pete the Panther, Chapman University's mascot and chief cheer officer. "I'm really looking forward to getting to see everyone again."
Thanks to technological advancements, Pete can now travel anywhere in the world with just the touch of a button. 
"The best thing about it is that it's 100% safe," says Pete.  
How You Can Bring Pete the Panther Home
Traveling Pete is a fun way to reconnect with the Panther spirit no matter where you are. Just download and print this ready-made companion and let the creative fun start!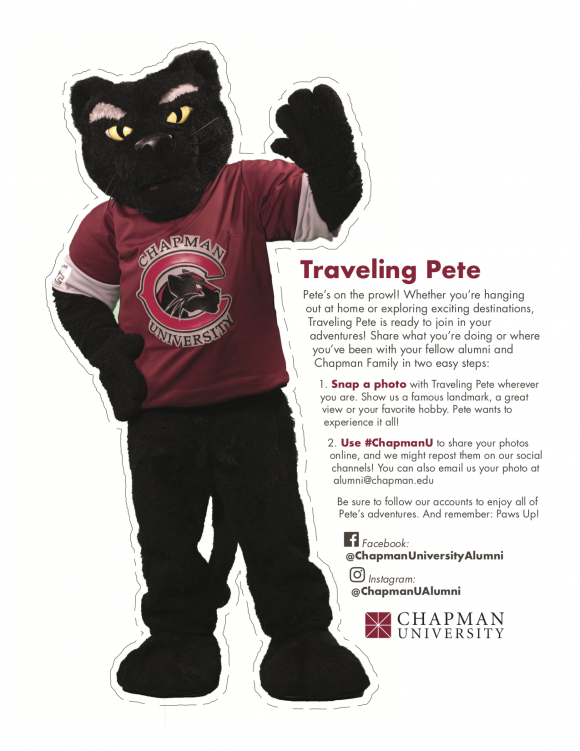 Always ready for a photo op, Pete hopes that someday soon he'll be able to join you on your globe-trotting adventures. Until then, he's up for any local adventures you can imagine. Here's some fun ways Pete likes to hang out: 
Showing off your latest kitchen triumph

Playing a game together

Working hard in the garden

Trips to the park (Pete loves the slide)

Wilderness hikes and camping trips 

Art projects
Don't forget to take photos of your fun times with Traveling Pete and post them on social media using #ChapmanU. We'd love to share your photos with the Chapman Family as a fun reminder that we're all in this together! 
Visit the Chapman Family Room for more ways to engage and stay connected with everything you love about Chapman.