Imagine a five-on-five water polo game. Now replace the ball with a hydrodynamic torpedo. Then, shrink the nets down to kid-sized hockey nets and place them at the bottom of a pool's deep end. Plus, add in the elements of mixed martial arts and the fact that the majority of the game is happening while players are underwater.
The result? Underwater Torpedo League, the latest Southern California fitness trend co-founded by Don Tran '20, who earned his degree in business administration after transferring to Chapman University from community college. Requiring both physical stamina and mental clarity, the aim of the sport is to get the torpedo into the other team's goal.
Building Confidence In and Out of the Water
Tran and his co-founder, Prime Hall, spent nearly a decade learning how to remain calm underwater during their time as Marine Raiders, an elite unit of the U.S. Marine Corps. As part of their military water-survival training, they were introduced to underwater torpedo as a game to get their minds off the anxieties and stresses of being submerged underwater. Through that experience, they identified that gaining confidence in the water translates to increased confidence on land.
After leaving the Marine Corps, Tran and Hall wanted to share the knowledge and techniques of their underwater training to help others outside the military.
"We'd like to enable everybody to believe that they're a warrior class to do this type of training," Tran said. "This isn't limited to the military. Everybody can be a warrior in their own way, fighting their own challenges and their own battles. We want to be able to build them up to have the strength to take on the challenges of the world."
Adapting from their training exercises, the two launched Underwater Torpedo League, the aquatic sport used as a tool to build water and mental confidence, and Deep End Fitness, the complementary fitness training program, at the end of 2017.
Applying the Chapman Education Towards Startup Success
A year after starting the two companies, Tran transferred to Chapman. While at community college, he researched business programs and was drawn to the Argyros School of Business and Economics, believing that it would be a good fit to guide his entrepreneurial endeavors.
Prior to attending Chapman, Tran admits that he had minimal business experience, and it was a lot of trial and error to get his companies afoot.
"It was an awesome experience at Chapman because everything I was learning, I could pretty much use and apply the same day in the business," Tran said.
Additionally, the Chapman grad says that he was able to widen his business insight through the support provided by Launch Labs, a startup incubator within Chapman's Ralph W. Leatherby Center for Entrepreneurship and Business Ethics.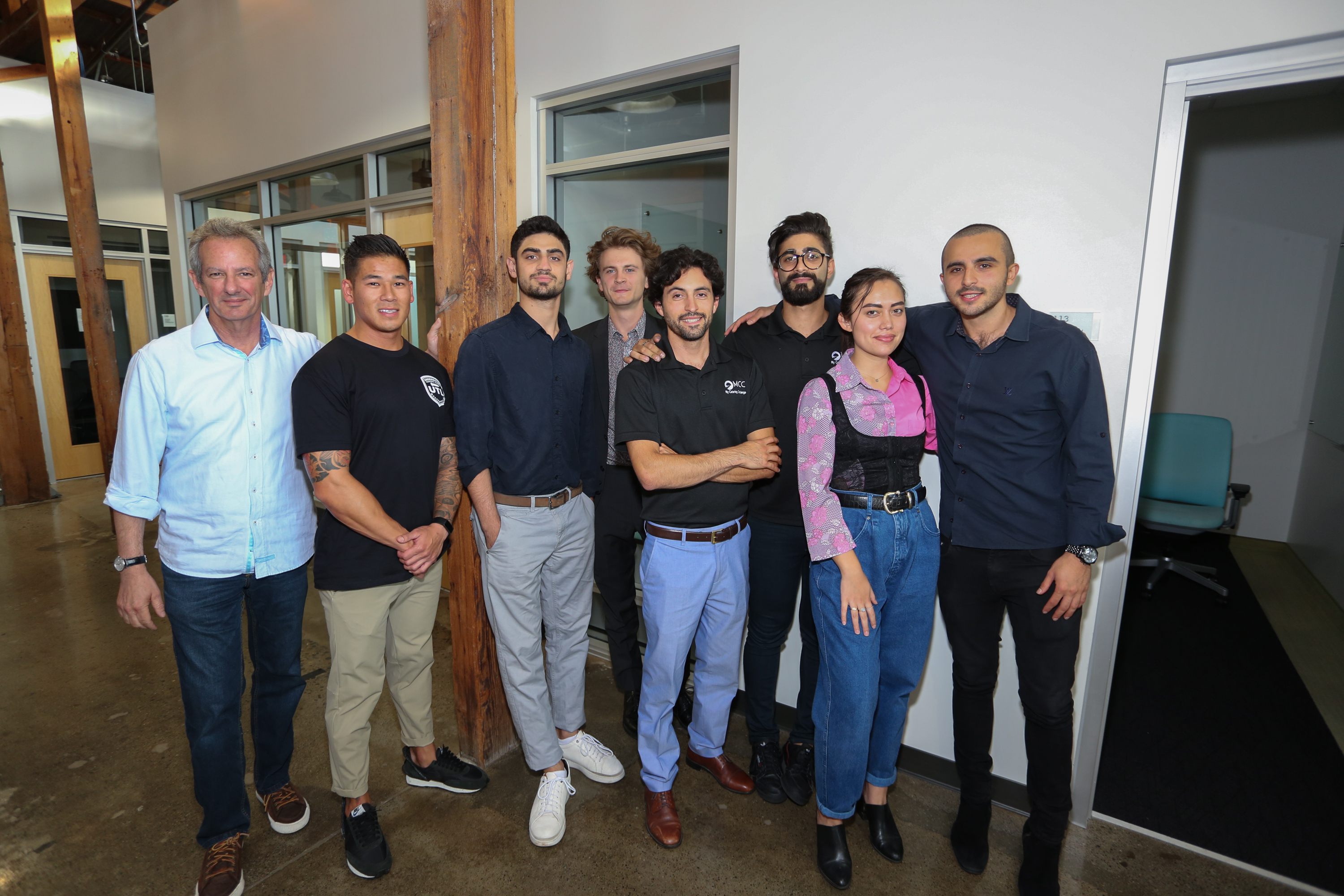 In particular, Tran notes that his participation in the Center's inaugural Panther Cage Match was a pivotal moment that fueled his companies' growth. This reality-TV-style pitch competition was designed to give Chapman student and alumni entrepreneurs real-world experience and a shot at funding from angel investors.
Personally, the match was a milestone in Tran's entrepreneurial journey as it was the first time that he pitched in front of real business professionals. Tran made it to the final round of the competition in 2019, and ended up placing fourth. Although he did not win the championship, Tran says the feedback from the venture capitalists and other business leaders judging the competition was instrumental in shaping his business' concepts, story and plans moving forward.
From Military Training Tool to Official Sport
Now in its third year, Underwater Torpedo League has quickly seen its popularity spread through its gameplay footage on social media with its thousands of followers. The sport and training sessions are well-loved by athletes of all fitness levels, including MMA fighters like Liz Carmouche, Olympic swimmers, celebrities like Noah Centineo and professional surfers. Underwater Torpedo League even made a media appearance on ESPN, where their recent championship game, called the Aquabowl, was covered.
Mario Leone, director of the Leatherby Center, says that he is delighted with the mainstream success of the Underwater Torpedo League and of Tran as an entrepreneur.
"The skills and competencies that come from our students work as self-starters that test their creativity, passion and fortitude to engage in new ventures is foundational to their career growth," said Leone, who was Tran's advisor at the Leatherby Center.
Bringing Underwater Torpedo to the World
In Orange County, Underwater Torpedo League is currently operating and training out of two outdoor pool locations in Irvine. They also have multiple locations in San Diego and Los Angeles counties and are expanding across the U.S.
Tran and his team are keeping the momentum going by introducing an upcoming WeFunder Crowdfunding campaign, where they plan to raise up to $1 million. Another project in the pipeline is a publishing deal that they received for a "F.R.E.E. Your Mind Guidebook." This book takes readers on a deep dive into the Underwater Torpedo League's training principles and operations, which is based on the acronym F.R.E.E: Focus, Relaxation, Economy of Motion, and Efficiency of breathing.
For long-term goals, Tran hopes that underwater torpedo will be accepted as an Olympic competition sport by the 2028 Summer Games in Los Angeles. He also envisions Deep End Fitness to develop into a national training program that continues to welcome both non-swimmers and elite athletes alike.
"My favorite memory that I always have is those nights staying up super late, working and going to school and trying to do both. When I'm making a difference in someone else's life and they let me know that the training really helped them perform at such a higher level, it reminds me of how the hard work pays off," Tran reflected.
---
Learn More