At Chapman University, Homecoming is one of the most anticipated events of the year. Traditionally held in early October, the weekend event includes picnics, concerts, awards, master classes with faculty and, of course, the annual Homecoming football game. It's a time for the Chapman Family — students, parents, alumni and friends — to come together and celebrate everything they love about Chapman. 
When planning Chapman Family Homecoming for 2020, though, the question soon became, how can people come together to celebrate when everyone has to stay home? The COVID-19 quarantine has altered event planning everywhere, and for an occasion like Homecoming — which is by definition meant to bring people back to campus — the distance seemed more palpable than ever. 
For Chapman's Alumni Engagement team, though, cancelling Homecoming was simply not an option. 
Tackling the Challenges of Online Events
"The first obstacle was technical," says Cristina Hallock, strategic events manager for the Alumni Engagement Office. In the first months of quarantine, just figuring out how to do events online was a challenge. "But now, we're all more comfortable with the technology and what is available to use, so the real challenge was to create an experience that captured the feeling of coming home to Chapman even when no one (including our staff) was able to visit campus."
Without the traditional football game to rally Panthers, organizers decided to put together a Virtual 5K event. Once a staple for homecoming weekend, Chapman had not hosted a 5K since 2015, so it was not too surprising that over 300 people signed up to participate, from all across California and as far away as New York and Alaska. Everyone who registered received an exclusive medal, race bib and a completion certificate, and a total of $1,550 was raised for the CU Safely Back Fund.
Other Homecoming week activities looked like most events do in 2020: master classes in the form of online lectures and group chats in Zoom, plus the announcement of this year's Distinguished Alumni Awards and the launch of several new programs for the Chapman Family.
"Having events take place online gives people an opportunity to reconnect to Chapman no matter where they are."
Logging on to hear lectures with favorite and renowned professors, the master classes drew a combined audience of over 450 people to 11 different presentations taking place throughout the week. Friday night featured a Global Chappy Hour, which drew 250 participants to a number of chat rooms created for various campus affinity groups. 
"All in all, we had 1,419 registrations and over one thousand participants in our homecoming events," says Hallock. That's almost 40% more than the registrations for homecoming in 2019. "I think we can call it a success. Having events take place online gives people an opportunity to reconnect to Chapman no matter where they are. Based on random sampling of Homecoming attendees, we will continue to have online elements for homecoming in the future, even when we can come together in person again."
More than anything, having to offer homecoming online forced the alumni engagement team to reevaluate what homecoming actually means. 
Come Home to Chapman All Year Long
"We tend to think of homecoming as a physical act. You come back to campus to reconnect with everything you love about Chapman — the traditions, friends, faculty, etcetera," says Andi Doddridge, director of alumni engagement. "But we want our alumni, along with current students and parents and also friends of Chapman, wherever they are, to know that they can 'come home' without ever having to leave home."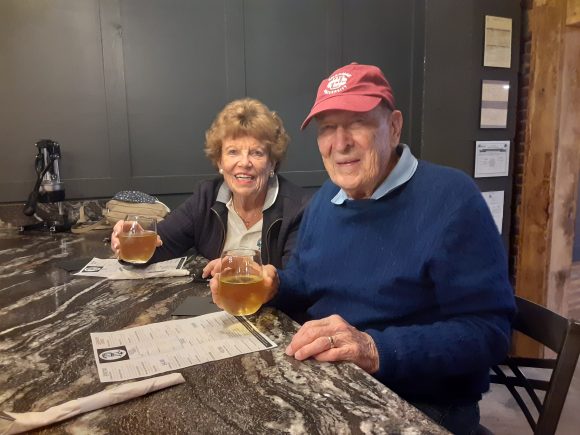 It is this line of thinking that has led to a new virtual resource for the entire Chapman community: the Chapman Family Room. 
The Chapman Family Room, which launched over Homecoming Week, is a place where Panthers can connect with one another, discover valuable resources and enjoy a variety of events throughout the year. It's all the best that Chapman has to offer, curated into a single portal for the Chapman Family. 
"Homecoming is just once a year," says Doddridge. "But now you can come home to Chapman all year long."
Resources, events and opportunities will be updated continually throughout the year, so be sure to visit the Chapman Family Room regularly.