Each year, Chapman honors alumni who have proven themselves to be exceptional in their accomplishments and leaders in business, organizations and communities. This year more than ever, the Distinguished Alumni honorees reflect the university's mission of encouraging the education of global citizens.
Tackling complex and emerging social issues including racial diversity and equity, intersectional environmental and eco-communications, advocating for those with disabilities, and creating lifelong fulfilling careers serving others, the 2020 Distinguished Alumni Awards recipients are committed to making a lasting difference in the world.
The celebration of this year's Distinguished Alumni honorees will continue throughout the year. Keep reading to learn more about these extraordinary individuals, and to find inspiration and encouragement in all they have achieved. Learn more about the Distinguished Alumni Awards and read the profiles of all the alumni honorees.
2020 Chapman University Distinguished Alumni Award Honorees
Jose A. (Joe) Hernandez, Jr., (EMBA '09)
Senior Vice President and Senior Relationship Manager, City Bank; Argyros School Board of Counselors
Born in Havana, Cuba, Jose A. Hernandez came to the United States when he was 10 years old on one of the last "Freedom Flights" escaping Castro's communist regime. After receiving a BA from Cal State Northridge, he began a 46-year career in banking. Seeking more, Hernandez completed his Chapman MBA in 2009, which he he credits with greatly enhancing his professional and personal achievements. He continues his Chapman alumni connection and currently serves on the Argryos School Board of Counselors and enjoys mentoring Chapman students.
Donna F. Attallah '61, B.A. in Education
Elementary educator and philanthropist
Donna F. Attallah taught kindergarten and first grade for four decades in the Cypress School District. Crediting her professors for their distinctive and personalized education, she developed a philosophy that showcases her passion and dedication to patience, kindly serving others and never missing an opportunity to learn at any age. In 2017, in recognition of her lifelong service to children, education, her generous philanthropy toward our Chapman Family and her community, along with her loving, nurturing and bright spirit, her legacy was fulfilled as she became the namesake of the Donna F. Attallah College of Educational Studies to inspire many future generations of educators.
Kalena Bovell '09, B.M. in Music Education
Assistant Conductor, Memphis Symphony Orchestra; Conductor, Memphis Youth Symphony
In 2018, Kalena Bovell called "one of the brightest new stars in the world of classical music." (Channel 3 News, New Haven) She has conducted in many venues across the country and previously served as music director for the Civic Orchestra of New Haven. During her tenure, she committed to deepening the artistic level of the orchestra while expanding its reach into the community. She also conducted two short operas in Hartford, Connecticut, and has held conducting fellowships in Allentown and Chicago. She made her professional debut conducting tribute concerts celebrating the life of Martin Luther King, Jr., in Chicago during the 2016-17 season.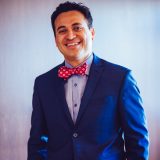 Ozzie Martinez, '00, B.S. in Psychology
Chief Administrative Officer, Kaiser Permanente
Ozzie Martinez has focused much of his career on serving as an advocate for cultural diversity and inclusion work and innovation in transformational care. Martinez brings over 20 years of healthcare experience to his position and is committed to continuous learning and application of diverse solutions which improve the health of Kaiser Permanente's members and communities, Martinez also invests in others by mentoring and developing future leaders. Since joining Kaiser, he has developed and implemented a Proactive Office Encounter program that has become foundational in both clinical operations and building excellence in preventative care across the nation.
Michael Latt, '14, B.A. Public Relations/Advertising and Media, Culture and Society
CEO, Lead with Love
For the past six years, Michael Latt has focused his work on amplifying visionary and trailblazing voices in order to spark change and recently founded his own non-profit company. His organization is dedicated to empowering and amplifying women and artists of color and their stories, and serves to collaborate with leading organizers, brands and artists across the nation to build a future of equality, justice and equity for thriving. He is most proud of the work he's done that has empowered and inspired audiences around the country and sparked meaningful change in communities including #JusticeForFlint, The Hope & Redemption Tour and MLK Now.
David Cross '96, B.S. in Computer Information Systems
Senior Vice President and Chief Information Security Officer (CISO), Oracle
Though he has never set foot on our Chapman campus, David Cross earned a B.S. in Computer Information Systems from Chapman University in 1996 through a Chapman partnership with a military satellite education program in Washington state. Cross been a longtime advocate of security application and technology, stemming from five years of active duty military service where he first started his work in encryption, information protection and data analysis for the U.S. Navy's aviation electronic warfare community. Cross has been a long-time security IP innovator with 30-plus patents as well as a contributing author on many whitepapers and Microsoft Press books regarding security and PKI.
Ryan D. Chavez (JD '09)
Adjunct professor, Fowler School of Law
Upon graduation from law school, Ryan D. Chavez worked at the law firms of Stradling, Yocca, Carlson & Rauth and Rutan & Tucker before leveraging his legal and finance background to become Associate General Counsel at biopharmaceutical company Questcor Pharmaceuticals, Inc. In 2014, Questcor was sold to Mallinckrodt PLC and Chavez became Vice President and General Counsel of Mallinckrodt's Autoimmune and Rare Disease Division. In 2016, Chavez joined Asterias Biotherapeutics as chief financial officer and general counsel. In 2019, Asterias was acquired and Chavez decided to dedicate the next few years of his life to his family. He currently is an adjunct professor at the Fowler School of Law.
Joanna Rosholm, '06, B.A. in Communication Studies
Founder & Partner, Original Strategies
Serving for seven years at the White House, first for President Barack Obama as a spokesperson, and later as Michelle Obama's press secretary and deputy communications director, Joanna Rosholm built robust and adaptive strategic communication plans which gained national headlines and brought robust global attention and providing measurable results to the First Lady's many initiatives. Following her White House service, she served as deputy head of Global Brand Strategy for Snapchat. In 2020, she co-founded communications firm Original Strategies, specializing in building and driving meaningful impact strategies for major corporations, as citizens continue to expect more from private sector industries and its leaders.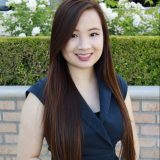 Dr. Mary Ngo (Pharm.D. '19)
Clinical Staff Pharmacist, South Coast Mission Pharmacy; Adjunct Professor of Pharmacy, Chapman University School of Pharmacy
Dr. Mary Ngo was a member of the inaugural Freshman Early Assurance Program for Chapman's School of Pharmacy that began in 2014, and attended Chapman for both undergraduate and pharmacy graduate programs. She works as a pharmacist serving patients in south Orange County, including some in mental rehabilitation facilities that treat patients for substance abuse and psychiatric disorders. Her goal is to become a certified psychiatric pharmacist as she has a passion to break mental health stigmas in Asian-American culture. She has created the "Carecast" podcast, providing opportunities for advocates and professionals to share words of empowerment and advice to promote self-care, and promotes mental well-being for healthcare professionals.
Leah Thomas '17, B.S. in Environmental Science and Policy
Intersectional Environmental Activist and Eco-Communicator
Leah Thomas has become a nationally recognized voice in sustainability and environmental issues and disparities through freelance writing and blogging to more than 160,000 followers on Instagram. In recent months, the Black Lives Matter movement has exposed how prevalent racism is across all industries and how standing up to injustice is necessary in all fields, from media to law enforcement, from athletics to art, and beyond, Thomas voiced that the environmentalist movement is no exception in providing and necessitating equal opportunities for true justice, diversity, and inclusion for all. Thomas has also launched her own website, Intersectional Environmentalist, which provides a platform for advocates and activists to provide information, resources and actionable steps to dismantle systems of oppression in the environmental movement.
Katherine Perez '06, B.A. Psychology and Spanish
Director, Coelho Center for Disability Law, Policy, and Innovation
Katherine Perez earned her Juris Doctor at UCLA School of Law, with specializations in critical race studies, law and philosophy and public interest law and policy, and her Ph.D. in disability studies at the University of Illinois at Chicago. She has dedicated her life to advocating for people with disabilities on local, national and international levels. From 2015-2019, she helped launch and led The National Coalition for Latinxs with Disabilities (CNLD). She has been honored by the American Association of People with Disabilities and serves as the disability rights liaison on the Council for Diversity in Educational Pipeline of the American Bar Association.