Nick Terry never made much use of online learning tools in the past. As a professor of percussion performance in the College of Performing Arts, he sometimes thought about adding video and other digital modalities to his lesson plans. He's a professional musician himself (Terry won a Grammy Award in 2015), so he knows that it requires a certain level of familiarity with current technologies for recording and sharing music. Incorporating digital tools into lessons can only help his students who aspire to professional careers in the industry.
On the other hand, Terry says, there's something very Old World and inherently low tech about how music is taught and learned.
"You can't rush or completely change the way that people learn music effectively," he says, "which is one-on-one instruction, two people together. Ideally in person."
But Terry's "some day" plans for exploring the ways technology can enhance traditional music lessons became "right now" on March 12, when Chapman University ordered that all classes move online for the remainder of the semester, in response to the coronavirus crisis.
Practical Accommodation for Remote Music Learning
The switch to remote learning has posed challenges in every discipline, but Terry's first obstacles were very practical. Unlike many musicians in the Conservatory of Music, percussionists don't typically own the instruments they practice on. Drum sets and keyboard percussion instruments are owned by the conservatory, and students visit the studio for lessons and independent practice. How can you teach music when the student has no instrument to play?
Fortunately, solutions were found; students were able to borrow school equipment to take home, sometimes switching to more portable instruments for the remainder of the semester. Terry even loaned out instruments from his personal collection.
Technical challenges were the next hurdle. From inconsistent internet services, to the complexities of connecting audio equipment with Canvas and Zoom, the adjustment to remote lessons has taken a lot of problem solving. During a recent ensemble practice session, the Zoom/Canvas interface froze, and precious class time was used up trying to fix the problem.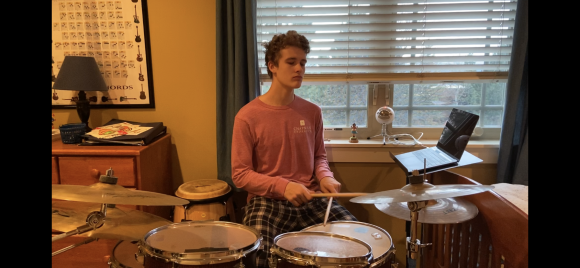 In order to make the best use of their virtual time together, Terry has begun to record videos of himself demonstrating techniques and styles for students to review before their online meetings. Each video can take up to six hours to produce, but it's a resource that can be reused in the future.
"Heading into spring break, I realized that, well, I don't want to create solutions that are just for spring, 2020, because I know that I could be creating new ways of approaching my teaching." In the long run, he says, he wouldn't be surprised if it improves both the quality of instruction, while also making a more efficient use of time for himself and his students.
"I think that there's some lemonade to be made out of these lemons," he says. "I'm sure there's going to be a lot of us that can actually become better, more effective teachers, changing up our modalities here."
Responding to Student Needs in Stressful Times
Beyond reconceptualizing the classroom concept, Terry has been mindful of the other stresses on student lives during the current crisis. Making music, he says, should more than anything be fun right now.
"I love the idea of making it a stress reliever for the students. If I can do that, if I can thread that needle, then absolutely that's where my mind is at." In a normal semester, the professor sets the agenda, sets the tone and the standards, but the campus closure has led to a more collaborative process. "I want to find out, hey, how are we all going to walk away from this feeling that we made the best out of a bad situation?"
One of Terry's students, Matthew Seals '23, a percussion performance major, has appreciated this more collaborative approach. "The best thing to come out of remote learning is the opportunity it has provided the entire percussion studio and me to approach this issue and to be able to find solutions as a group, allowing us to rethink class expectations and take more control of the situation."
Other students are finding value in learning to work more independently. "I've spent the last couple years developing a pretty self-sufficient solo project," says Jared Murphy '20, "and now I can just hit up Dr. Terry if I have a question or want to show him something."
Terry credits Chapman's emphasis on personalized education with helping to ease this transition to remote learning. "It's so fortunate to be teaching music at a school that values personalized education and small class ratios. It's the assumption from the very beginning, from when I first meet a student … through Commencement that this is not a just a teacher-student relationship. This is a mentor and mentee."
Says Terry, "I'm here to teach specific things about music — how to play flams and paradiddles, 16th notes and jazz drums, or whatever. But I'm also here to really just be a resource as a young musical artist evolves into a pre-professional musical artist. And that's really a comprehensive relationship, you know. I have not found yet that the campus closure and the move to online instruction really affects that dynamic at all."