At Chapman University's Dale E. Fowler School of Law, it's not just classes and coursework that have moved to the virtual world while students, faculty and staff adhere to stay-at-home orders in response to the COVID-19 pandemic. The law school's legal clinics, which provide a variety of pro bono services to the community, have found ways to navigate this new reality of social distancing while still providing opportunities for law students to gain real-world experience.
"There is absolutely no reason why our learning and delivery needs to hiccup," said Tamara Alexander, Ph.D., co-director of the law school's Mediation Clinic.
The Mediation Clinic — which allows students to develop and practice mediation skills under the supervision of experienced attorney mediators — has continued to meet online using videoconferencing platforms such as Zoom. And the clinic's Restorative Justice Program has continued to deliver its conflict resolution program to incarcerated youth in Riverside County using the same remote methods.
"They may be dealing with conflict on a peer-to-peer level, a corrections officer-to-youth level, or an outside family member-to-youth level," Alexander said. "Our work specifically focuses on how they can diffuse those situations."
Coordinated Strategies for Maintaining Critical Support Services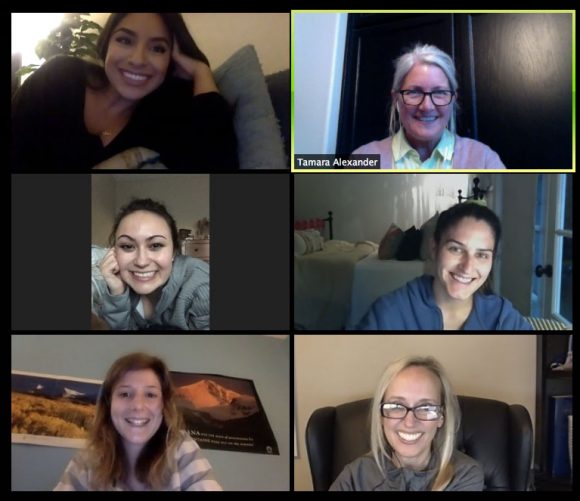 "Many of these boys deal with a great deal of uncertainty and inconsistency in their lives, so it was important not to end the program."
Normally, Mediation Clinic students would meet in person with groups of incarcerated youths at Riverside County's Alan M. Crogan Youth Treatment and Education Center (YTEC), under the supervision of corrections officers. In the face of stay-at-home orders, Alexander and her students moved quickly to provide a smooth transition to online delivery of the program.
"We as a class made sure to maintain a consistent schedule with these youths as expected," said Alexandria Saravia (JD '20). "Many of these boys deal with a great deal of uncertainty and inconsistency in their lives, so it was important not to end the program simply because we could not meet with them in person."
Facilitating the move to remote meetings requires some additional preparation and coordination. Each week, the clinic students develop a lesson plan, which is then turned into handouts that are hand-delivered by Alexander to YTEC. The materials are then distributed to unit supervisors, who also receive a fresh Zoom link via email each week to launch the remote meetings. There's added involvement from the corrections officers at the facility, as well.
"There's a lot more responsibility on them to stay organized," said Kristi Coy (JD '21). "We give the inmates homework every week, so the corrections officers are responsible for handing it out and collecting it until Professor Alexander comes back to pick it up."
Building Trust and Engagement with Incarcerated Youths
Although Coy and Saravia had some trepidation about how well meeting remotely would go over with the young men in the program, their concerns were diminished, even after the first online lesson.
"It went really well," Coy said. "We already had the contact in-person and had already established a rapport with the youth. The ones that have been there already trust us, and they pass on that trust to the new group."
Not only have the youths in each unit continued to engage with the clinic students — including actively participating in lesson plans — but with the help of the corrections officers, they even played interactive games.
"What could have been the end to an amazing program turned out to be nothing more than a minor obstacle," said Saravia. "This would not have been possible without Professor Alexander and the directors at YTEC working hard and quickly to ensure the program continued."
Typically, at the end of each semester, the clinic hosts a pizza party for the YTEC youth as a reward for completing the program. But even if stay-at-home orders are still in place at that time, the celebration will go on – with students and program participants at a safe distance, of course – via Zoom.
"We will still deliver our pizza party to our youth," said Alexander. "The pizza will be delivered and each of us have committed to supplying our own pizza in our own homes."