Congratulations to Chapman University's
Nick Terry, D.M.A.
, director of percussion studies in the Hall-Musco Conservatory of Music, College of Performing Arts, who won a Grammy Award on Sunday night, Feb. 8!  He triumphed as a member of the PARTCH ensemble, which won the Grammy for Best Classical Compendium for their 2014 CD
Harry Partch: Plectra & Percussion Dances
on Bridge Records.  The album was also nominated for Best Chamber Music/Small Ensemble Performance.

"To be nominated for a Grammy, let alone to win, is a phenomenal honor," said Dr. Terry.  "For our recording of Harry Partch's 
Plectra & Percussion Dances
, our team of recording engineers, everyone at Bridge Records, and the musicians of the PARTCH ensemble gave their absolute best.  I hear the passion and talent when I listen to the disc, and I'm beyond thrilled that this record was recognized."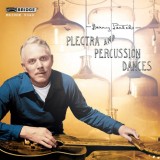 This CD marks the first recording of a complete performance of composer Harry Partch's (1901-1974) major cycle in three parts,
Plectra & Percussion Dances
.  It had originally been recorded in 1953, but was missing three movements and a tenor saxophone part, so the 2014 recording restored these.  The 2014 recording also includes a seven-minute spoken introduction by the composer, which was also recorded in 1953 on the occasion of the broadcast premiere of this work.