Even as they shift to online instruction with students, faculty members in Chapman University's Physician Assistant Studies program are stepping up to serve the public during the COVID-19 pandemic. Several are working extra shifts at local medical centers and family practices, where they are seeing patients with symptoms of COVID-19.
Physician assistant and clinical professor Gabriela Belinsky typically works about three shifts a month at an Orange County clinic that also serves as an urgent care for occupational injuries, but she's now working a weekly 12-hour shift. The work-related injuries have fallen off, but when people come in with possible COVID-19 symptoms, it's all on Belinsky as new procedures aim to reduce those patients' contact with other medical staff.
"Then I'm the only person to see that patient. If they come in with a cough, shortness of breath or fever, they're immediately triaged to a room. Then I'm the only one to go in there. I do vitals, patient history and the other things a medical assistant would do as well as my job. When this does peak, I'm not sure if being the only provider in there will be sustainable," she says.
'I Would Never Turn My Back'
At the moment, though, the pace is manageable, she has adequate personal protective equipment (PPE) and wouldn't dream of backing off.
"As a clinician I would never turn my back to it and say I'm not coming in," she says. "That's a part of my oath. There's a need."
Likewise, physician assistant and professor Anne Walsh is a member of the Orange County Disaster Response Team and standing by should county or state agencies call for back-up.
Belly Up to Online Class
Meanwhile, faculty members are also finding ways to keep students on track with their training and education. Need to show the professor you know how to do an abdominal exam? Summon the roommate or family member who has extra time on his hands and tilt the computer screen just so for the professor to observe via computer webcam.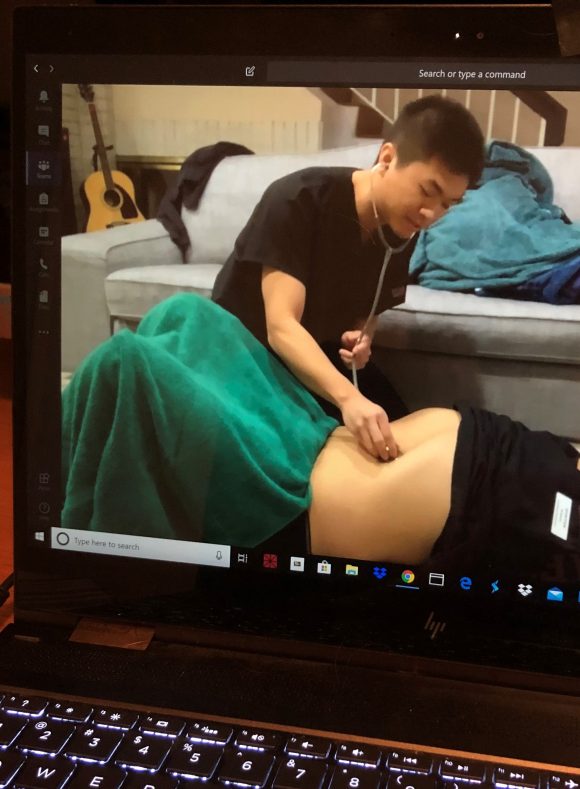 "I was surprised at how well it went. The students were in their scrubs with their name tags while they performed the exam on a friend, family member or roommate. I've been impressed," Belinsky says.
Physician Assistants Ready to Pivot
This style of instruction was certainly no one's first choice – and hands-on hours will be caught up, when possible. But learning to adapt to changing situations has its value for physician assistants in particular, says physician assistant Michael Burney, clinical associate professor and chair of Physician Assistant Studies at Chapman.
"The beauty of physician assistant education training is that you are flexible to work in different environments," Burney says. "If you work in family medicine, you also have flexibility to go work with the emergency room team. It's one of the really unique aspects of PA training and education. We can immediately pivot to fill a need, thanks to our education and training."