Things got hot on the ice at last week's Ducks game, but it wasn't just the Calgary Flames who brought the heat.
The Chapman Family turned out in droves at the Honda Center to watch hometown favorites the Anaheim Ducks take on the Calgary Flames. While the game itself was a heartbreaker for Ducks fans (Calgary won the night, 6-0), the real excitement for many attendees was seeing familiar faces broadcast high overhead on the arena Jumbotron. The infamous Kiss Cam was on Panther duty, capturing moments of affection shared by the many Chapman Sweethearts in attendance. 
Of special note were Joyce MacKelvey Palanca '87 and Matt Palanca '88, winners of this year's Date Night contest. The Palancas enjoyed a head start on Valentine's Day with a prize package that included free tickets to the game, a voucher for food and drinks and a ride on the Zamboni during intermission.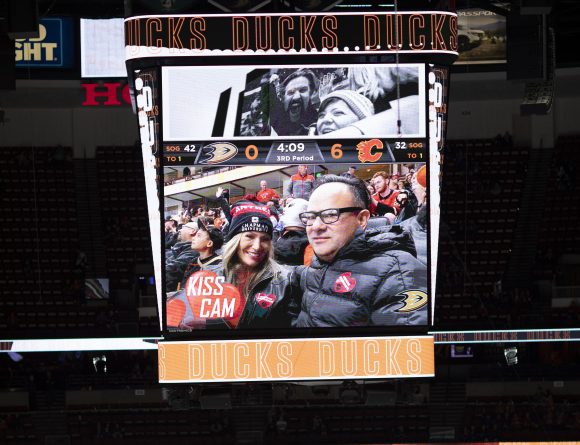 Joyca and Matt first met at Chapman in the Fall of 1986, but it wasn't until the next spring, when Professor Pradip Shukla teamed them up for a group project, that the two really connected. "There were three of us in the group," Joyce recalls. "Somehow Matt would always have to call me with something about the project and then end up talking about everything else." The two were married in 1990, and their youngest daughter is now a senior at Chapman, carrying on the family legacy. 
The Palancas weren't the only couple enjoying the night out before Valentines Day. Garrett Aanestad '16 and Haley (Fedden) Aanestad '16 lived next door to one another in Pralle-Sodaro Hall, but didn't start dating until Interterm their senior year. They were married last summer. Kurt Yacko '09 and Jaime (Kuntz) Yacko '09 attended with their friend from Chapman, Tommy Thompson '09. They were happy to have a "Chapman excuse" to attend the Ducks game together.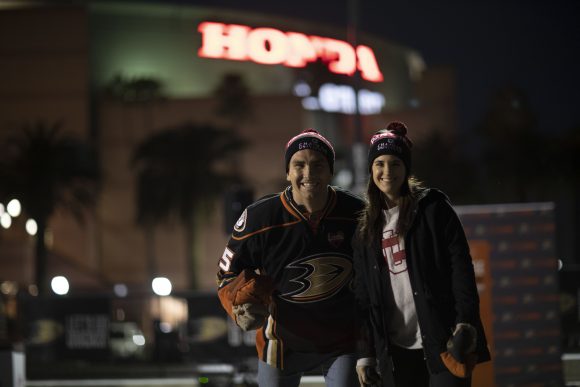 "Galentines" Day was another reason to celebrate at the game! Amanda (Kristedia) Vezzani, '13. Kayla (Heath) Colbern'13, Sarah Buckley '14 and Amy (Treadwell) Waymire '13 were enjoying a girls' night out. "We came for the beanies," the Gamma Phi Beta sorority sisters and cross country teammates agree, but also for a chance to have fun and enjoy one another's company.
We love to celebrate our Chapman Sweethearts. If you're an alumni who met the love of your life while you were a student, or maybe you connected after graduation, we'd love to share your story with our alumni audience. Come by and tell us your love story!
Don't miss these other opportunities to connect with your Chapman Family: Spring Alumni Events