Rachel Redleaf '19 grabbed for her buzzing phone. Her manager was calling, and she knew it was good news when his first words were, "Are you sitting down? You'd better sit down."
Redleaf was sitting down. But in an instant she was up and jumping around, because the Chapman University student learned she had landed the part of Mama Cass in the Quentin Tarantino film "Once Upon a Time … in Hollywood."
It was 8 o'clock on a Friday night, she was in her PJs, and Redleaf's life had just changed. She had to get from Orange to LA in an hour to get her hair dyed. By Monday, she was shooting party scenes, gliding around the pool at the Playboy Mansion in the manner of '60s pop star Cass Elliott, surrounded by a cast of A-list actors.
"It was the ultimate experience, and I was getting everything from day one," Redleaf recalls.
Now she's preparing for another special moment – deciding where to spend an extraordinary Oscar night. "Once Upon a Time" has been nominated for 10 Academy Awards, including Best Picture.
"I'm just so excited to see my film win," says Redleaf, who graduated in May from the College of Performing Arts and Dodge College of Film and Media Arts with a BFA in screen acting. The major is offered in partnership by the two schools. "Can't wait to hear the speeches and see the faces."
"ONCE UPON A TIME" IS A FAIRY TALE EXPERIENCE

Redleaf is just one of the Chapman University alumni and students who will have a special rooting interest when the Oscars are handed out Sunday night, Feb. 9, at the Dolby Theatre in Los Angeles.
Others from Chapman who worked on films earning Oscar nominations this year include Redleaf's castmate, Breanna Wing '11, who played a hippie hitchhiker who catches a ride with Sharon Tate (Margot Robbie) in "Once Upon a Time." In addition, Hannah Haas '20 was a first team set production assistant on the film.
Like Redleaf, Haas worked on the project while still a Chapman student. She took a semester off from her studies at Dodge College so she could work all 112 days of the shoot.
"I wouldn't trade the experience for the world," she says.
Others working behind the scenes on this year's Oscar-nominated films include:
Shelby Hall '15, second assistant editor on "Jojo Rabbit," which earned six nominations.
Brett Blake '09, second assistant editor, and Jessica Kelley, production coordinator, on "Toy Story 4," a nominee for Best Animated Feature.
Bryce Bennett Sherman '14, manager of international digital marketing on "Joker," which received 11 nominations.
"JOJO RABBIT" OFFERS WINNING MOMENTS FOR SHELBY HALL '15
Of "Jojo Rabbit," Hall says, "I loved the film from the moment I read the script. I knew it would be special – I just didn't know how it would be marketed commercially. I'm definitely savoring (the Oscar nominations)."
Hall has already joined in a victory celebration this award season. "Jojo Rabbit" was named Best Edited Feature Film (Dramatic) at the 70th annual ACE Eddie Awards in January. As editor Tom Eagles accepted the award, he gave shout-outs to Hall and others on the team in his speech at the American Cinema Editors event.
At that same awards ceremony, "Toy Story 4" earned the Eddie for Best Edited Animated Feature Film. For Chapman grad Blake, the chance to contribute as an editor advancing a storied film franchise energized him every day, as it has from the initial time he set foot in Pixar Animation Studios.
"My first day here, I walked by a case and thought, there are a ton of trophies in there for films I didn't work on," he says. "When I leave here eventually – I hope after many years – it'll be great if I'm able to say I helped the studio put as many new trophies in that case as were in there when I got here."
HOMEWORK HELPS RACHEL REDLEAF '19 MIMIC THE MOVES OF MAMA CASS
Like Blake, Redleaf is enjoying the award-season buzz as she continues to build on her breakthrough opportunity. From the moment she learned she would play Mama Cass in "Once Upon a Time … in Hollywood," she knew she wanted to make the role her own.
"I watched every video of her I could find," Redleaf says. "She has this very specific dance thing she does with her feet, clicking her heals together. I wanted to master that, so when I'm dancing through the crowd, I could make sure to get her."
And being directed by Tarantino?
"He's the most passionate and loving man on set I could ever have dreamed of working with," Redleaf says. "He would tell me, 'Whenever you're on screen, you're just lighting it up.' You can tell how much love he has for making movies. It makes even people who might be jaded in this industry happy to be there every single day."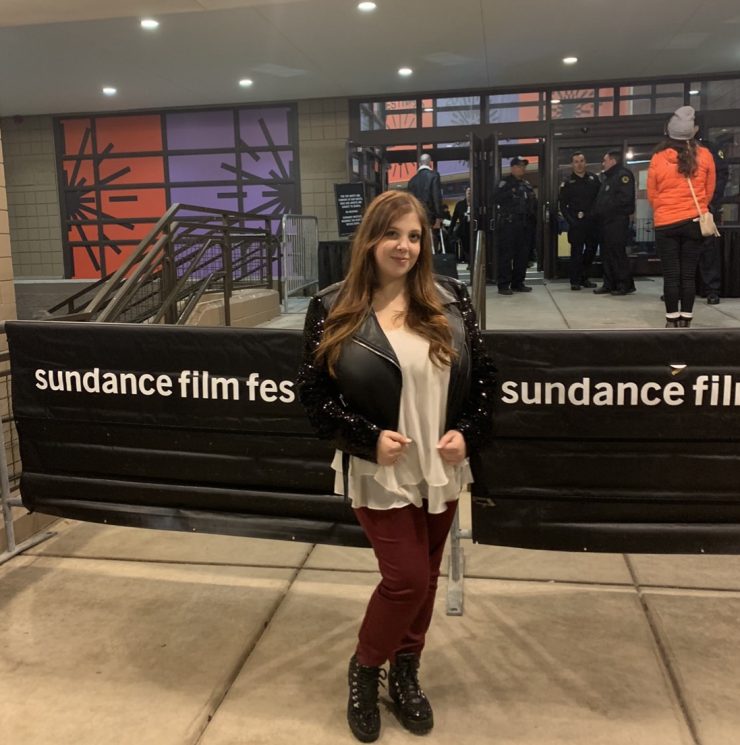 THE ROLE OF AN ICONIC FIGURE FOLLOWS "ATYPICAL" AND "KAJILLIONAIRE"
It's also important to Redleaf that she got to play, as she says, "an icon of the big girl world."
"I don't know that there could be people like Adele or Aidy Bryant (without Mama Cass). Of course, there would be these girls, but it's great that people love them, and I think that Mama Cass really paved the path for these girls."
As a sophomore at Chapman, Redleaf began three seasons in the role of Beth Chapin in the Netflix series "Atypical," and as a junior she landed the feature film "Kajillionaire," which recently premiered at the Sundance Film Festival. Mixing professional acting and academics was often a struggle, she says.
"I definitely wanted to work from the beginning. Then I booked my first job, and I thought about dropping out, but I decided to keep going," she says. "Even though it got really hard to do two things at once, I decided, I can't leave at this point. I have to prove that I can do this."
Redleaf says she learned a lot at Chapman as she nurtured a passion for acting that dates to her earliest aspirations.
"I don't remember ever being able to think about anything else," she says.
Now, as Oscar night approaches, she's reveling in a film experience that continues to provide priceless memories as it also is getting her "into bigger rooms," as Redleaf says.
"People want to hear about this film." She notes. "I'm honored to be part of something legendary."