If you've ever taken a tour around Chapman's campus, perhaps you've noticed the vine-filled entrance leading to the Fish Interfaith Center and wondered what's inside. At first glance, Fish may seem like just another brick building on campus. But if you take the time to step inside, you'll find that Fish is far from your average classroom. Once in the building, you're transported to a place filled with colors and light that's designed for contemplation.
"People need to just go in for a second to see it. No words can really describe it before you go in," says Bryleigh Blaise, President of the Interfaith Council.
Even if you don't consider yourself religious, have no fear. Anyone is welcome to come to Fish, no matter their background or experience with religion. Whether you want to attend a religious service, need someone to talk to, or want a quiet place to relax, Fish has it all. 
People need to just go in for a second to see it. No words can really describe it before you go in.
"Chapman has four pillars, one of them being spiritual. We're here for students who are religious as well as those who aren't. We want to provide a space where students can honor a different aspect of themselves," says Jennifer Ruby, manager of the Wallace All Faiths Chapel. 
A Sense of Community 
From Judaism to Islam, the Fish Interfaith Center has five chaplains who represent different areas of spirituality. These religious guides are here to help students explore themselves through the programs at Fish. 
"Not everyone is going to be spiritually inclined," says Blaise. "But I think it's something that every person needs to think about in their life–it's not something that they should be apathetic about." 
Shaykh Jibreel Speight, Director of Muslim Life and Chaplain, agrees with Blaise.
"I think students need to have a heart-to-heart with themselves and figure out what they're about," he says. 
To help support students in their personal journey, Fish hosts services that all students are welcome to attend, such as Catholic Mass, Shabbat Dinner and Service, Jumu'ah Prayers, and Wednesday Night Worship.
There are also 19 religious and spiritual organizations on campus that students can join. And there's always room for more, Ruby says. 
"If a student comes to Chapman and we don't have what they need, we always let them know they can start a club," says Ruby. "Student organizations have me as a resource that can help them if they need event support or if they have questions. If they want to be connected to a house of worship or a particular community member, we can help facilitate that. We try to make sure that our student population is supported, from mindfulness practices to different religious services."
Encouraging Wellness
Since Fish has an open door policy, students are always able to come in with questions or concerns. 
"This is a safe space that students of any race, religion, gender identification, or sexual orientation can come to," says Rabbi Corie Yutkin, Director of Jewish Life and Chaplain. "Not only do we support students by listening, but we can also refer to them to student psychological services if we need to."
 Fish offers numerous programs to support students' mental health. Students who visit Fish to recharge have many opportunities to practice mindfulness meditation.
The Labyrinth, a walking meditation maze, is available to students every Monday from 9 a.m. to 3 p.m. Walking the winding path gives students the quiet they need to meditate and relax. 
"Reverend Nancy Brink says to go into the Labyrinth with a problem or something you need to think about and you always come out with an answer," says Blaise. "The Labyrinth predates religions, so it's not tied to one specific tradition or spirituality. It ties us all back into this interfaith notion that we can always step into this journey from different points of view. I think it's a good stress reliever."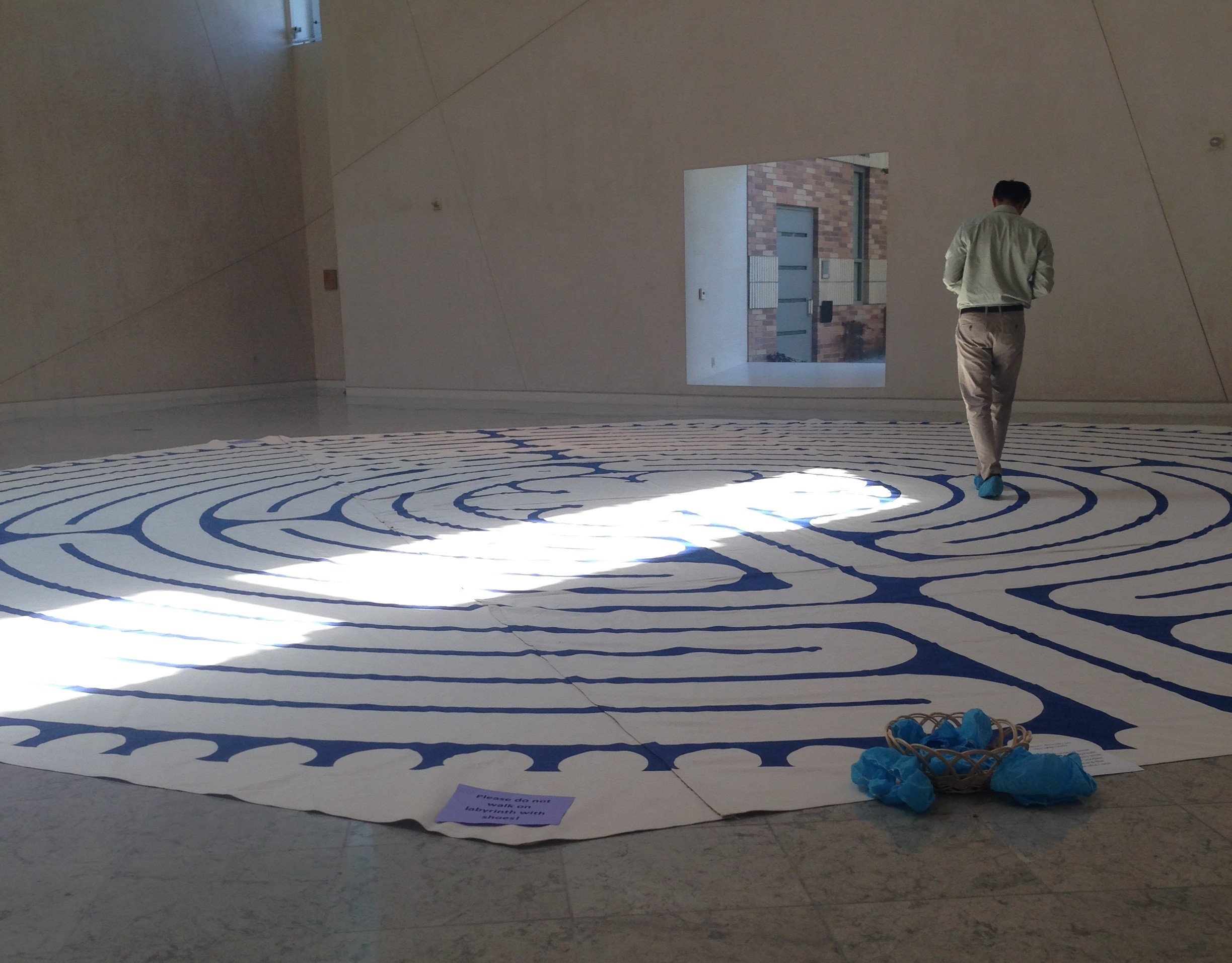 The Fish Interfaith Center also provides four sound healings this semester, a therapy that uses vibrations from percussion instruments such as gongs and Tibetan singing bowls.
"It's an hour of complete relaxation," says Ruby. "We have Jody Thiessen come in with rain sticks and gongs. I didn't believe it at first, but you can actually feel the vibrations when you lay on the ground. It's a whole hour you're not in class – you're just present in the moment. A lot of students will fall asleep, and that's totally fine. It's your hour." 
Spaces for Contemplation
Every detail of the Fish Interfaith Center was carefully designed to honor all religions. The space was created by the architect David Martin with four symbols in mind – cosmos, light, nature, and water. Even the floor evokes the flow of water. 
"Walking in, people don't realize they're walking on artwork," says Blaise. "Everything has a really large purpose." 
Some of the most popular places in Fish are:
The Prayer and Meditation room, open Monday through Friday, 8 a.m. to 9 p.m. during the semester.

Dee's Garden of the Senses, designed by Susan Narduli, is popular place for students to relax, meditate, and pray. Skaggs Solar Fountain is another relaxing aspect of the garden.

Students can spend time or attend services in the Wallace All Faiths Chapel. It also has beautiful Dawn and Twilight Windows that change colors throughout the day. The Equinox Sunrise is a beautiful piece of art in the Chapel that hangs front and center.
The Wilkinson Founder's Chapel is a smaller chapel where students can hang out and relax.
The Fashionables Courtyard is in front of the Fish Interfaith Center, a place where students can congregate and different events are held there.
"Students are holistic, and sometimes people need quiet time," Ruby says. "They need reflection. They want to go sit out in the garden and sketch or read. A lot of students use the garden for quiet, meditation or prayer." 
So next time you're walking by Fish, take a minute to stop by. Who knows, you might discover something new about yourself.