Chapman University School of Pharmacy (CUSP) students are some of the most industrious students on campus lately. A Quiz Bowl win and a professional-quality music video are some of CUSP's accomplishments this past month.
Victory: Not a Hard Pill to Swallow
CUSP PharmD students scored a major win for Chapman University at the annual California Society of Health-System Pharmacists (CSHP) Quiz Bowl, beating out University of Southern California, University of California San Francisco and University of California San Diego.
The CSHP is a professional pharmacy organization and state affiliate of the American Health-System Pharmacists (ASHP) that provides many pharmacist and student educational programs and student competitions.
Hosted by the CSHP, the Quiz Bowl is an annual, clinical competition for California pharmacy students. Conducted in a Jeopardy format with 25 clinical case questions per round, the topic categories for this year's Quiz Bowl included content knowledge in the areas of pulmonology, pharmacogenomics, pain and — for a bit of whimsy — Disneyland trivia.
Twelve Chapman CUSP students were selected to compete after a rigorous mock competition tryout, competing against 45 hopefuls. Representing CUSP at the Quiz Bowl were Kellie Amano, David Estaphnous, Sarah Kantari, Dustin Le, Chris Liu, Hellen Ly (Team Captain), Brittany Nguyen, Danny H. Pham, Nadine Saab, Jordan Stokes, Alexa-Rina Tuico and J.J. Way.
"I am extremely proud of the CUSP student team. The student competitors have worked very hard, outside of their pharmacy classes and experiential rotations, to study and prepare for the Quiz Bowl with me and several of the clinical pharmacy faculty," says Jerika Lam, PharmD, associate professor and faculty advisor of the CSHP/ASHP student chapter. "For many years, the CSHP Quiz Bowl has been widely known to be a highly competitive and clinical student event among the California schools of pharmacy. In the past three years, our school has progressed from ranking in third place in 2017 to second place in 2018, and now we are the CSHP Quiz Bowl Champions in 2019!"
Twelve California schools of pharmacy competed in this year's Quiz Bowl and ranked as follows: Chapman University (1), University of Southern California (2), University of California San Francisco (3), Western University of Health Sciences (4), Loma Linda University (5), University of California San Diego (6), Keck Graduate Institute (7), West Coast (8), Touro University (9), Marshall B. Ketchum (10), University of the Pacific (11), and California Northstate University (12).
No Spoonful-of-Sugar Needed
CUSP has another victory to celebrate: the successful use of a CSHP education grant. Supported by the CSHP Opioid Task Force, a collaborative group of pharmacist leaders, CSHP/ASHP Chapman students have created an educational video about the anti-overdose and life-saving drug Naloxone, which is available without a prescription in any California retail pharmacy. The CSHP funds just two education grants per year in the amount of $500.
With over 2,200 overdose deaths in 2017 in California, the student leaders decided they wanted to do more to combat the opioid crisis than create a pamphlet or booklet. Led by Samantha Isidro, '20 PharmD candidate, CUSP students created music, lyrics, choreography and filmed an energetic music video describing the saving power of rescue drug Naloxone, and how to use it.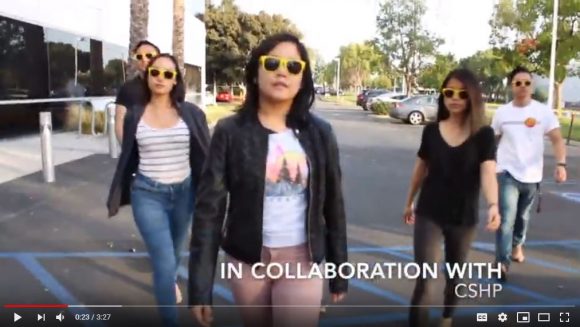 "I hope that viewers learn and recognize the name 'naloxone,' and that if they have loved ones taking opioid medications, they will know the drug that could potentially save their life," says Samantha Isidro. "In a broader sense, I hope that this music video causes people to dig deeper and learn about the opioid crisis so that health systems can be put in place to end the opioid crisis."
The music video will be posted on websites highlighting the adverse effects of opioids and YouTube to reach young adults and adolescents, the demographic groups most at-risk for opioid overdose.
"We are incredibly proud of our students and their passion both for developing the knowledge to keep people safe with drug therapy, and for sharing that knowledge with others," says Ron Jordan, dean of CUSP. "The talent, passion and creativity present in the Naloxone educational music video is a testament to the diverse skills of our PharmD students. As they say in show-biz, we have a number who are triple threats, singers, dancers and they can act to save lives with medicine."
Display Image at top/(From left to Right) Back Row: Hellen Ly, Dr. Jerika Lam, Dr. Amy Kang, Jordan Stokes, Danny Pham, Christopher Liu, Nadine Saab, David Estaphnous, J.J. Way, and UCSF proctor; Front Row: Brittany Nguyen, Kellie Amano, Dustin Le, Alexa Tuico, and Sarah Kantari