There isn't a textbook for Chapman University's new class, Topics in Computer Science: 3D Printing and Design. Instead, students assembled their own 3D printers and are using them to explore the seemingly endless possibilities of what this emerging technology can do.
The first major project for the class (after assembling their printer) was to design and print Halloween costumes for Higher Ground, a nonprofit dedicated to mentoring youth in underserved communities. Chapman students gathered there Monday with costumes they'd spent hundreds of hours on, giving the pieces final checks as they waited for youth to enter the room.
After delivering costumes, Chapman students now begin work on their final projects. The only limit is their imagination.
If You Don't Have the Right Tool, Build It
Assembling a 3D printer is a bit trickier than an IKEA shelf. By building their own printers at the beginning of the course, students learned how the technology works and generated ideas.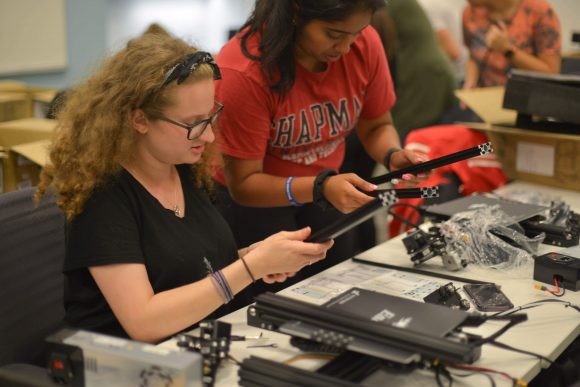 After assembling their printers, they designed and built small objects. Computer science major Max Miller says, "Having something that starts on a computer and ends in real life, there's nothing more magical than that. That's something that you came up with in a digital space, and being able to interact with it in real life is really cool. There aren't many technologies that allow you to do that, and none as accessible as 3D printing."
"That's something that you came up with in a digital space, and being able to interact with it in real life is really cool."
Taking 3D Printing to Higher Ground
Printing Halloween costumes was an ideal way for Chapman students to start designing—and to show kids how cool engineering can be.
When the idea of printing Halloween costumes came up, the class didn't know if it was feasible. Data analytics major Brandon Fabre mentioned that he volunteers at Higher Ground as part of Chapman's STEMtors program. The project evolved from there.
The class met with youth to ask what they wanted to be for Halloween. They came up with a range of ideas, from "Guardians of the Galaxy" hero Star-Lord to a character from a popular anime show to the creepy Anabelle doll from "The Conjuring."
Biological sciences major Sanika Pandit says, "That was a big challenge. We had to interpret what components of the costume to print ourselves and ask, 'How do you make something that is wearable and not clunky or heavy, but also functional?'" Sanika and her group addressed that by making detailed armbands and a chest plate for a Supergirl costume.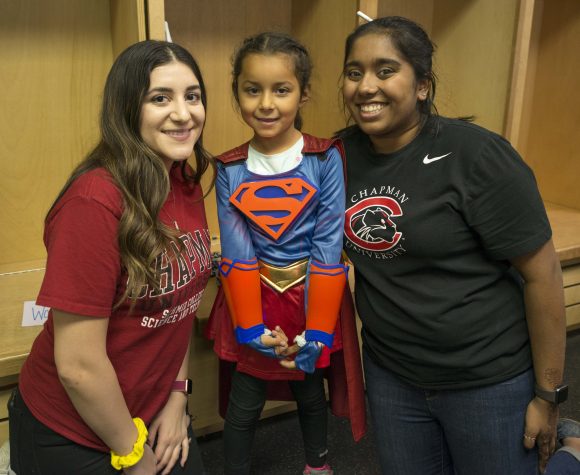 Kaitlyn Abdo, who's double-majoring in biochemistry and data analytics, helped build the Infinity Gauntlet from "The Avengers."
"The project pushed me to think outside the box," she says. "We were only using images from the movies and a vague mockup to figure out how to build it in real life."
All told, students spent hundreds of hours designing, printing and assembling their costumes. Nothing came out perfectly on the first try, so the project benefited from material donations. Matterhackers donated filament and Adafruit provided the electronics that helped students add key details, such as the red lights around Star-Lord's eyes.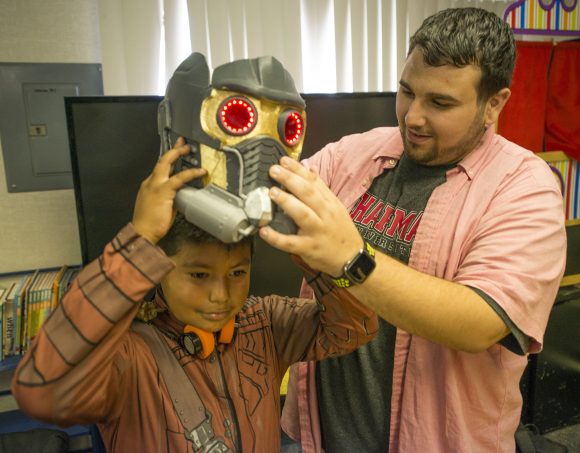 Kaitlyn and her project partner, Brandon, presented their Gauntlet to a grade school student who tried it on, moved the fingers and watched as the jewels on the knuckles lit up. The youth of Higher Ground talked about how they couldn't wait to show off their costumes and go trick-or-treating. Holding his Star-Lord helmet, Juan Jimenez says, "It's cool that they built this with computers."
Watering the Seeds of Ambition
Now that Chapman students have gotten a sense of what 3D printers can do—and hands-on experience using the technology—they'll begin brainstorming and building their final project. As you might guess, they have some ambitious ideas.
"My group wants to build a working model of the human heart," computer science major Gregory Tyler says. "One of the unique things 3D printers can do is build a complete structure instead of one individual piece of a structure. Building a functioning heart seems like a great way to explore that."
Multiple students expressed excitement about what they'll do next, even if they weren't sure what that will be. They'll have plenty of time to explore, since all students will be keeping the printers they assembled. Brandon mentioned that he's "excited to keep using my 3D printer at home, because I feel like we've just begun to scratch the surface."
---
The computer science course also received media attention. See the story online at ABC7.com.