It's been a year since Hunter Spriggs' bone marrow transplant, and his smile shows just how happy he is to be back playing football at Chapman University. After a gritty two-year battle with cancer, the senior business administration major has made a remarkable recovery thanks to a lot of hard work and support, including from his teammates.
"It's really a do or die kind of thing," Spriggs says, reflecting on his journey. "I fought pretty hard because I wanted to see my teammates again."
Football and the way I was brought up pushed me through this.
Spriggs is no stranger to pain and sacrifice – football taught him lessons in both. "I've been through some other events, but really football and the way I was brought up pushed me through this," he says. "Sometimes you have to do things you don't enjoy, but you do it because other people depend on you."
For his inspiring efforts to get back on the field, Spriggs has been nominated for a national honor – the Mayo Clinic Comeback Player of the Year Award. He is one of 30 nominees from all levels of college football being recognized for overcoming injury, illness or other challenges.
At the end of the season, three winners will be honored during the College Football Playoff Semifinal at the PlayStation Fiesta Bowl in Glendale, Ariz. Additionally, nine student-athletes will be selected as finalists, with $30,000 being donated to their school's general scholarship fund.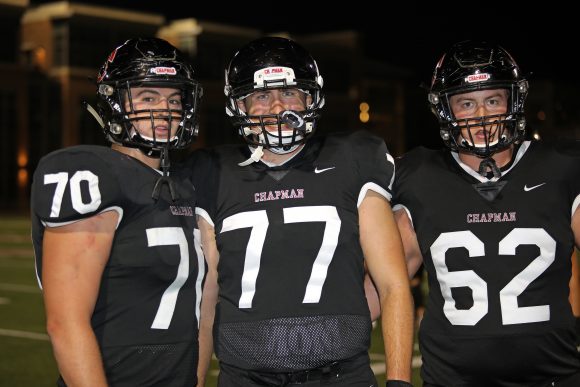 The Battle
Spriggs was first diagnosed with leukemia at the end of his sophomore year at Chapman. "It was the kind you'd want to get diagnosed with," Spriggs recalls. "They knock it down with a chemo pill and IVs. Not a huge deal, but you feel like crap."
However, Spriggs' battle was far from over. A year later, he began experiencing familiar symptoms. The cancer had come back even stronger, mutating into acute lymphoblastic leukemia and spawning a second, more aggressive form of the disease called chronic myeloid leukemia.
"There's a deafening silence in your head. People are talking to you but you're not hearing anything," he says. "At that point, you have a decision to make, and the decision most people make is to survive. I didn't want to die from this, so I threw everything into fighting it."
No Complaints
The transplant provided his best chance for a complete recovery, but it delivered a brutal blow to his body. He dropped 50 pounds from his 6-foot-3, 265-pound frame.
At 215 pounds, Spriggs felt a shell of the offensive lineman he had been.
"You're just kind of a skeleton," he says. "Sitting up is tiring."
The challenge was as much mental as physical. , Spriggs had to stay isolated in a "positive pressure room" for two months to avoid any bacteria.
"I lived by a motto of no complaints," Spriggs says. "You take everything on the chin, and you demand 1% better of yourself every day."
You take everything on the chin, and you demand 1% better of yourself every day.
He did air squats in his hospital room just to stay active.
"You have to set goals. First off, get out of bed, shower, have your bed made you've already accomplished something. You can't control the situation, but you can control your attitude," he says.
A Source of Extra Energy
Through it all, his Chapman teammates were there to pick him up.
"They sent me all these cards. They gave me the extra energy I needed, especially when we got to end of the fight," he says. "Little things like that go a very long way."
The team members know a thing or two about bone marrow transplants. Since 2014, the team has hosted annual drives for Be the Match, a national marrow donor registry. The team's efforts have yielded at least three donor matches.
The Panthers' commitment to family and community starts in their team room.
"When he was in the hospital, he received something every day from this football team," head coach Bob Owens says. "Even in his worst state, he could be laughing because these guys sent him something funny."
Fighting Back
By the end of Sept. 2018, Spriggs was out of the hospital and thinking about training for the next football season.
"Honestly I didn't know if I'd ever be able to accomplish it, but I just started working to get healthy, started walking a lot, and started to work out," he says.
During the 2018 season, Spriggs' team never forgot him. Before each game, a player would be given the special honor of wearing Spriggs' number, 77.
"We would always talk about how this battle on the field is nothing compared to Hunter's battle with cancer. He's our motivation," says teammate Ryan Moles '19.
In Jan. 2019, Spriggs was cleared to go back to school, until a devastating infection sent him back to square one. Healing was slow, but Spriggs persisted. By April, he was working out again and rebuilding his strength.
All in the Attitude
As fall 2019 approached, Spriggs tackled the anxiety and mental strain of competing again after a long layoff.
"I constantly asked myself, 'Am I conditioned enough for camp, am I doing everything I can while not burning out and still pushing limits?'" he says.
I constantly asked myself, 'Am I conditioned enough for camp, am I doing everything I can while not burning out and still pushing limits?
"It's easy to get so fed up with the symptoms, with getting knocked down, it kind of eats at you," says Spriggs. He laughs. "It's like driving a Honda Civic up a hill: the driver is capable of more; the car is not."
But he passed all the tests – including his own. On Oct. 19, he returned to the field, playing right tackle in a 56-23 victory over Occidental College.
"You just smile, shake your head and think, what a remarkable person to be able to manage that kind of personal, mental and physical assault on his body and still get where he is now," Owens says. "He's excited about what each day brings, which includes being an inspiration to our football program."
Part of Spriggs' strength is knowing his limits. There are times when he has to tell the coaches he needs a rest.
"He has a real good gauge on how much he can get in and mix it up," Owens says.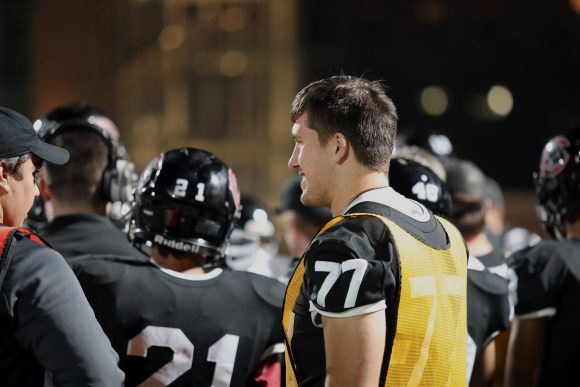 The Bigger Picture
Spriggs knows that playing NCAA football a year after a bone marrow transplant for chronic myeloid leukemia is not the norm.
"It's the bigger picture, to stay in the fight," he says. "I just keep moving forward."
Now Spriggs' focus is on the team's success this season. With a victory over conference rival Cal Lutheran on Oct. 26, the No. 16-ranked Panthers improved to 6-0 – the best start in the University's 26-year history as a Division III program. Chapman travels to face Pomona-Pitzer on Saturday at Merritt Field in Claremont.
Spriggs' team-first approach says a lot about who he is, says former teammate Alec Kohn '19. "He's a friend who gives you everything and expects nothing in return."
A Southern California Intercollegiate Athletic Conference championship would be a great culmination to Spriggs' comeback year. But no matter the final victory total, this season is unquestionably a success for Spriggs and his teammates.
"I am enjoying every single second of this – happiest I've been ever," he says. "The ability to play college football with people you absolutely love – every second, every down is just a dream come true."
Display image at top/ Spriggs played in the Oct. 19 game against Occidental College, which Chapman won 56-23. (Photos by Larry Newman)