On Friday, Oct. 18, Chapman University hosted its Annual State of Research and Creative Activity event. Thomas Piechota, Ph.D., vice president for research, presided over the event that highlighted growth in several key areas, including faculty and student publications, research funding and faculty research awards.
Record Funding Increases for Research
Pichota noted that it's been a year of rapid change for Chapman, emphasized by the University's elevation to an R2 Carnegie classification in January. Research awards at Chapman totaled $20.1 million in 2018-19, doubling the amount awarded the previous year. "It is a great accomplishment and it's really due to the efforts of everyone in this room. Things are really changing quickly," Piechota said.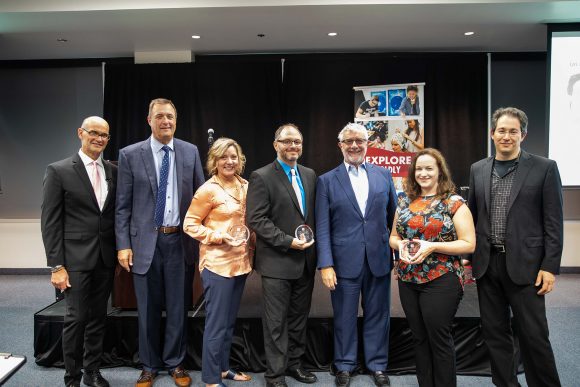 During the presentation, five professors were welcomed to Chapman University's Million Dollar Club. This program honors faculty who have brought in $1 million dollars in external funding while at Chapman. Faculty honored this year are Uri Maoz, Amir Raz, Jennifer Totochny, Rion Dooley and Lisa Sparks, dean of the School of Communication.
In addition, Chapman has just received an award from the Bill & Melinda Gates Foundation for more than $417,000. The support for the California Special Education Residency Projects grant will help fund research and training to remove barriers facing students with disabilities. Chapman will be partnering with the University of Kansas, the University of Florida, and the CSU Chancellor's Office on this project.
Recognizing Research Achievements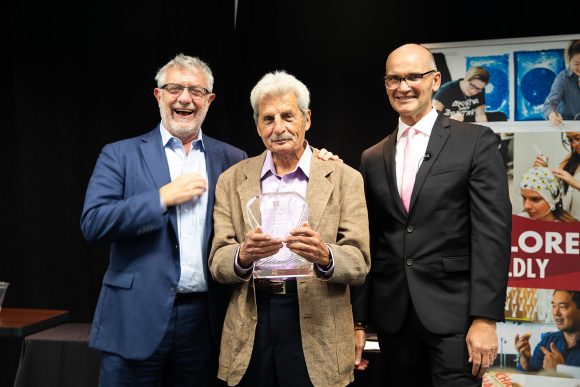 During the presentation, special recognition was paid to Professor Yakir Aharonov and the Institute of Quantum Studies, for the ongoing and inspirational work that has the potential to influence many different disciplines of scientific study.
One of Chapman's research partners, the Children's Hospital of Orange County (CHOC), was also recognized. Chapman's partnership with CHOC not only provides clinical training opportunities for Chapman students, but it also enables undergraduate students to participate directly in research that deals with children's health and disease, with exposure to a wide variety of research activities.
Creating Student Research Opportunities
In his opening remarks, Provost Glenn Pfeiffer pointed out the real significance of Chapman's expanding stature as a research institution: creating more opportunities for students.
"More than half of our students who come to Chapman say that's one of the things they want to do while they're in college. They want to engage with faculty in some kind of research effort," Pfeiffer said. "That's good not only if they're going into an academic career or research industry, but it's also good because it involves critical thinking skills, it involves the leadership skills they need to be successful in whatever field they're choosing."
See the livestream of the event here: https://chapman.hosted.panopto.com/Panopto/Pages/Viewer.aspx?id=87454bb0-143a-4f8e-baf8-aae60177b283