When members of the Class of 1969 gathered on campus during this year's Homecoming celebrations to be inducted as the newest members of Chapman's 50 Year Club, it's only natural that they indulged in a little nostalgia. From favorite professors to Chapman's first Semester at Sea, there were plenty of good memories to revisit from their time as Chapman students.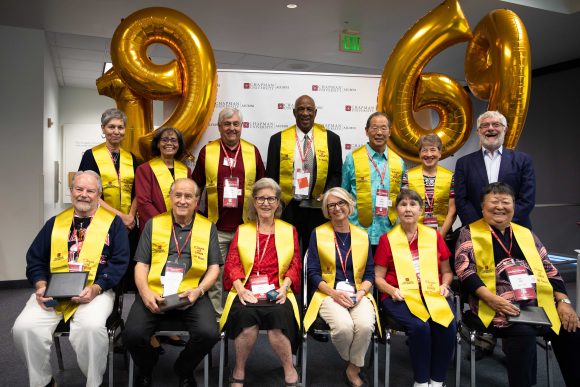 But it wasn't just the good times that these alumni wanted to talk about. 
"We started thinking about what that last year was like," said Karen Wilkinson '69. "What was most on our minds was that we had a lot of meetings and a lot of discussions about racial injustice."
1969 was a turbulent time for race relations in the United States, and 50 years later, it was important to the planning committee that they revisit the topic during their celebratory luncheon. In a panel discussion moderated by Tim Topper, head of Chapman's Cross Cultural Center, representatives of the Class of 1969 reflected on their experiences in confronting issues of social justice as students.  
Racial Injustice Becomes a Campus Issue
"Of course, in the late 60s, we all had on our minds issues of racial injustice," said Wilkinson, who currently serves on Chapman's Board of Trustees. "Those are national kinds of issues. But in 1969, our fellow African-American students started calling attention to issues locally, and they were explaining things to the white students. And we realized that we had a Chapman issue."
"We wanted to do something about it," said Wilkinson. "We wanted to address it. And we struggled to do so."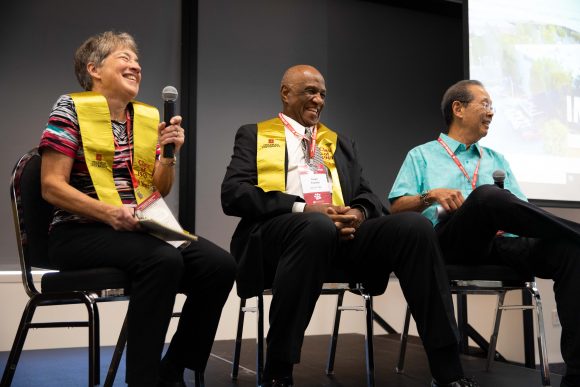 Frank Franklin '69 served as the Vice President of the Black Student Union. "When I came here in '64, the community was a different community, with the Ku Klux Klan, the Weathermen and the John Birch Society. It made life very difficult off campus. Fortunately for me, the life on campus was really good and it was easy for me to stay here. But you know, you can't stay at Chapman the whole time."
Franklin and other black students faced challenges finding off-campus housing, and were often harassed by the Orange Police. "But we could always come back to Chapman, because the students here … would hold our hands and help us get along, and we were able to communicate well here."
An Oasis in Changing Times
Even in the wake of civil rights setbacks such as the assassinations of Dr. Martin Luther King Jr. and Robert F. Kennedy, Chapman was a place where students felt supported and encouraged by the campus community and by Dr. John L. Davis, the college President. "Fortunately for us, we were able to communicate by having a committee with Dr. Davis. He was really interested in how to make everybody feel comfortable and to have them be included in Chapman."
"One of the strengths of being at Chapman was that it was an oasis," said Cliff Ishigaki '69. "It was a safe place. It was a place that had been shaped by the Disciples of Christ, and I am mindful that there was such an environment of social justice."
For Ishigaki, it was the first time he was exposed to people outside his home community in East Los Angeles. "I became mindful I needed to raise up my level of awareness. I was living a life where my own agenda was more important than anything else. But during that senior year, I realized I needed to step up."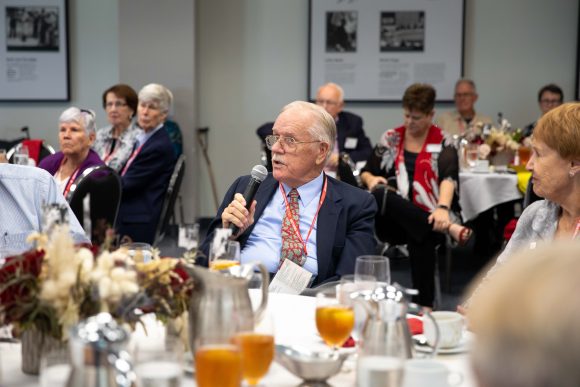 Ishigaki ran for and won the office of Vice President of the ASB. "We needed to make internal change but we wanted to do it in a legitimate way, and Student Government seemed to be one of those ways in which we could be heard and not be a threat. At that time, the ASB was not particularly known for social justice activities. But it was a time where we linked together. There was a lot of collaborative work." 
"We caught the campus off guard a little," he added with well-deserved pride. "We were pushing against the fact that invisibility was the status quo…If it weren't for my black friends I wouldn't have understood that, I really wouldn't. So I owe all my peers."
Laying the Groundwork for Chapman's Future
When asked for their impressions of campus inclusivity and diversity efforts today, the panelists shared their appreciation for the enduring principles that have shaped the character of Chapman students for generations, but acknowledge that more work needs to be done.
"I think that Chapman has always tried to include everyone here. It's been a safe haven," said Franklin. "Hopefully the people who have learned and are learning now can take on that attitude and put it out in the community, because there's definitely a need for change within the real world."
Wilkinson pointed out that there are problems that have come along with the growth of the University. "[I read] the Panther, and there are people who don't feel safe here, especially as extremist groups make their presence known. There's still room for improvement."
Panelists and audience members alike were encouraged to see Chapman still engaging with issues of diversity and inclusion in such an active way, building upon the foundation they laid as students 50 years ago. "We are where we are because of you. What you and your professors did 50 and 60 years ago is what planted the seeds for where we are now," said President Daniele Struppa. "Thank you."