David Janes
David A Janes, an entrepreneur and champion of education who served Chapman University as Board of Trustees chairman and later as chairman emeritus, passed away April 7.
Janes' commitment to Chapman is evident throughout the campus. Areas of support include the College of Performing Arts and the George L. Argyros School of Business and Economics, which is home to the Janes Financial Center. The state-of-the-art facility is equipped with 12 Bloomberg terminals, providing students with real-time financial data.
In addition to being a champion of education, Janes was a Naval reservist for 36 years, retiring in 1994 as a two-star admiral. He was an outstanding sailor who once set a race record in the 1,150-mile International Yacht Race from Marina del Rey, California, to Puerto Vallarta, Mexico.
During the late 1990s, he formed Janes Capital Partners, an investment banking firm specializing in mergers and acquisitions in aerospace and defense, serving as chairman until his death.
In addition, Janes was chairman of the Orange County Council of the Boy Scouts of America, playing an instrumental role in rebuilding the Newport Beach Boy Scout Sea Base and the Scouts' Outdoor Education Camp.
Janes is survived by his wife of nearly 25 years, Donna; a daughter, Kathy Harian; sons David Janes, Tim Janes and Robert Davis; and 18 grandchildren.
Frank Greinke
Frank Greinke, a Chapman University friend, supporter and President's Cabinet member, passed away on May 7, 2019. One of Orange County's most successful business leaders, he was the model of an active and caring community member, and made it his personal mission to look for ways to bring young people opportunities.
Frank became president of Southern Counties Oil Co., his father's company, in 1987 at age 33. In 1991, he purchased the company, now known as SC Fuels. It is one of the nation's oldest, largest family-owned fuel distributors.
SC Fuels also has the distinction of being the first company from the U. S. to do business in the Republic of Georgia. In 1992, just after Georgia became the first former Soviet Republic to become independent, Southern Counties Oil opened the first western-style gas station in the capital city of Tbilisi.
Frank had many roles: he was appointed the Republic of Georgia's Honorary Consul for the west coast in the United States; served as chairman of the Southern California Chapter of Young President Organization; was a founding director of The New Majority Committee, and was former finance chair of the Orange County Republican Party.
Frank wanted the City of Orange to prosper and viewed Chapman as an integral part of it. He and his wife Margaret supported Chapman's Digital Media Arts Center, Musco Center for the Arts, and most recently, the Keck Center for Science and Engineering. As a family, the Greinkes contribute to a number of local charities, including Mary's Kitchen, Queen of Hearts Foundation, Taller San Jose Hope Builders and Fuel Relief Fund.
Frank was an invaluable advisor with a wealth of experience. His knowledge,  hearty spirit and his joy in serving will be greatly missed by the entire Chapman community.
Ramona Kemp-Blair '52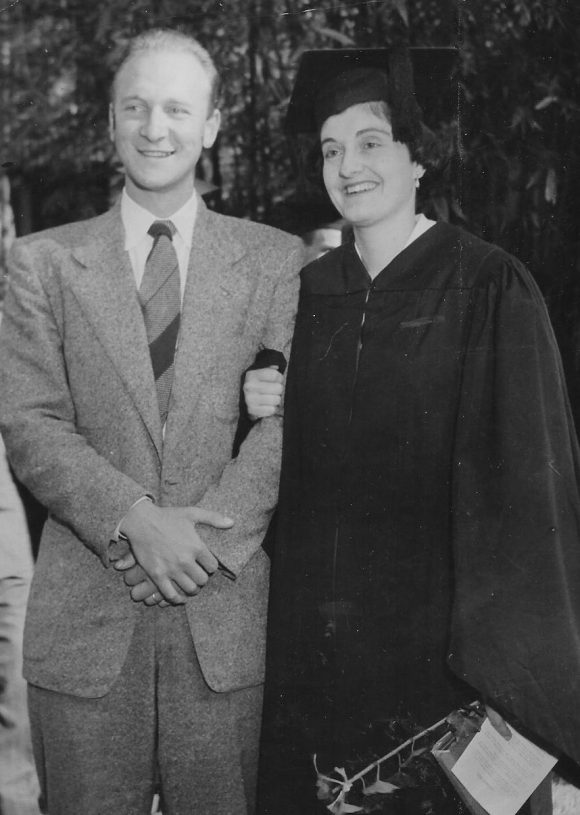 Ramona (Lawyer) Kemp-Blair '52, a graduate of Chapman when the campus was on Vermont Avenue in Los Angeles, and later a familiar presence on campus in Orange for many years, passed away Sept. 3, 2018. She was 88.
Kemp-Blair started in 1948 as a student at Chapman, where she met her future husband, Henry '51. After their marriage, Henry and Ramona moved to Orange, where he chaired what would become Chapman's Communications Department and she taught elementary school.
Kemp-Blair was active in various Chapman support groups, including Town & Gown. She earned her master's degree, was an active member of First United Methodist Church in Orange and found time to host cast parties at her home after Henry's theatrical productions. She even appeared in his film, "Rumpelstiltskin."
Together, Ramona and Henry raised three daughters, Gilia (Humrich); Iris (Gerbasi) '80 (M.A. '90), who serves as assistant provost at Chapman; and Cynthia (Wilson) '82. Grandson Dennis Gerbasi '10 is also a Chapman Panther.