Twenty years ago, April Abeyta '00 wasn't worried about what challenges she was going to face in her career. She was worried about getting cut from the starting lineup of the women's basketball team here at Chapman. "You're not being as productive as I need," said the coach, who put a freshman in her spot instead. 
"I could have just crumbled," Abeyta says, "and I'm pretty sure I did at first. But then the next day, you go to practice. You tell yourself, I have to step it up, I have to do a better job." With the feedback offered by the coach and extra time spent at the gym, she won back her starting position. More significantly, she learned a lesson about success that would live with her long after graduation.  
That lesson is at the heart of Abetya's forthcoming film — a project that began when she was still an undergraduate. "After the Game" will combine old and new footage as it explores the lifelong benefits of playing competitive sports in college. 
It was the start of her senior year when the film major, inspired by the documentary "Hoop Dreams," turned a camera on her own basketball team here at Chapman. "I didn't see anything about women's athletics in the media. At that time, it just wasn't really at the forefront of anybody's mind." An imbalance, Abeyta notes, that still exists today. 
With the full support of the coaching staff and fellow players, Abeyta brought her camera everywhere that year, ultimately capturing over 45 hours of behind-the-scenes footage, including locker rooms, halftime and other intimate moments with members of the team. 
Some of that footage ended up as part of her senior project, but the planned full-length documentary never materialized. After graduating, Abeyta lost easy access to the production equipment needed to digitize and edit the film. She ended up shelving it, and went on to pursue a career that's led her through broadcast sports, corporate media and independent movie production.  
From College Athletics to Career Success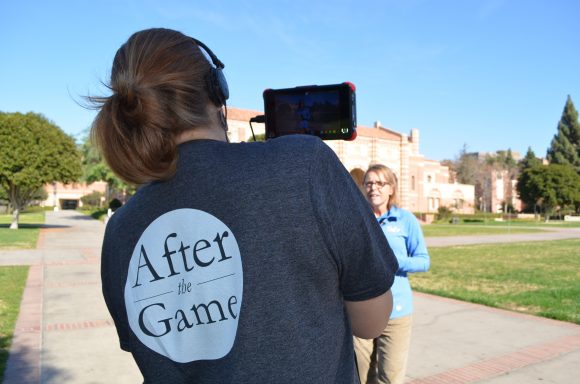 Abeyta kept in touch with her former teammates, and over the years she started to notice similarities between how the women had faced challenges as young athletes, and how they were dealing with current problems in their personal and professional lives 20 years later. 
"That's really what the film is," she explains. "It's a juxtaposition between them as athletes, how they overcome what they're faced with as the season progresses, and then how they're dealing with their respective professional challenges today. Spoiler alert, athletics has a positive impact."
The documentary, which will be completed later this year, combines Abeyta's old footage with newly shot film, focusing on the stories of Michelle McMillen Ruzzi '00, Polly Neves '02 and Mary Hegarty, who was the Head Coach of Chapman Women's Basketball team from 1993 to 2003. Whether they're launching a new business or considering a career change, the film highlights how the tenacity and confidence learned playing competitive sports has stuck with them and helped them succeed in their professional lives.
Empowering Girls Through Sports
Abeyta hopes to get the film in front of young girls…and their parents. "I think there's an unfortunate trend right now, where a lot of parents are pushing their kids into sports because they want to get a scholarship, or they want to go pro. If they can't get one of those two things, if it's not going to have a tangible benefit, then why do it?"
It's even worse for girls, who are dropping out of sports at twice the rate of boys. Abeyta wants to encourage girls to stick with it, because of the great benefits that come from participating in competitive athletics, even if they're not hoping for a professional sports career.
"There's a great quote from Mary that I use in the film. She says to the team, 'You put in the work, I promise you will be rewarded. It won't necessarily be more playing time. It might not be what you think it's going to be. It's not going to be easy, but if you put in the work, you will be rewarded.'"
Read More:  Empowering Women On and Off the Court
The Long-Lasting Rewards of Competitive Sports
"Tenacity," says Abeyta when asked what intangible rewards make a difference. "Sometimes in sports, there can be somebody who is more athletically gifted than you. But if they don't have the tenacity to stay with it, It doesn't matter, because they're going to quit. But if you put in the work, fight to become the best that you can be, you stick with it and you don't give up so easily…I think I can speak for all of us, certainly, for me, it's been a real big key to my success."
"I think another big thing is taking feedback. When you're really getting constant coaching and you're getting feedback, sometimes it doesn't come across in the nicest way. But you deal with it, you know how to get the meaning from it, and then [you know] how to try to improve."
"Of course, the teamwork aspect is is undeniable. When you're playing a team sport, you're not going to be best friends with everybody. But you get you get aligned, you figure out how to work together and achieve a common goal." 
More than anything, women who play sports develop a greater sense of confidence that they carry with them no matter where life leads them "They've been through something really hard, put in the work. They've run until they puked their guts out. Really physically hard and mentally hard stuff. When they enter the workforce, they have a greater level of confidence. I know a lot of women athletes. I know a lot of women who aren't athletes, as well. And I notice that those who came from any sort of competitive athletics, they just inherently come at it with more confidence right off the bat than other women."
"After the Game" will be completed later this year, and will make the circuit of film festivals in 2020. For updates and news about screenings in your area, visit www.afterthegamemovie.com, sign up for the newsletter and support the ongoing crowdfunding campaign. 
And don't forget to check out the fantastic lineup of women's sporting events here at Chapman!