It's typhoon season in Taiwan. Thunder. Lightning. Sheets of water are coming down and the gym is starting to flood. But it takes more than a little rain and wind to stop true basketball fans, especially when there's a chance to learn from two of the United States' top collegiate coaches.
For Coach Carol Jue, being on the court with a group of young and eager athletes is nothing new. She's been coaching women's college basketball for 20 years, and in her 16 years as Chapman University's head coach, her teams have won more than 300 games. She holds free clinics for local youth basketball players, too, and offers guidance and support for young women. It's all just part of the job.
A Role Model for Success
But there was something special about this Taiwan trip. As the only Chinese-American head coach in the NCAA, Jue is acutely aware of the cultural differences that make sports an atypical path to success for Asian women. So when the American Institute in Taiwan — a branch of the US State Department — invited her to visit as a sports envoy and address the topic of empowering women, she was eager to participate. 
"They liked my story because I'm not doing the norm," Jue says. "You're supposed to be some kind of professional, like a doctor or a lawyer. Women are always supposed to be home, or to do something less than your husband. So for me to be in athletics was a big thing." 
Over a week, Jue, along with Tennessee coaching legend Holly Warlick, participated in speaking engagements and press interviews, led basketball clinics and attended the BLIA Cup tournament, where the two had a chance to address women basketball players from around the world. Everywhere they went, their message to girls and women was the same. 
"We're using basketball as a tool to help these women in another country. To say, 'You can do anything you want. Just put your mind to it,'" says Jue. "That's what was so exciting."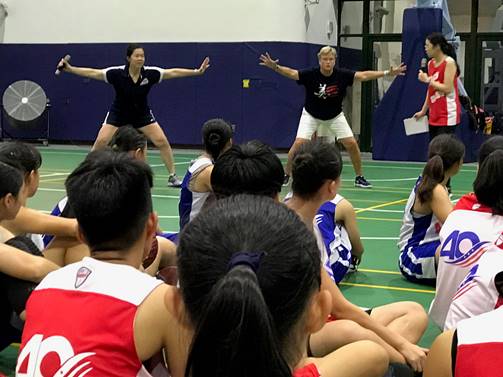 Teaching Confidence Through Sports
In a country where women are just beginning to establish themselves as equal partners in business and government, the confidence and determination learned through participation in competitive sports can be a big advantage.
"Whether you're winning or losing or just going through the grind of practice, you're enduring stress. It doesn't matter if it's stress from athletics or stress at work, your body goes through the stress. If you can get through the highs and lows of athletics or sports, I think you can conquer a lot in the world," she says.
She goes on to say, "This invitation to be an envoy was bigger than I thought it would be. Just looking at the girls' faces and hearing them say, 'I don't like to get yelled at. I feel guilty when I make a mistake.' And I said, you gotta make mistakes in life so you can be that much better. You gotta fall 10 times to get up the 11th time to be really good at something."
Helping athletes conquer their doubts is something Jue has learned in her years as a coach. "There's just this high anxiety. Even the kids we coach at Chapman are such perfectionists. They're like, 'I don't want to get yelled at by you.' But I tell them, that means I love you."
Inspiring Change, Empowering Women
But it wasn't on-the-court activities that made the biggest impression on Jue.
"We went to a battered women's shelter, with at-risk kids. I think that was the biggest thing for Holly and me." Jue drew on her experience as a self-defense teacher at Chapman to encourage the kids to speak up for themselves. When asked how kids struggling to heal emotionally can get to the point where they can say, "I can do this," she answered, "Your mind is powerful, and you have to think positive thoughts."
Though she went to Taiwan to inspire others, Jue found herself equally inspired herself by the women she met, hoping to make positive changes in their own lives and in their country.
"To see them smile and see them say, 'I want to make changes, even though it's been really, really hard.' And the women who are going through their own healing and want to hear us. They have no relations with athletics, but they're willing to come even though it was storming. They just want to hear how we started or what advice we could give them. Hopefully that was something that they can take with them."