When I arrived at Chapman University in 2007, I had a go-to icebreaker for freshman orientation. I shared with the group that all of my schools – from preschool to college – are within a five-mile radius of each other in Orange. I love home. But during my junior year, I decided I really wanted to see the world, so I signed up for Semester at Sea. I came back a totally different person – I just couldn't let it go. In fact, I was inspired to ask a question: How can I get more people to experience this life-changing journey?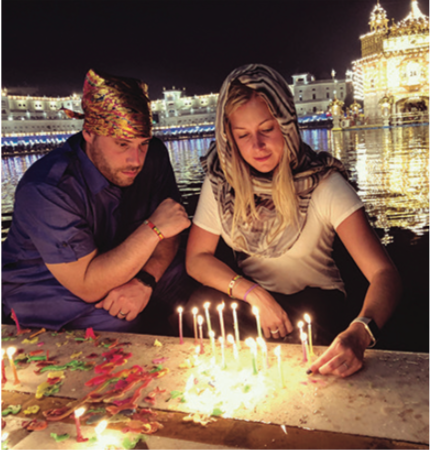 Since that first voyage, I've enjoyed two more Semester at Sea journeys, including in fall 2018, when I sailed on the 125th SAS voyage as a staff member with my husband Matt Parisi. The two of us met as students on that initial voyage, and eight years later we were thrilled to be back on board – me in a communications role and Matt as assistant executive dean.
During this latest journey, we saw so many moments of growth, and when we finally returned to dock in San Diego, Matt and I gave hugs to every single student. There wasn't a dry eye on board. That community of students had eaten meals with professors, walked to class together, bonded with the crew and felt the impact of countless cross-cultural experiences.
There's nothing like Semester at Sea – it's the most unique community feeling I've ever encountered, and Chapman's historic connection to the program makes it even more special. That's why Matt and I stay involved.
I feel like I have a home at Chapman. Semester at Sea extends that feeling until it encircles the globe.
Shauna (Fleming) Parisi '11 is an entrepreneur who has her own business with the health and wellness company Arbonne. In addition, she is the founder of A Million Thanks, a nonprofit she launched in 2004 to support U.S. military through sending letters of appreciation, granting wishes of injured veterans, and funding scholarships for children of fallen military.
Read more reflections about Semester at Sea in this essay by Karyn Planett '70.