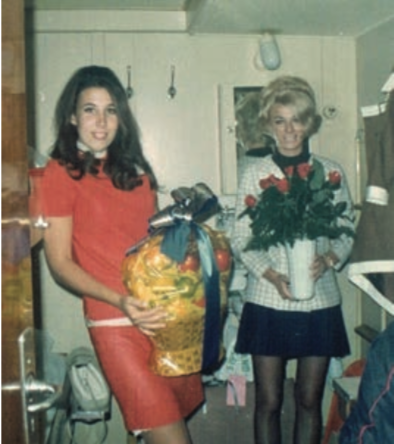 It's been 50 years since I scrambled up a rickety gangway, a wide-eyed student with orange vinyl American Tourister luggage in tow, to step aboard Chapman College's fledgling program World Campus Afloat, today known as Semester At Sea. My home for the next two semesters was Holland America's SS Ryndam, a battleship-gray bucket of bolts held together by the affection of the students who sailed aboard from 1965 to 1975.
To commemorate that milestone event, my husband Geoff Thompson and I sailed aboard Semester at Sea's fall 2018 voyage, enjoying a far more luxurious vessel along with 440 students whose life-altering journey mirrored mine. Geoff and I lectured on how to become effective storytellers by developing better writing and photography skills. We gave each student a copy of our book "How to Capture Your Travel Stories in Words & Pictures" along with an SAS flag and the mandate to photograph the flag ashore when writing about their adventures. We compiled their extraordinary work in a coffee-table book.
We also sailed with SAS in summer 2011, pursuing the same task of giving students the tools to record their journey in vibrant ways. As Lifelong Learners, we sat in on classes and mentored students.
There are immeasurable rewards for alumni who stay connected to the SAS program. Our voices can inspire current students to squeeze the life out of every day, to represent their country/school/family in a positive light, and to bring back important messages from new friends abroad about this vast and magical world. Many students stay in touch, and we continue to encourage them to knock on doors and knock down stereotypes for a better hands-across-the-seas camaraderie with people all around the world. Empowered by my SAS experience, I have spent five decades wandering the globe and feel, only now, that I'm beginning to scratch its powerful surface.
Karyn Planett '70 has traveled to more than 150 countries and authored hundreds of destination articles for the cruise industry during her career as a writer and photographer. In 2013, she and husband Geoff Thompson published "Voyages of The World," recapping their 10 years aboard the industry's only residential ship.
Read more reflections about Semester at Sea in this essay by Shauna (Fleming) Parisi '11.