"I made a promise to myself that I would give back when I made it through grad school," says Ralphie Giron (MBA '14).
You don't have to go very far to find out that the Chapman University alumnus made good on that. The Walt Disney Company communications specialist is an Alumni Board member who takes the time to mentor, connect and prepare Chapman students and fellow alumni as they take their first and next steps in their careers. He can't name a number of direct Ralphie-to-Disney student and alumni hires – he's not keeping track. The joy is in being a resource in the first place.
Disney is one of Chapman's top employers, so you might recognize Giron as one of the two alumni that accepted that recognition on Disney's behalf at this year's State of the University. He works tangentially at The Happiest Place on Earth, maybe making him the happiest alumnus? 
"I had an amazing mentor,  an amazing teacher, who saw something in me that no one else did," he says. "Having someone there to give that validation makes a huge difference."
Pro Tip
His mentorship efforts are usually with the Argyros School of Business and Economics, but there are industry and entertainment events, Career and Professional Development opportunities and an ongoing call for "I've got a student I want you to meet" quick talks that keep him busily connected. 
He's so present in his mentoring and career work at Chapman that the Career Development team made him his own official Think Chapman First Champion name tag.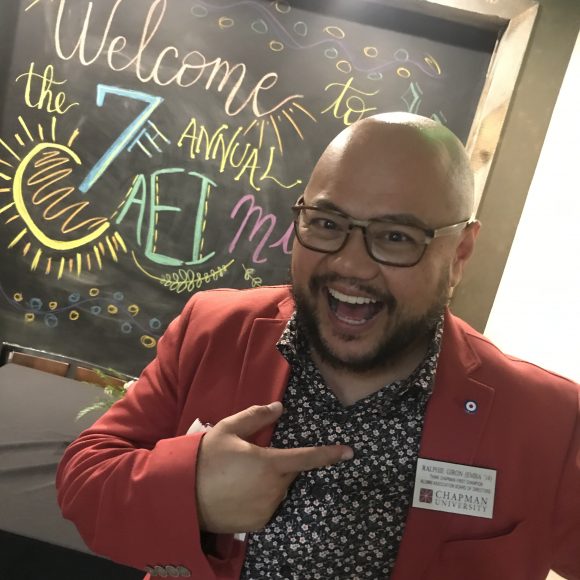 His frequent advice is solid, easy enough to think of, but is maybe overlooked in the hunt.
For internships:
You're looking to learn. This is an opportunity to get the kind of guidance you need.  I try to look for that person who's 85 percent there. Internships are the finishing school of skill sets. You have the 85 percent of what you need to know and learn the other 15 percent there to go after the job you really want. Like, if you're strong on data and business skills, get some practice in creative or communication in this opportunity. What else do you want to know?
For job interviews:
You got this far – now, you just have to talk about who you are are, how you handle scenarios at work. You've already made it through the computer system that searches your resume to match your skills to the job. Now, you need to be a good match for the personality of the team. 
For continuing education for your career:
The hardest lesson I had to learn is you're going to be forced to find balance, but also make sacrifices. People are going to drop off your radar.  You're going to have to miss some things. In the long run it will be worth it. 
Make a Difference
 "Part of the reason I joined the Alumni Board is I felt that representation matters from an entertainment standpoint," says Giron. "Do we have someone to talk about those entry-level jobs in entertainment from the standpoint of a really big company. And, we need to add some people of color.  Also, how do we reach out and talk to people across the county line and from Los Angeles?"
Beyond mentoring,  Ralphie wants to add his skills to driving alumni engagement by utilizing existing opportunities for alumni to come together, connect and give back. 
"It doesn't always have to be a big push – a small group of people can contribute together and still make a difference. Also, how do we get smarter about marketing our events, making them approachable and making goals like this attainable," asks Giron. 
He looks to his own employer of the last 20 years as an example. It's one of the biggest and most recognized. Not just a Chapman top employer, Disney-related industry spans two counties and thousands of employees in every nearly job-capacity conceivable. And at our hyper-local level, it's an amazing place for students to work he says.
For Chapman, it's close to campus. He adds that there are flexible schedules, opportunities to meet people from all over the world, and options for employment across divisions, including entertainment, business, creative, communications and performance. That all adds up to a lot of happy career prospects.