Is there anyone who doesn't know that the world's largest sports organization for children and adults with intellectual disabilities, which develops physical fitness, courage, joy and friendship is Special Olympics? Is there any confusion about its founding on July 20, 1968, by Eunice Kennedy Shriver in her back yard with special-needs children in Maryland? Could there be a question about World Games Competitions, in 6,500 schools across our country, offering 30 Olympic-style sports and other programs to promote inclusion and prevent bullying in our K-12 schools, while building pathways to future employment?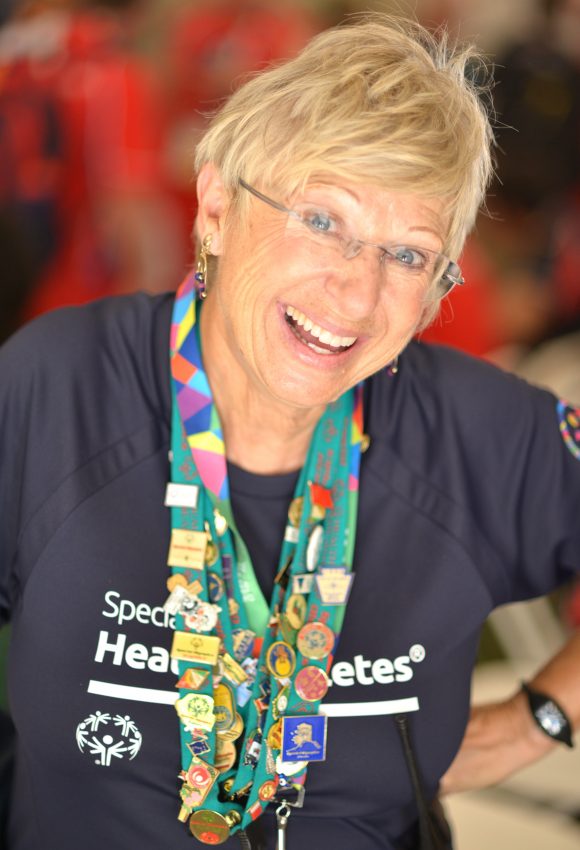 I think we all recognize this incredible program. These are the reasons we send our children to school – certainly to learn to read, but also to learn to respect the fact that everyone matters. "Our athletes teach this lesson," suggests Tim Shriver, the organization's chairman.
Why did the Department of Education propose cutting the 2020 funding to the Special Olympics budget in March? The cost is minimal – $17.6 million of an $80 billion budget for public education. Secretary of Education Betsy DeVos has been stumping for education initiatives that "give children different pathways to the work force" and "personalized learning, competency, mastery" as well as "empowering parents and giving them choices." Special Olympics supports all of these educational goals – teachers, coaches and educational teams are empowering students each day in the classrooms and playgrounds of our nation.
Special Olympics as Partner
But, you may say, Special Olympics is a private organization, not a federal program. It raises substantial funds from the families whose children and adult athletes benefit tremendously from the athletic coaching, supportive yet competitive environment and inclusionary learning atmosphere in their K-12 schools. This public/private education "magic" takes place in our nation's schools every day. Special Olympics brings the private and public funding together to accomplish what neither environment could do alone.
Every year, the graduate students in my course on the Chapman University Rinker Health Science Campus prepare to be speech language pathologists and volunteer to screen the hearing of 1,500 athletes in Orange County. The athletes attend the Games to better their own sports records, engage in team sports, and, of course, they strive to go home with medals around their necks!
Benefits Beyond the Games
My graduate students report that athletes are not only enthusiastic about athletic competition, but they also have more conversations, larger vocabularies, engage in more reading and writing activities, are physically stronger and healthier than the previous year, display empathy for others and plan and implement their own goals. As one of the baseball players told me, "When you travel on the team bus, you can think better."
And, yes, several of our grads have become Special Olympics coaches – extensions of their professional jobs within the enviable public school system in this nation.
Support Special Olympics
For the last three years, the U.S. Department of Education has proposed cutting funding for education. If Special Olympics is considered for cutbacks, it will interfere with education, health, physical fitness, inclusion and meaningful employment for students with intellectual disabilities in our schools. A vital, successful program that links educational, athletic and life goals could flounder. Fortunately, this year Special Olympics was saved by a last-minute reversal, and Secretary DeVos announced that she was grateful that "the president decided to fund our Special Olympics grant." Mark Pocan, representative from Wisconsin, announced the reversal was the right thing to do, adding, "It shouldn't take public outcry and shaming to restore funding to one of our nation's most important special education programs."
This year the Special Olympics World Games were held in Abu Dubi. Did you watch it on TV? Athletes with intellectual disabilities from California competed and medaled! Our country's public education system can take credit for the education, fitness, health and courage of those competitors! I think the U.S. Congress will agree with us as members vote on the full budget this year. If not, our nation is ready to respond.
Judy K. Montgomery
Faculty, Chapman University
Montgomery, Ph.D., is the global clinical coordinator of the Special Olympics Healthy Hearing Program and a professor in Chapman University's Master of Science in Communication Sciences and Disorders program.
Display image at top/Courtesy of Special Olympics Southern California