Chapman University inducted the first 22 students into its new Phi Beta Kappa chapter, Psi of California, on Thursday, April 18, at a ceremony held on campus. Phi Beta Kappa, established in 1776, is the nation's oldest and most prestigious honor society. Just 10 percent of U.S. colleges and universities have Phi Beta Kappa chapters, making the addition of Chapman a notable milestone for the 158-year old University.
"It is an honor for Chapman to be recognized by Phi Beta Kappa for our educational excellence," said Kyndra Rotunda, J.D., Professor of Military and International Law and the first President-Elect of Chapman's Psi of California Chapter. "Representing approximately one percent of Chapman's overall 2019 bachelor's graduates, our first Phi Beta Kappa inductees come from all over the U.S. and the United Kingdom. This first cohort includes a Rhodes Scholar. These 22 students earned degrees in areas as diverse as biological sciences, film studies and integrated education studies."
Six Foundation Members – a high honor that each Phi Beta Kappa chapter has just one opportunity to confer, at its inaugural induction ceremony — were also selected from the Chapman faculty and administration, including current Chapman President Daniele Struppa, President Emeritus Jim Doti, and Nobel laureate Vernon Smith.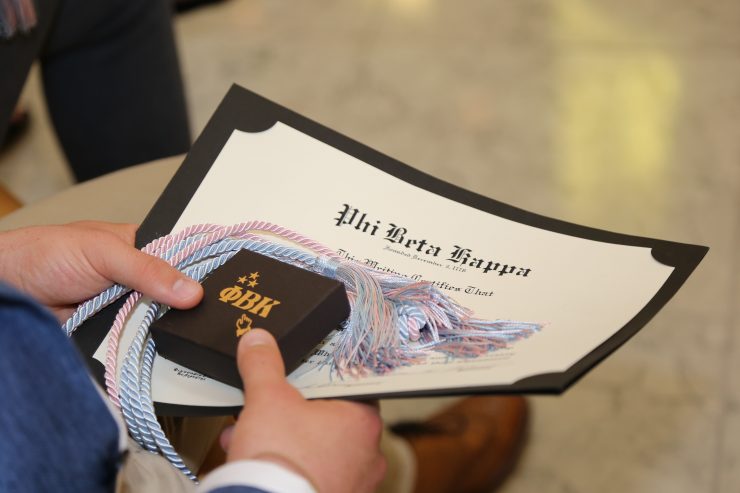 "This has been a year of distinction at Chapman University: we were accepted into Phi Beta Kappa, one of our graduating seniors, Vidal Arroyo, was named Chapman's first Rhodes Scholar, and we recently re-classified as a 'high research activity' institution (R-2 Carnegie Classification)," said Glenn M. Pfeiffer, Ph.D., Provost and Executive Vice President for Academic Affairs at Chapman. "All of these events and today, in particular, are indicative of the caliber of research, teaching and learning that occurs on this campus."
Chapman Phi Beta Kappa Student Inductees

Vidal Arroyo '19
2019 Rhodes Scholar
Rancho Santa Margarita, CA
Biochemistry, Molecular Biology
Zoe Bonfield '19
Sacramento, CA
Integrated Education Studies, Business Administration minor
Lorianne Frelly '19
Yorba Linda, CA
Music Education, Cello Performance, Religious Studies
Ryann Garcia '19
Tustin, CA
Health Sciences
Cala Gin '20
Tustin, CA
Integrated Education Studies, Emphasis in Leadership Studies
Amanda Gregory '19
Los Angeles, CA
Business Administration, Emphasis in Entrepreneurship, Japanese minor
Jenny Gritton '19
Orem, UT
Environmental Sciences and Policy
Savanah Janssen '19
Kula, HI
English
Bailey Jones '19
Cypress, TX
Film Studies, Business Administration
Jessie Juarez '19
San Bernardino, CA
Communications Studies, Latin American Studies minor
Morgan Kindel '19
Escondido, CA
Cognitive Neuroscience and Psychology
Sophie Lee '19
London, United Kingdom
English Literature, German
Mo Moffett '19
Anaheim, CA
Screenwriting, Women's Studies, French minor 
Andrea Murillo '19
Garden Grove, CA
Political Science, Spanish
Michaela Perry '19
Las Vegas, NV
Integrated Education Studies, Leadership Studies, Spanish minor  
Vanessa Stahel '19
Denver, CO
Integrated Education Studies, Philosophy, Germanic Studies minor
Amadea Tanner '20
Sierra Madre, CA
Screenwriting, French
 Crosby Tinucci '20
Roseville, CA
Biological Sciences, Spanish
Jake Uyeda '19
Mountain View, CA
Psychology
Genevieve Vacherot '18
Camarillo, CA
French
Anneke Virk '19
Hood River, OR
Psychology, Business Administration minor
Lisa Yoshida '19
Irvine, CA
Music Performance, French minor
The six Fouondation members inducted into Phi Beta Kappa during the ceremony were selected for their outstanding academic achievements, dedication to the study of liberal arts and science, dedication and support in establishing Psi of California Chapter, and for embodying the standards of Phi Beta Kappa.
Foundation Members

James L. Doti, Ph.D.
President Emeritus of Chapman University
Donald Bren Distinguished Chair in Business and Economics, George L. Argyros School of Business and Economics
Heidi Carrillo
Services Coordinator
Institutional Research and Analytics, California State University, Long Beach
Marilyn Harran, Ph.D.
Professor of History and Religious Studies
Wilkinson College of Arts, Humanities and Social Sciences, Stern Chair in Holocaust Education, Director Rodgers Center for Holocaust Education
Glenn Pfeiffer, Ph.D.
Provost of Chapman University
Warren and Doris Uehlinger Endowed Professor of Business, George L. Argyros School of Business and Economics
Vernon L. Smith, Ph.D.
Nobel Laureate in Economic Sciences, 2002
Professor of Economics and Law, George L. Argyros School of Business and Economics, Dale E. Fowler School of Law, Smith Institute for Political Economy and Philosophy, Economic Science Institute
Daniele C. Struppa, Ph.D.
President of Chapman University
Finally, in addition to students, Chapman welcomed 37 faculty and staff members as charter members of Psi Chapter of California. These charter members were previously inducted into the honor society by their respective alma maters.