Don't tell Cookie Monster. But some people frown on the prospect of cookie crumbs in monster fur.
That was the message during a recent rehearsal for Chapman University's upcoming production of the triple-Tony-winning "Avenue Q," a puppet-populated musical that imagines a world similar to "Sesame Street" but with very adult humor, travails and after-dark frolics.
"Everyone have a cookie," director Luke Yankee shouts to the student cast during a rehearsal break. "And wash your hands before you come back. We don't want chocolate on the puppets."
After all, those furry friends need to look their best come show time. The show features a style of puppetry in which puppets and handlers are visible to the audience. So, after a month of interterm rehearsals, those puppets are extensions — ahem — partners to the students who bring them to life with voice, music and motion.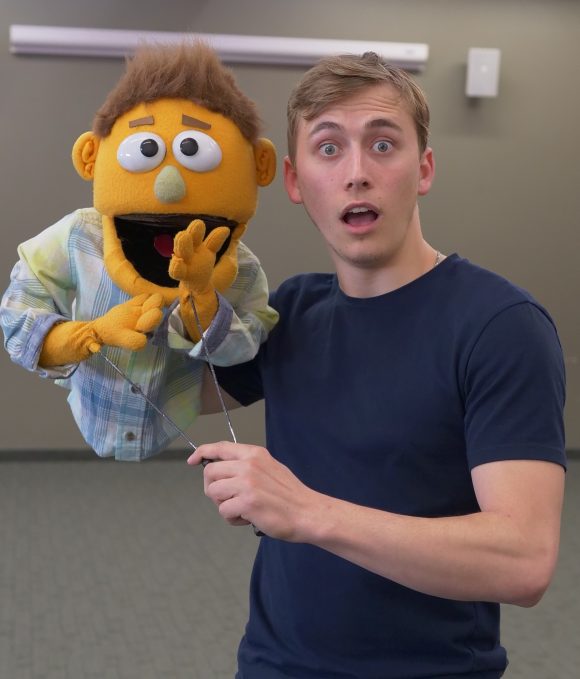 Just ask Chapman University theatre performance major Tyler Wincott '19. He performs the role of Princeton in the Department of Theatre's production of the sweet and snarky comedy where fuzzy felt characters and shaggy monsters share an apartment building with humans as they all struggle to find love and happiness in the big city.
During a rehearsal break at Chapman's Entertainment Technology Center, Wincott describes the experience. As he holds puppet aloft on his right arm, the googly-eyed creature appears to join the conversation. His mouth moves as Wincott's does. Likewise, his head nods along as the student explains how he polished his vocal skills before auditions. Both puppet and handler lean forward together as Wincott recalls the excitement of landing the role. Princeton's arms widen with joy for emphasis, thanks to Wincott's manipulations.
Force of habit, whimsy or method acting? Yes on all counts, says the puppeteer-in-training.
"It really becomes natural. And you get more and more into your character until it becomes literally you," he says with a laugh.
Not that it was an easy transformation. It required training and the luxury of time. For coaching, the department enlisted Disney-trained puppeteer McKay Magnum, who spent five years at Disneyland Resort honing his puppetry skills, performing with a variety of pole puppets and the human-arm varieties akin to the "Avenue Q" cast.
Extra time arrived thanks to January interterm, Chapman's compressed term between the fall and spring semesters when students can earn up to three units without additional fees.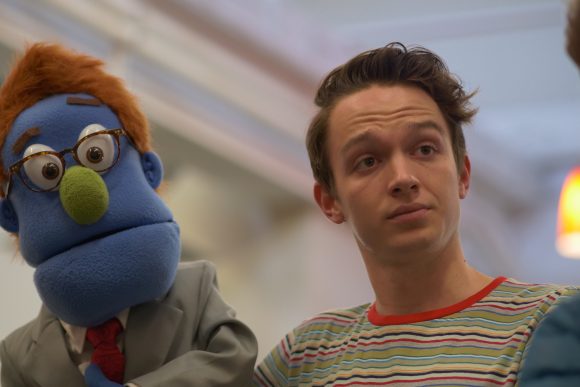 For theatre students, the January pace mirrors the real world, Yankee says.
"We have the advantage of eight-hour rehearsal days, just like in the professional theatre. Not only are the students able to get that concentrated experience, using Actors Equity rules in terms of breaks, etcetera, but we are able to get so much more accomplished," Yankee says. "By the time the semester starts and we shift to evening rehearsals, we have already hit our stride."
Screen acting major Grace Eberle '21 appreciated the extra time. She is the handler and voice for Lucy the Slut, a take-no-nonsense vixen with come-hither eyes and curves to match. The design and shape of the puppet's eyes require Eberle to hold her precisely, lest Lucy's gaze appear to drift off stage.
Lucy's buxom endowments presented challenges, too.
"It's harder than it looks," Eberle says. "It's more about shaking her elbows and moving her arms so they don't get caught in her, umm, bodice."
Definitely a good puppet rule, but another one we won't share with Cookie Monster.
If You Go

When: Thursday-Saturday, Feb. 14-16

Where: Main Stage, Musco Center for the Arts

Tickets: $25 to $10; available online
Display image at top/From left, Katie Orr, Tyler Wincott and Grace Eberle during interterm rehearsals for "Avenue Q." (Photos/Julie Paholio)