How do undergraduate students get access to the Cirque du Soleil "Zumanity" stage in Las Vegas? By having Chapman University open the door.
Thanks to Chapman professors Alicia and Donald Guy, the University enjoys an enduring educational partnership with Cirque du Soleil. Talented dance and performance technology students are chosen for an advanced and highly competitive course called "Technology for Live Performance."
"It really is the only partnership of its kind in the nation," said Alicia Guy, professor of dance in Chapman's College of Performing Arts.
The goal is to empower students with the skills to succeed as artists in live-performance entertainment. Beyond dance skill and technical knowledge of lighting and stagecraft, the class addresses profession- al-level communication, a key element that Donald Guy says is integral but can be overlooked in performing arts education.
"What we have found is that there is not enough hands-on training happening at the collegiate level," said Guy, associate professor of entertainment technology. "We need to get the students to work, to feel the stress of live performance – to be problem-solvers."
This hands-on training comes to life at Chapman and then at the Las Vegas Cirque du Soleil training facilities. Chapman students get a career-building experience, which can help tech and dance graduates succeed in productions by companies such as Cirque du Soleil, one of the most instantly recognizable names in entertainment.
Recently the "Technology for Live Performance" students were challenged to create and perform original pieces utilizing the "Zumanity" stage in Las Vegas. At the same time, stage tech students worked alongside Cirque du Soleil professionals.
"Having someone there to tell me,'Hey, there's a better way to do that,' was really inspiring," said Lyla Flashman '19. "To
see Robin (Renken, the "Zumanity" stage manager), who has the job I want to do in the future, and see how she manages the theatre, it was just really special."
For Chapman students – both performers and backstage technicians – intensive training included learning cues and timing out production numbers so they were ready for performance.
"We did everything possible to prepare our students for this real-time experience," Alicia Guy said."To see them work with such grace in a professional venue and with a professional crew was the most rewarding experience I have had to date. I am so proud of all of our students. They not only had a performance of a lifetime, they did so with the utmost professionalism throughout our entire residency."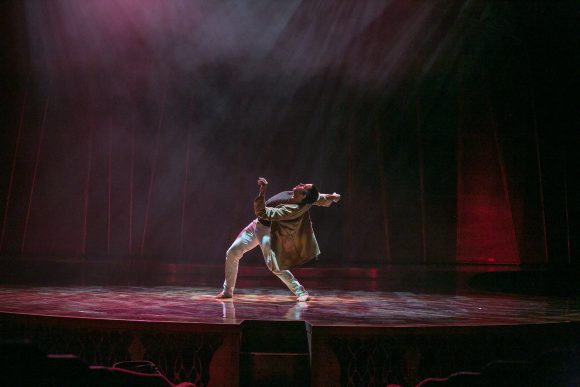 For the students on the stage and behind the scenes, it was the culmination of hard work, dedication and personal creativity.
"It's incredible to experience the collaboration that's so vital to surviving in this industry," said dance performance student Cassi Mihalovich '18. "The creative platform that this class provides is one-of-a- kind, and I'm beyond grateful to have had the opportunity to participate."