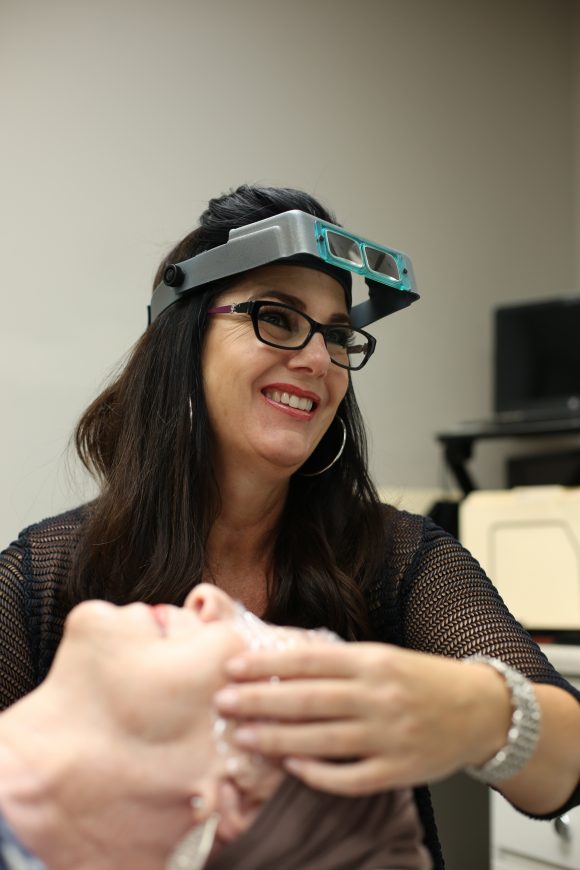 The electric tattoo needle humming along the edge of Linda Lee Franklin's eyes sounds like a bumblebee flying a little too close for comfort. But Franklin isn't worried. The retired schoolteacher is happy to lie still as Kimberly Armstrong (M.A. '98) gently inks in feathery arcs of pale brown color along the rims of her eyelids.
This is not Franklin's first visit but a touch- up treatment, so she is calm and confident. In the end, those lashes and eyebrows will look natural and frame the smiling eyes of a woman who has spent a lifetime coping with hair loss caused by alopecia.
So a little patience with this delicate procedure is just fine.
"I was humiliated, upset and saddened when I lost my hair," Franklin says. "Now to get up in the morning and look in the mirror and see eyebrows and lashes, it's like a brand new world for me again, and something I haven't had in years."
Moments and stories like these are not new for Armstrong. Over the past 10 years, the permanent-makeup tattoo artist has expanded her business to serve an increasing number of clients who come to her for artful restorations that also restore confidence and change lives. But whether the task is re-creating areolas and nipples for a breast cancer survivor or camouflaging a dog bite scar for a young woman, Armstrong says she is transformed, too.
"It's unbelievable. Every day is filled with new possibilities and opportunities to help people feel normal again. It's an unbelievable experience," she says, sitting in her quiet spa- like studio in Laguna Hills.
"Every day is filled with new possibilities and opportunities to help people feel normal again."
She tears up as she tells these stories, then laughs as she brushes away tears.
"We're always laughing and crying in here," she says.
Of course, she never saw such experiences coming when she started her permanent- cosmetic business, and certainly not when she graduated from Chapman University with a master's degree in rhetoric and composition. Yes. Rhetoric and composition. But she's never shied away from shifting gears when life takes unexpected turns.
"Life is full of surprises and you never, never know where your path will take you. You just have to trust the journey," she says.
After earning her master's degree, Armstrong launched into a successful public relations career that eventually earned her a six-figure income. Soon after her son was born, though, she decided to give up the demanding pace of travel and work. A friend suggested she capitalize on her earlier experience as a makeup artist for Lancôme and Clinique and learn permanent-makeup tattooing.
"I didn't even know the field existed," she recalls. "But I took the hugest leap of faith and jumped in."
She brought gusto to the new career. She studied at International Institute for Permanent Cosmetics, became certified in micropigmentation and worked in local spas before striking out on her own. Modern Luxury magazine named her Orange County's best permanent makeup artist. All along, those communication skills learned at Chapman helped her promote and market her business.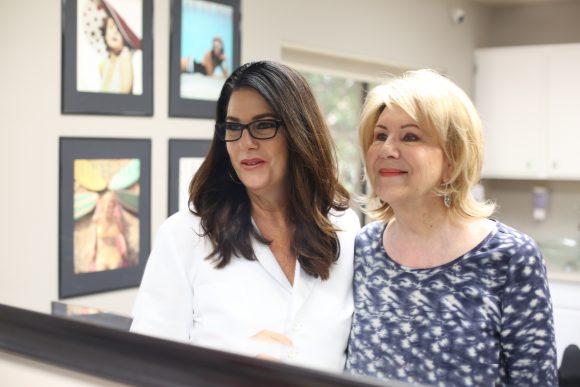 For years, she specialized in permanent eyeliner, lip color, eyebrows and the occasional beauty mark and sprinkling of freckles. Then one day, a client shyly asked for something entirely different.
"She said, 'I had a mastectomy and I have no areolas. Could you create some?'" Armstrong recalls.
That new challenge was a success and opened a door to a new specialty for Armstrong. Now she summons her understanding of color, symmetry and skin tones to create simulated areolas and sometimes even the suggestion of a full nipple when a surgeon is unable to craft that during surgery.
For each woman, she takes all sorts of measurements, but perhaps most original is a "fitting" technique she devised to help her create the right-sized areolas for the unique shape of each woman's breasts.
"I have several sizes of these," she says with a smile, holding up an ordinary round washer from the hardware store.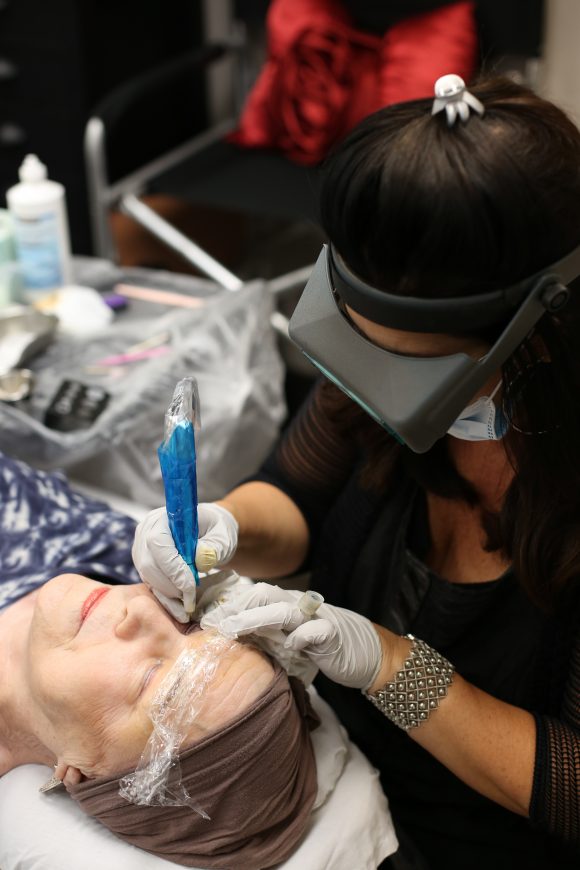 Plastic surgeons and breast surgeons from across the county refer patients to her, which is how Janice, who asked that only her first name be used, found Armstrong. Janice is a speech pathologist who was diagnosed with breast cancer shortly before her 42nd birthday. Natural-looking breasts were important to her.
"It just helps you not think about it every time you look in the mirror. It's back to the normal, the everyday. It helped hide some of the scars. It makes you feel whole again," she says. "I think it's a huge part of healing, emotionally and physically."
Soon, other plastic surgeons and physicians began referring patients with various conditions that could be helped with cosmetic tattooing.
"And I think it's a law-of-attraction type of thing. People find me," Armstrong says.
With her deft hand and $4,000 tattoo machine, Armstrong has dotted-in permanent eyebrows for people afflicted with obsessive hair-pulling behaviors. She has created feminine brows for transgender people transitioning to a womanly look. She has camouflaged burn scars, dog bites and incisions made during thyroid surgeries. She has even worked on a woman who had such a strong stress reaction to abuse that her hands grew mottled as her pigmentation faded.
Sessions often end with tears of relief.
"The stories they tell me. … It's very emotional," Armstrong says.
Along the way, there have been a few surprising marketing lessons, too. Like the time she was thrown into "Facebook jail" and banned from the social media platform for three days because she displayed photos of simulated nipples. Yelp and Instagram are more accommodating.
"I didn't even know the field existed," she recalls. "But I took the hugest leap of faith and jumped in."
And that degree in rhetoric and composition? It's still working for her.
"I'm a strong believer in college. It's important to go and finish that degree because clearly it's going to help you whatever you do," she says. "It helps you become a better writer, no matter what discipline you've chosen."
As Armstrong's own journey shows, the twists and turns no one can predict end up leading to some of the best destinations of all.