Photographed on the sidelines with NBA star James Harden, Diana Day (JD '07) occasionally has been confused by gossip-hungry fans for a girlfriend.
That is part of the background of sexist assumptions Day has overcome in a high- trajectory career negotiating contracts for professional athletes: Last year, she became the first woman cited by Forbes as one of the World's Most Powerful Sports Agents.
The savvy Day leveraged her background as a UCLA athlete – she was a member of three NCAA championship water polo teams – along with key connections she made at Chapman University's Dale E. Fowler School of Law to launch a career with sports agencies while still a '3L.' A decade later, Forbes estimated she played a role in landing $22.5 million in 2017 commissions.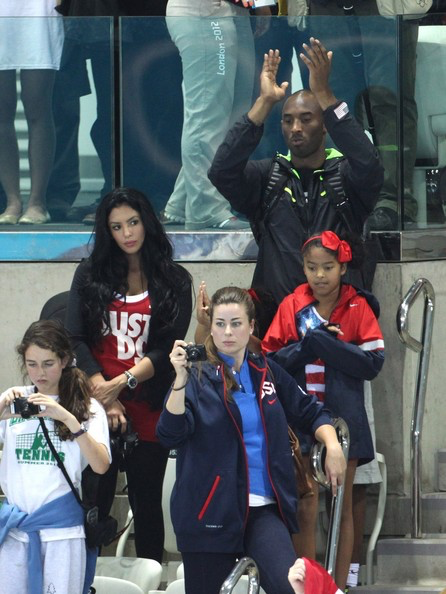 Day originally wanted to become a sports broadcaster, interning at Los Angeles television stations KCBS and KCAL during college. She loved it, but she didn't relish the idea of starting in a smaller media market. She also was concerned about gender issues.
"I didn't like the stigma that was attached to women," Day said. "So I decided to go to law school to gain credibility as a female in the sports world."
At the Fowler School of Law, a new avenue emerged. Day did some work for Athletes First, a prominent Orange County sports agency, and discovered her legal skills and easy affinity with athletes helped her in recruiting clients.
Her big break came after Fowler classmate Kenny Schwarz (JD '05) insisted that Day needed to meet his new brother-in-law:Kenny's sister Kristin had married Rob Pelinka (pictured at top), now general manager of the Los Angeles Lakers but then a player agent whose clients included Kobe Bryant. Before Day earned her JD, she was working closely with Pelinka, eventually co-founding Landmark Sports Agency with Pelinka and Brandon Rosenthal.
"We had a philosophy to really try to find people who were dedicated to excellence and had what I call 'Swiss Army knife' skills," Pelinka said. "Diana, I knew, was a person of integrity who was very intelligent and had a legal mind. She had a good grasp of branding and marketing. So she had skills that I knew would be great in the sports industry."
When Pelinka left for the Lakers, Day and her colleagues became the lead agents for his clients. This spring, she also left Landmark, negotiating an exit to focus on her vision for players' brands.
Maximizing athletes' endorsement potential is Day's specialty, and there's no better example than her work with the Houston Rockets' Harden, winner of the 2018 NBA Most Valuable Player Award.
The bearded Harden is the star of ads for companies such as Foot Locker, Adidas, State Farm, video-game maker Electronic Arts and even a candy, Trolli gummies. By Forbes' estimate, Harden's annual marketing income is $20 million.
Day sees a shift in the industry, saying that negotiating an athlete's contract with a team, rich as it might be, is no longer necessarily the most valuable role of an agent.
"Today's professional athlete is so much more than just an athlete — they're actually a brand," she said. "And if that brand is massaged and molded and shepherded the right way over the course of a player's playing career, it's going to be enough for the rest of their lives. And basketball or football will have just been a period of time in their life, but the rest of their legacy will continue on."
Display image: Diana Day (JD '07) with Los Angeles Lakers General Manager Rob Pelinka.