People mean well. But for student artists, it can grow wearisome when yet another person asks how they plan to practically apply their fine-arts education.
"Not only are you fighting against the competitiveness of the experience, but you're fighting against the feeling of, 'Oh, you're an art major? How are you going to provide for yourself?' " says Dane Nakama '21, a studio art major at Chapman University.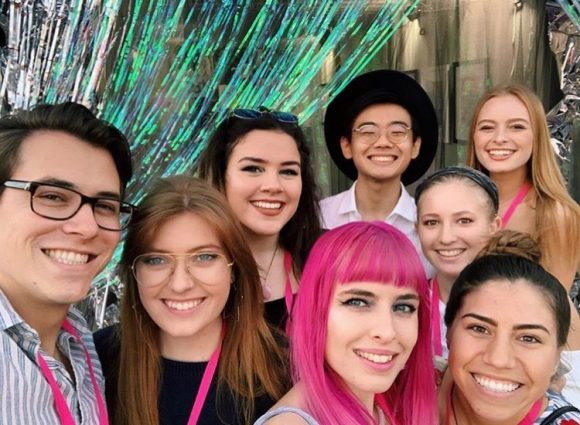 So Nakama and his student colleagues are thrilled that they can respond with confidence. Thanks to an immersive experience that culminated in December, they've now seen how their art weaves into wider worlds of expression and commerce. They mounted their own exhibition in the prestigious Satellite show during Miami Art Week, the largest contemporary art event in North America.
"This is THE event to be at for anyone who is anyone in the art world – curators, artists, dealers, arts writers, collectors," said Micol Hebron, a Chapman associate professor of art who mentors the students and accompanied them to Miami. "The exhibitions during Art Week are typically for established professionals, and it is virtually unheard of for undergraduates to exhibit in these fairs."
The value of the opportunity wasn't lost on the Chapman students.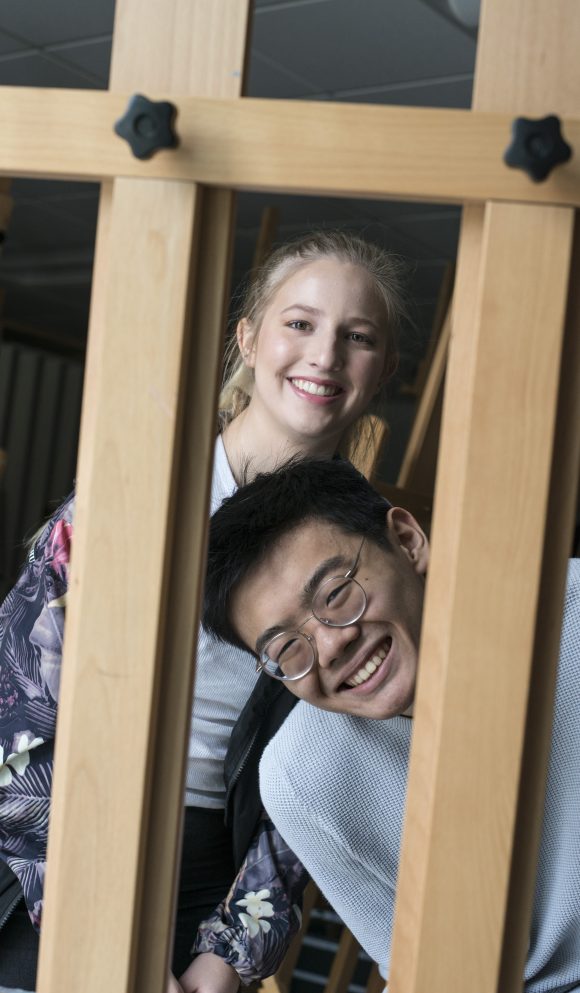 "Imagine that you're a college student and you get to show your designs during Fashion Week in New York," Nakama said."It's amazing to not only show our work and get a crazy amount of exposure, but to also represent a young- person's perspective of art. It's something I didn't foresee happening until I was in my mid-career."
"Being artists who are at the preliminary stages of our careers, we consider ourselves to be mere 'drafts' of what we are going to become," the students said in the statement for their show, titled "Clickbait: A Draft of the Post Contemporary." "The works address topics prevalent in youth culture such as social media, memes and political issues through a vocabulary steeped in art history."
The idea began last December, when Chapman student Alyssa Forsyth '20, a double major in studio art and business administration, attended Art Week as part of an independent study program. She and Hebron passed a booth displaying the work of a student, and Hebron said, "We could do that."
"I said, 'Yeah, we could,'" Forsyth recalled. "At the time, Dane wanted to restart the Chapman Art Club, so it seemed like a natural."
Forsyth and Nakama quickly began collaborating, writing proposals and applications, raising funds and recruiting allies.
"What galleries and their staff do throughout the year, we've all been doing between classes," Forsyth said. "It's been amazing to work with other students in a professional setting."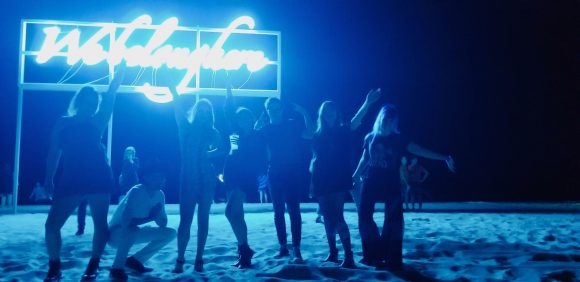 For Nakama, childhood dreams now seem more real than ever.
"For as long as I can remember, I've wanted to be an artist," he said."To be able to say that I'm showing at an international art event and that I helped curate a show is something I didn't always think would be possible. It's a good thing to go to sleep at night with that in the back of my mind."
---
Miami Art Week
Chapman students exhibiting work and/or attending Miami Art Week: Anya Cappon '20, Sophie Chace '20, Alondra Costilla '20, Tram Dang '20, Alyssa Forsyth '19, Jesse Hallen '20, Ronnie Millison '21, Dane Nakama '21, Kayla Quinlan '19, Sheridan Scifres '20, Cameron Shaffer '19, Sophie Ungless '20.