Patrick J. Don Vito '91, an alumnus of Chapman University's Dodge College of Film and Media Arts, had plenty to celebrate at the 2019 Academy Awards. Don Vito was editor of the Best Picture winner "Green Book" and joined the cast and crew onstage at the Dolby Theatre in Los Angeles for a joyful celebration when the film was announced the winner.
Don Vito was also among the nominees in the category of Best Editing, becoming Chapman's first graduate to receive an Oscar nomination.
Don Vito '91 was the sole editor of Peter Farrelly's comedy-drama "Green Book," which chronicles the journey of African-American musician Don Shirley and his bodyguard during a 1962 concert tour through the Deep South.
Such industry recognition speaks to the hands-on and foundational experience students receive at Chapman's Dodge College of Film and Media Arts, says Bob Bassett, dean of Dodge College.
"Patrick's nomination illustrates exactly the importance of the role of editor as storyteller. Students often fall in love with the technology behind editing, but Patrick learned at Chapman on a system no longer in use — evidence that the technology doesn't matter, while storytelling does. Keeping a film that is basically a two-hander, with many key scenes taking place in a car, both visually interesting and paced so as to hold the audience's interest is the mark of an editor who truly understands how the craft of editing is fundamental to the art of storytelling," Bassett said.
Indeed, says Don Vito. Reached by phone after the nominations were announced, he chuckled as he described his first-year Chapman experience on the editing machines of the day.
"I would feed film in by hand and mark it and cut it. It was old school," says Don Vito, whose brother Nicholas Don Vito '87 also graduated from Chapman and is an Emmy-nominated television editor.
Today, sophisticated software is the go-to editing tool at Dodge College and throughout the industry. But the Oscar nominee says that storytelling skills are an editor's foundation. Working with writers, editors bring the story to life.
"It's kind of retelling the story. You'll run into problems in the cutting room. You'll get to a scene that seemed to work on the page, but isn't working on camera. So you'll have to find a way to retell that," he says.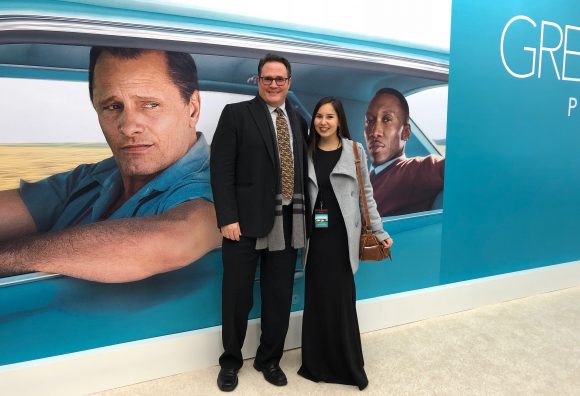 At Chapman, Don Vito showed early signs of mastering such challenges. He was named the University's 1990 "Videographer of the Year" and won the 1991 Einstein Trophy.
"Green Book," a film based on a true story about a friendship that transcended race, class and the 1962 Mason-Dixon line, is up for four other Academy Awards, including Best Picture.