Chapman University alumna Michelle Wulfestieg has told the story of her near death many times, but tears still spring to her eyes when she recounts that winter night in 2008.
She had just left a print shop with her completed master's thesis in hand, when she suffered a massive stroke, sparked by a congenital brain lesion that had caused a childhood stroke that had left her partially paralyzed and shadowed by the knowledge that it would likely bring an early death.
She remembers a paramedic holding her shoulders, begging her to hang on. But the lesion was shutting down her brain. She says a near-death experience engulfed her, blanketing her in peace and calm.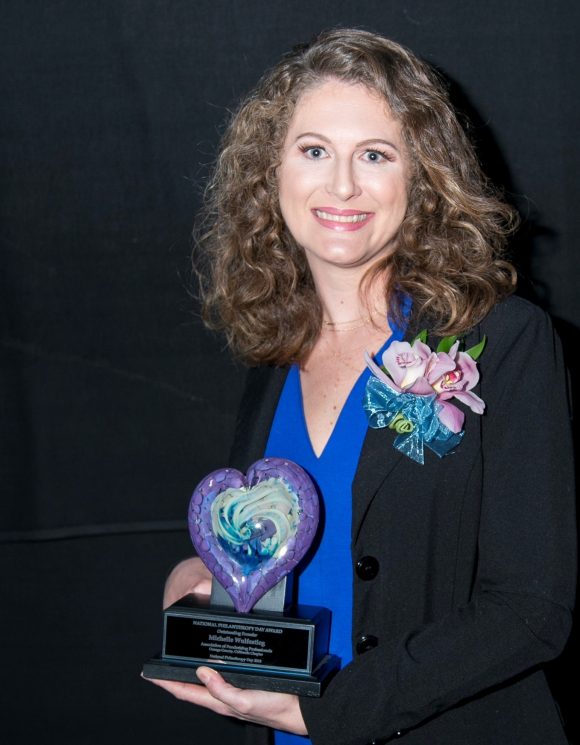 "I remember thinking I can't hang on anymore. This is it. I have to go. So I went," says Wulfestieg (M.A. organizational leadership '08).
"I was completely surrounded by God and it had this beautiful warm light that surrounded me and I just knew that this is where I had come from and this is where I now belonged," says with an emotion-filled voice.
But not just yet, as it turned out. Wulfestieg says she heard what she believes were prayers and divine assurance guiding her back to life.
Later, recovery from a coma and brain surgery was nearly overwhelming. But as she struggled, the executive director of Southern California Hospice Foundation had a revelation. This must be what her clients felt like – wounded, frustrated and in pain. Unlike hospice patients, though, she was improving and she became convinced it was the reason for her survival. There was just one thing to do. Get back to work.
Today the foundation is growing and serves thousands of terminally ill children and adults and their families who need financial help and emotional support. Recently the organization  launched a campaign to build a nonprofit hospice residence in Orange County. For her work, the Newport Beach resident was named Orange County's 2018 National Philanthropy Day Outstanding Founder Award recipient.
"It was exciting and just such a great honor," Wulfestieg says. "I didn't realize what a big deal it was, until they asked to make a video of me and I learned who the other honorees were. I was with some amazing people."
Among the other honorees were philanthropists Ling and Charles Zhang, founders of Pick Up Stix restaurant chain, and the Ueberroth Family Foundation. All were celebrated before a crowd of hundreds that filled the City National Grove of Anaheim for Orange County's 33rd National Philanthropy Day Luncheon.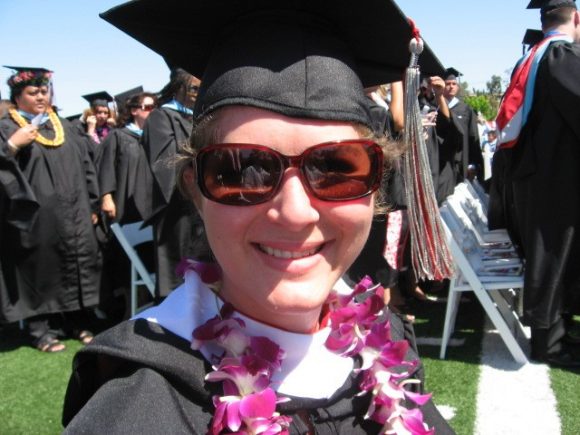 But the day might never have arrived without the support of her Chapman community, she says. Chapman had been a natural choice for her – she is a member of the Scudder family, which donated the Albert Schweitzer Collection to the University and counts many Chapman Panthers among its members. What she couldn't possibly anticipate, though, was how friendships forged in class would help her beyond the classroom.
"You just become very close with these people because you share so much of your life with them," she says. "They all have the same passion, the same vision, the same gusto for life and they just want to make a difference in their organizations, in their community, in their state, their country and in the world."
Those friends rallied around during her recovery, as she worked to regain speech, mobility and strength. Today, some even serve on the board of her organization. Especially close throughout that healing process was Tamara Jablonsky (M.A. organizational leadership '08). Jablonsky served as Wulfestieg's tireless study buddy for a daunting comprehensive exam that was then required for the degree.
"We had all these flash cards to the nth degree. She had perseverance," Jablonsky says.
When commencement arrived, Wulfestieg was still studying for that test, which she later passed on the first take. She had completed most of the coursework, though, so she was permitted to join her classmates. At the last moment, she surprised them and even herself. She rose out of her wheelchair and demanded help to walk across the stage. "And then it was like, okay, I'm not going to get back in my wheelchair and I just became determined," she says.
That turning point still motivates her daily as she works to make a difference by helping people receive the best quality of life they can hope for in their dying days.
"For me, it's this – don't wait. You might not make 84. That's why I wrote a book, typed with one hand and a damaged brain, called "All We Have is Today." It's a reminder. There is no guarantee of tomorrow."